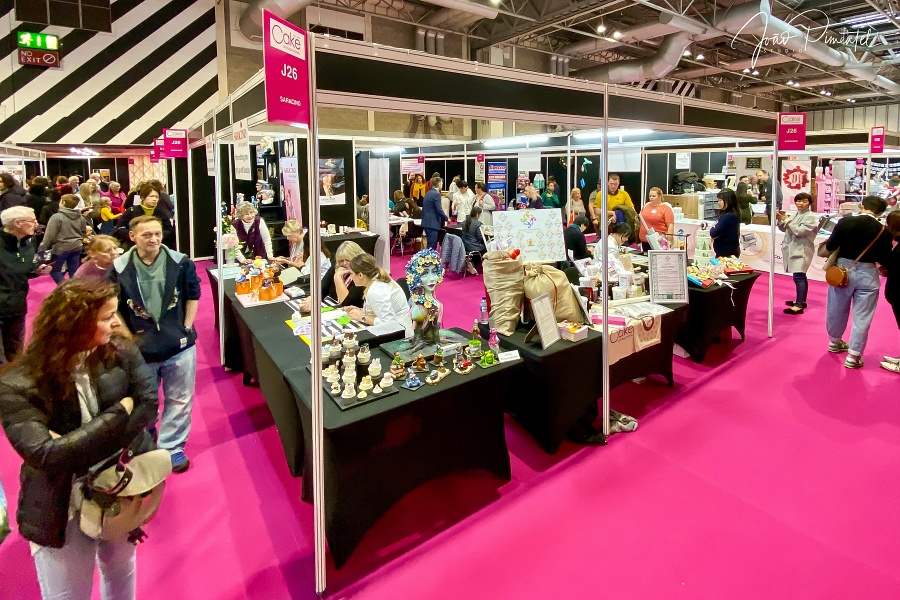 Cake international 2019 After the phenomenal success of our Saracino feature at Cake International 2018, we knew that this year was going to have to be bigger and better, but how? How do you top a gigantic birthday cake and life sized Melanie Underwood of 2018?
How? There's only one way to match the Queen of cake shows and that's with the Queen Elizabeth herself! Early in the year Saracino dreamt up the wildest of ideas, let's get the royal family on board! Now I know what you're thinking, that's crazy, there's no way will they be interested, but you're wrong! Saracino set about writing to the Palace informing them of her plans, and they loved it! You can view the letter from Her Majesty HERE.
So with the royal seal of approval, they enlisted their phenomenal team of Ambassadors, and entrusted each one with the task of making something spectacular for the stand, of course using only the finest Saracino products in the land. After all if you're planning on replicating the whole royal family then you really only can use the very best products! Modelling paste, modelling chocolate, covering paste and products galore were sent out far and wide in a variety of colours and quantities.
For months the ambassadors worked away in secret on their designs, all the while Saracino was working on the bigger plan. The most important part of the plan. Hope House Ty Gobaith. A beautiful and vitally important hospice for children who are affected by conditions so serious they aren't expected to live longer than early adulthood. You see for the last three years Saracino has been honoured to raise money each year at Cake International, by holding our annual raffle and auction over the course of the show. Last year we raised a total of £1820.65 and we were blown away by people's generosity. This year we all raised £2284.49!
The hospice is a truly beautiful place, where although poorly, children still get to be children and take part in lots of fun and happy activities. Hope house ensures they get to spend time making treasured memories with their siblings and families, whilst receiving the best care. During the summer I was there with Saracino decorating cupcakes with the children. Having witnessed first hand myself how incredibly special and important it is to the families who depend on it, believe me when I say, I know how much they all value and appreciate every penny raised.
This year as always Saracino put out the call for sponsors for our raffle prize, and boy did they get a response. There was not a single company or brand who said no. Not only did they not say no, they were so kind and generous that they sent their products by the box load. So many products in fact that this year we had three hampers, each containing products to the value of £1500 from this amazing TEAM. For this thank you will never be enough.
So show time! Ambassadors travelled from all corners of the world, to deliver their pieces safely to the stand. The Royal family proudly lined up one by one under the watchful eyes of the Queen, even the corgis knew to behave! Then the rest of the stand came to life, adorned with the most beautiful of creations, from flowers and cakes, to figures great and small. Every table covered with divine creations from our world class ambassadors. Throughout the weekend we had an array of astounding demos and spectacular classes, where people not only learnt about the best products from the best team, but about the best mission. Hope House Ty Gobaith fundraiser. Money poured in from all around, raffle tickets were sold and folded by the book full, right up until the last minute before the raffle was drawn.
Then came the real fun, auctioning off everything on the stand! That's right, EVERY piece made by our ambassadors was sold to raise even more money for the hospice. Boxes were filled with dogs and cats, people and cakes. By the end of Sunday all that was left was a whole heap of special memories and a bucket full of cash… This year we are proud to announce that the grand total raised for Hope House Ty Gobaith is… To everyone who donated prizes, bought tickets and took time to create their incredible pieces. Thank you so VERY MUCH!
Roll on Cake international 2020 you won't believe what we have planned!
Enjoy the photo slide below. Click on the picture to see more.
Text by Lynsey Wilton – Eddleston