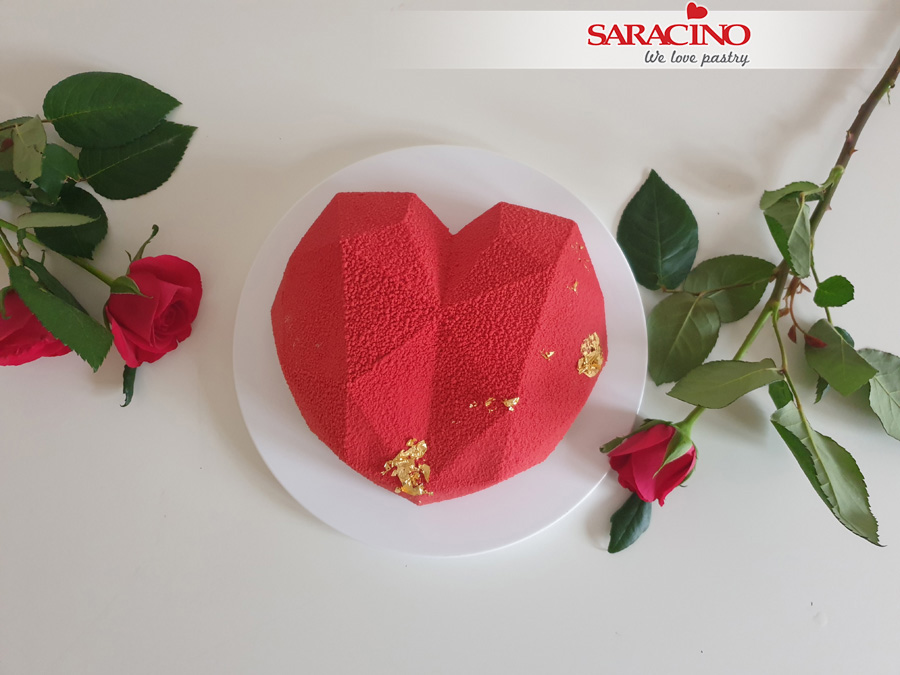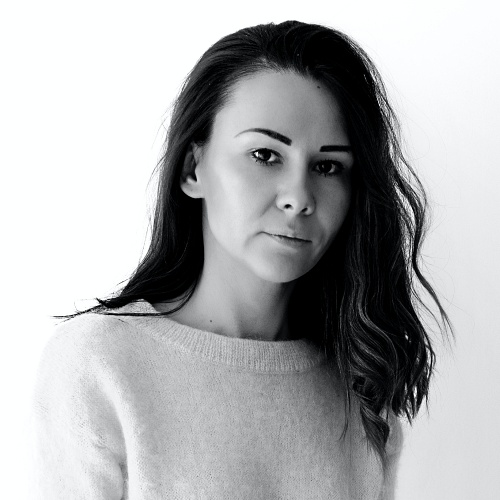 You will need:
Chocolate cake 
130g plain flour

150g caster sugar

65 g cocoa powder

1/2 tsp of baking powder

1/2 tsp of soda powder
pinch of salt
100g buttermilk
50ml vegetable oil
1tsp Saracino Vanilla food flavouring
1 large egg
2 tsp of instant coffee diluted in 250ml boiled water
Jelly
250g cherry puree
6g gelatine
20g cold water 
Crunchy base
100g milk chocolate with nuts 
60g Feuilletine
30g Saracino hazelnut and chocolate food flavouring
30g Saracino peanut food flavouring 
Tiramisu mousse with coffee
8g gelatine 
20g water
3g instant coffee
50g icing sugar
60g Saracino tiramisu food flavouring 
500ml double cream 
Suede effect 
150g Saracino cocoa butter melted with 150g Saracino white chocolate drops
0.5g Saracino red powder colour 
Equipment
food safe paint spray
bowls
whisk
7′ cake tins
spoons
baking paper
confectionery mould with a diameter of 12-13 cm
heart silicone mould
blender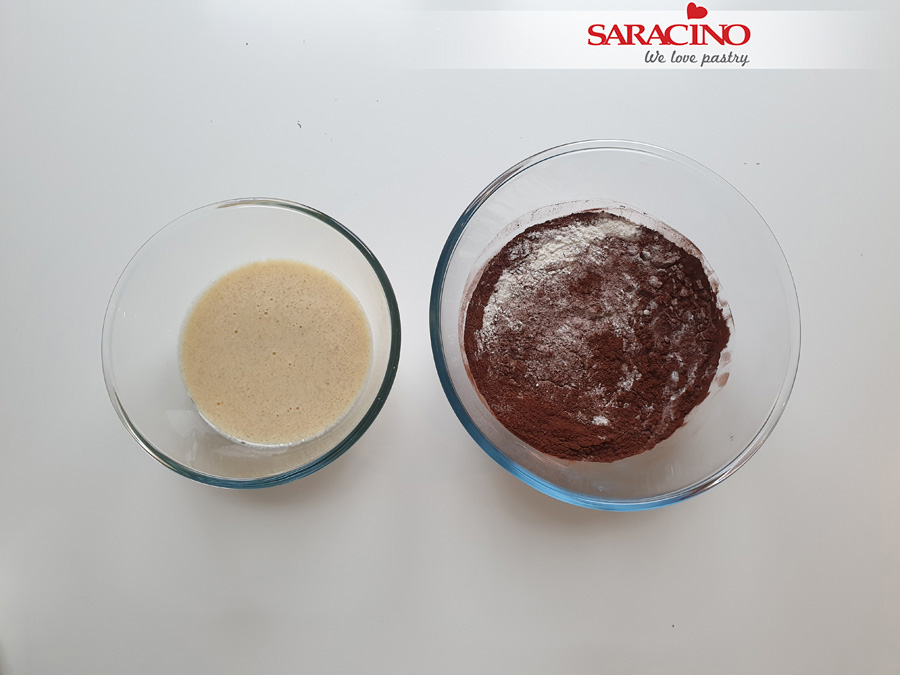 Step 1
For the chocolate cake. Sift the dry ingredients into one bowl (flour, sugar, cocoa, powder with soda and salt). In the second bowl, add the wet ingredients (oil, egg, buttermilk)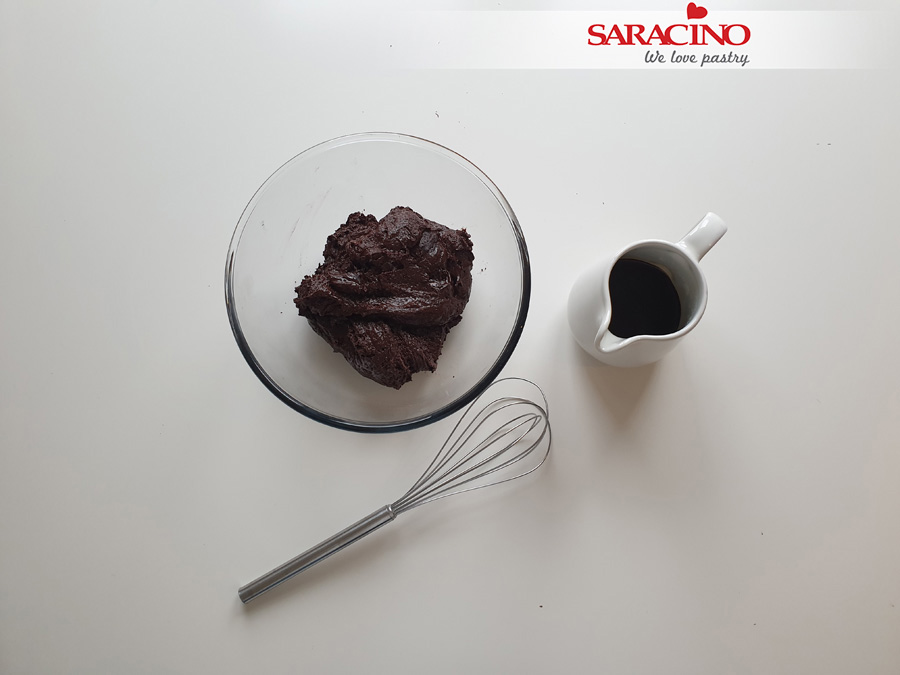 Step 2
Add the dry ingredients to the wet ingredients and mix briefly. Get your hot coffee and a whisk ready.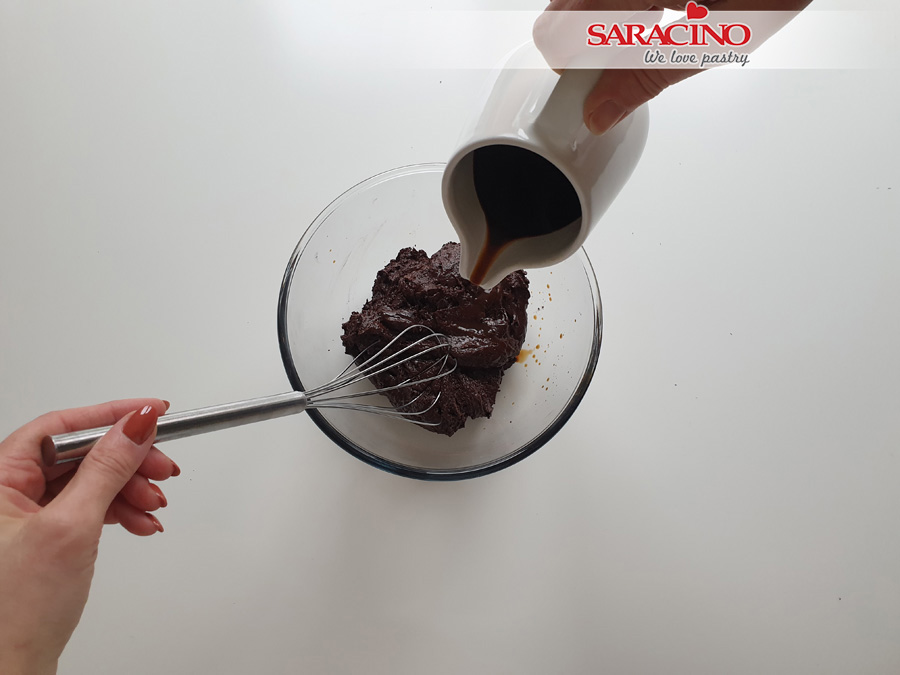 Step 3
With a slow stream, pour the coffee and mix it together.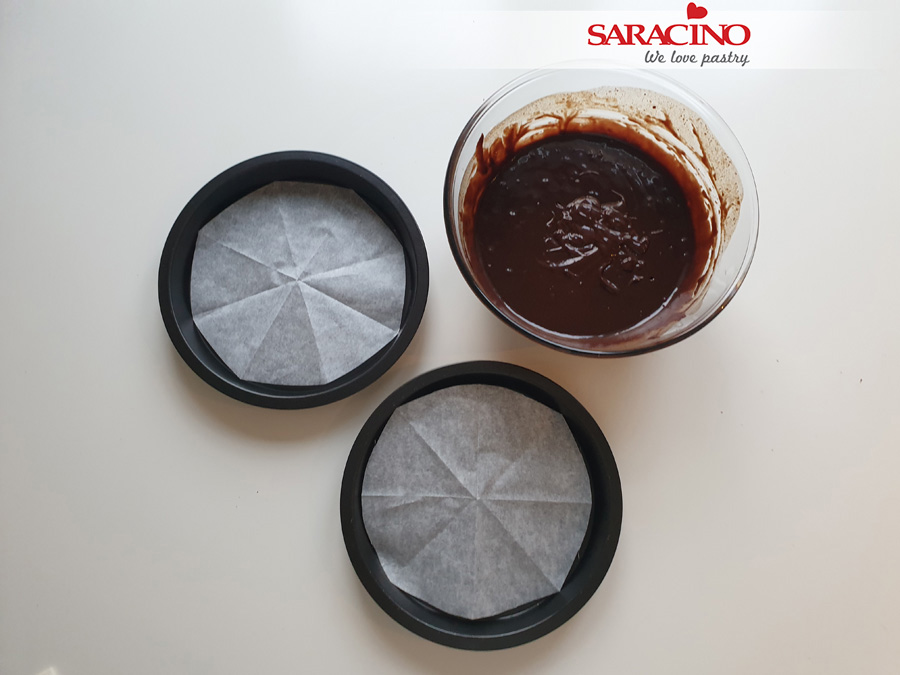 Step 4
Pour the mixture into two low 7-inch cake tins, lined with paper for baking.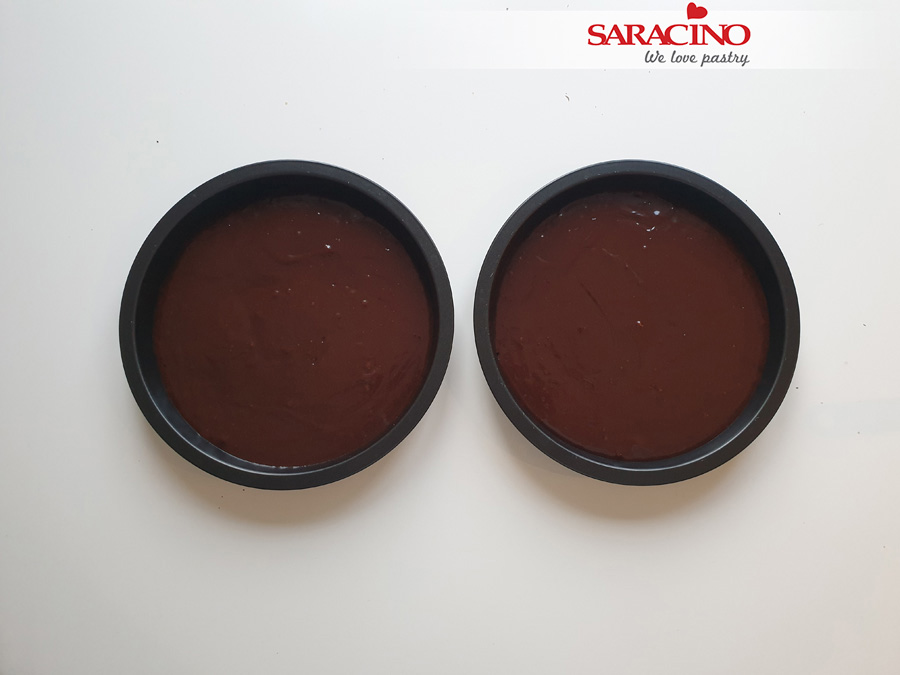 Step 5
Place in an oven preheated to 160 ° (fan oven). Bake for 25 minutes.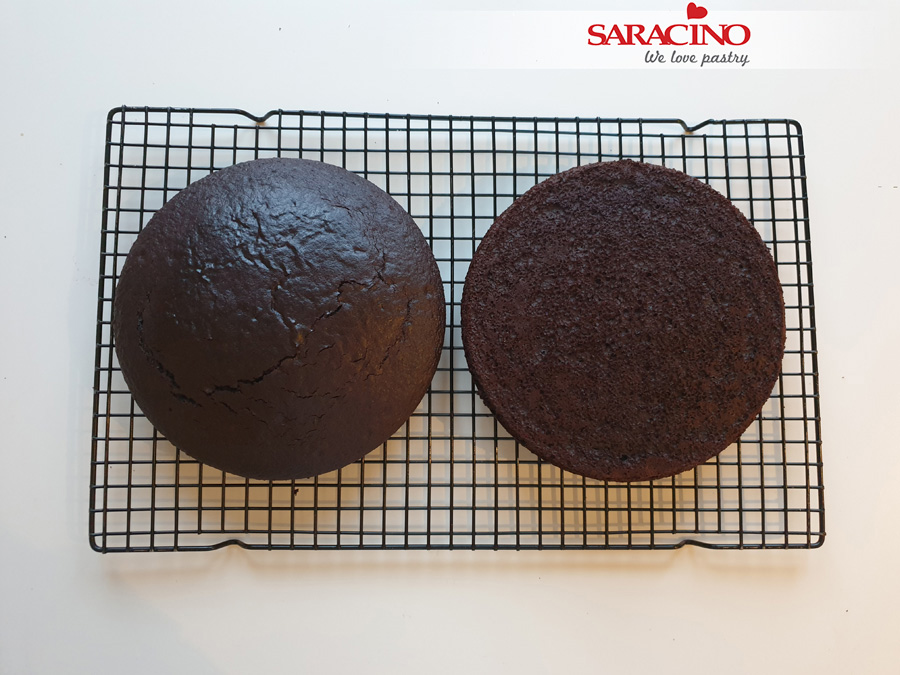 Step 6
After baking, cool the cakes on a wire rack.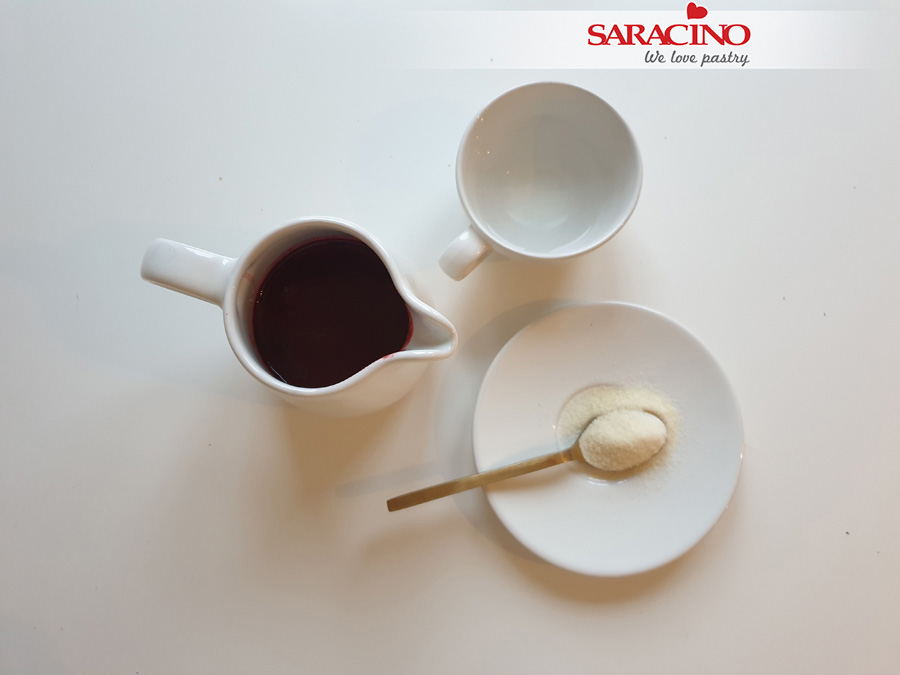 Step 7
Now for the jelly get all your ingredients ready.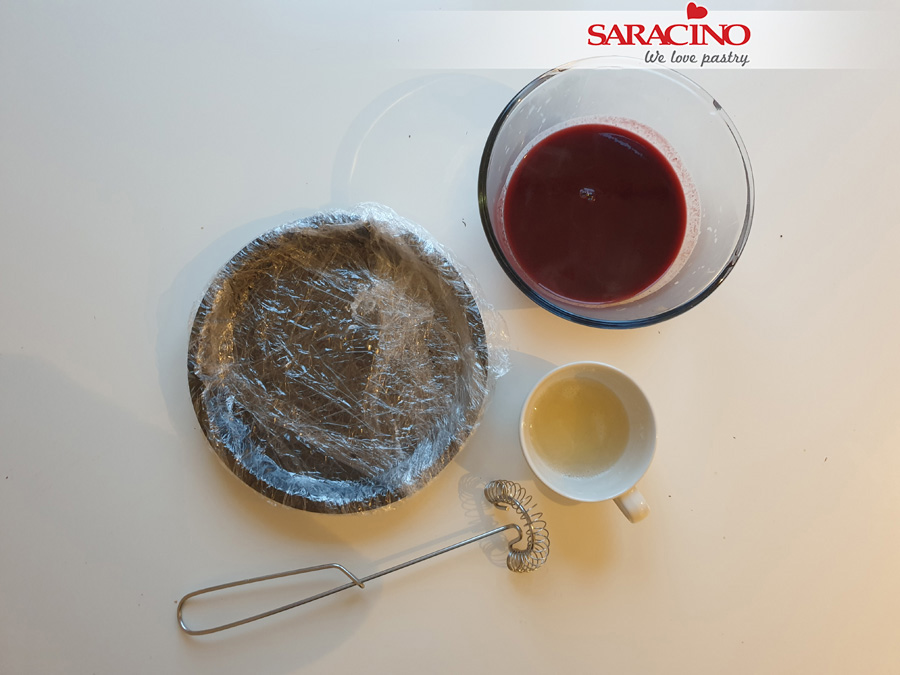 Step 8
Heat the fruit purée to about 50°C, mix the gelatine with water. Prepare a 7 inch shallow dish and cover it with cling film. Heat the gelatine mix in the microwave and add it to the puree. Combine the ingredients.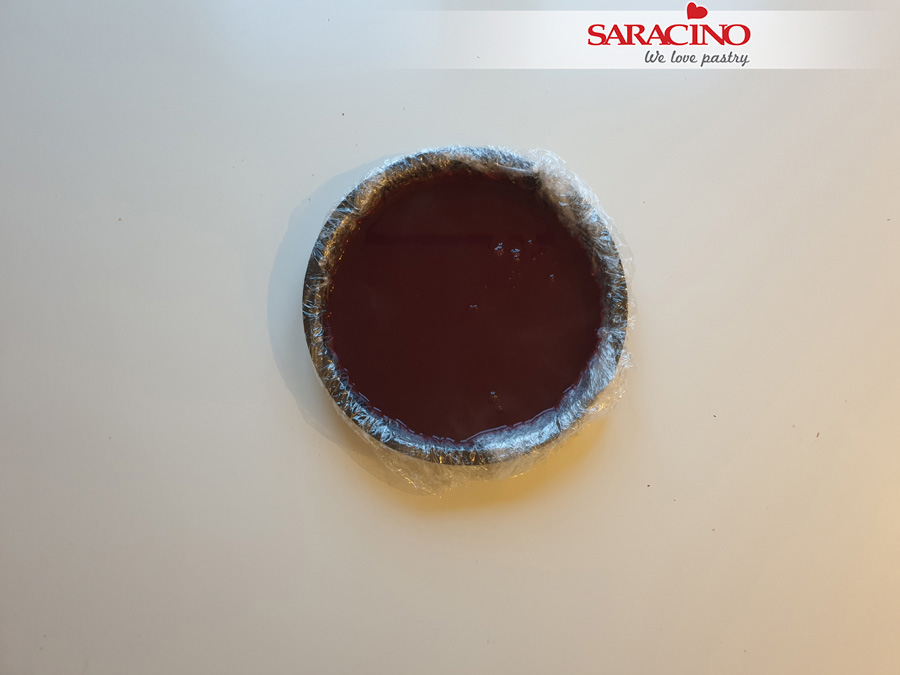 Step 9
Pour into the dish and put it in the freezer for a minimum of 6 hours.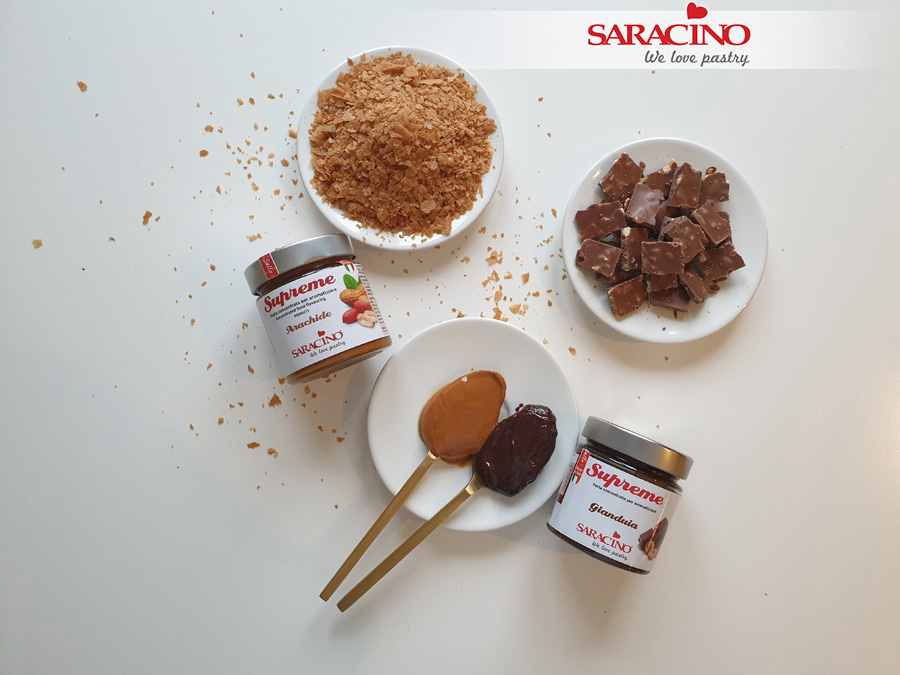 Step 10
Prepare your ingredients for the crunchy base.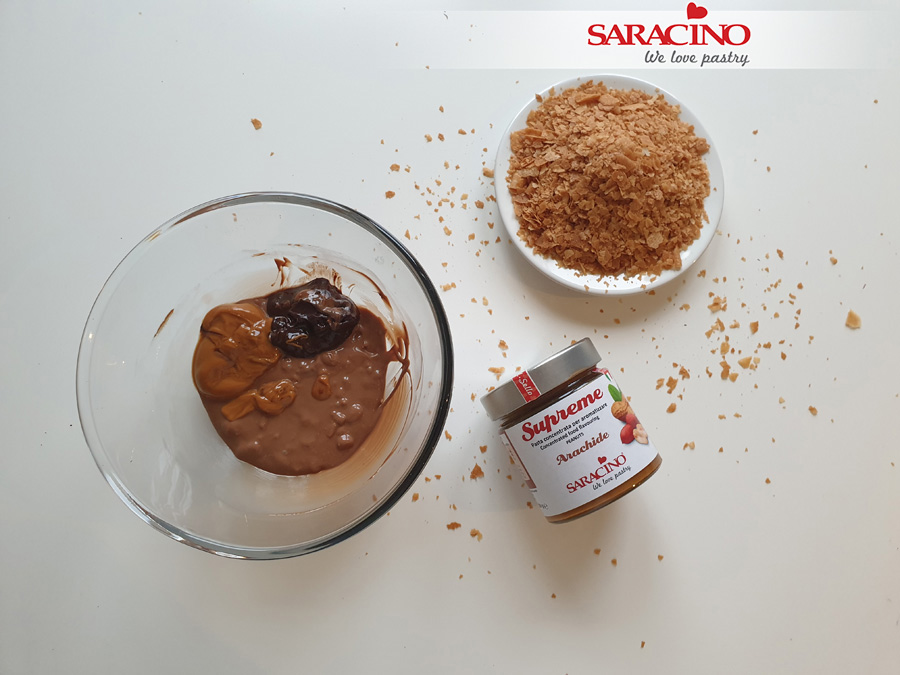 Step 11
Melt the chocolate over a water bath or in a microwave oven. Add both flavour pastes and the Feuilletine. Mix to combine the ingredients.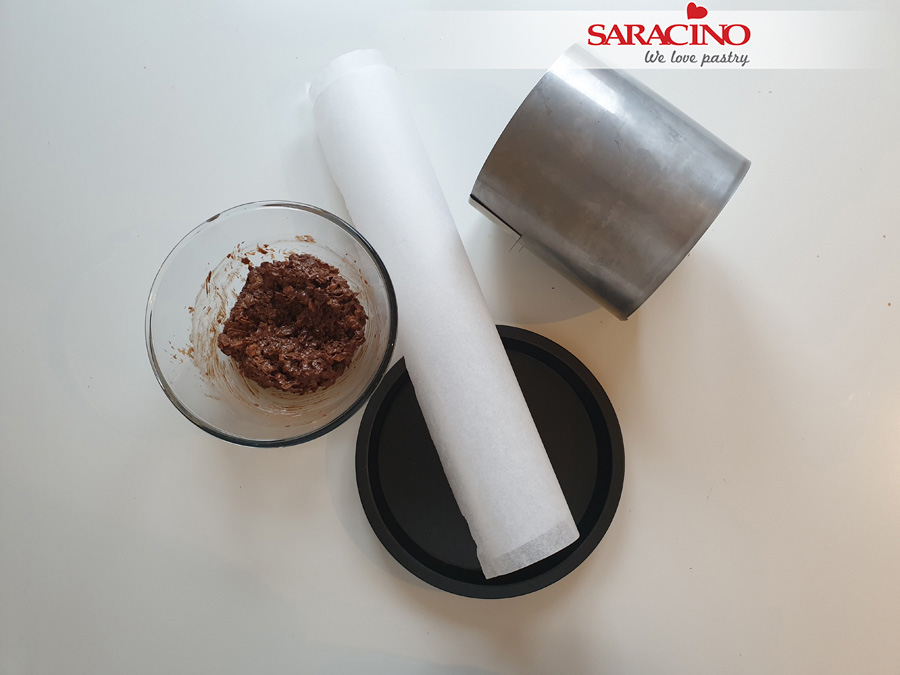 Step 12
We prepare a circular confectionery mould with a diameter of 12-13 cm, baking paper and a baking tray.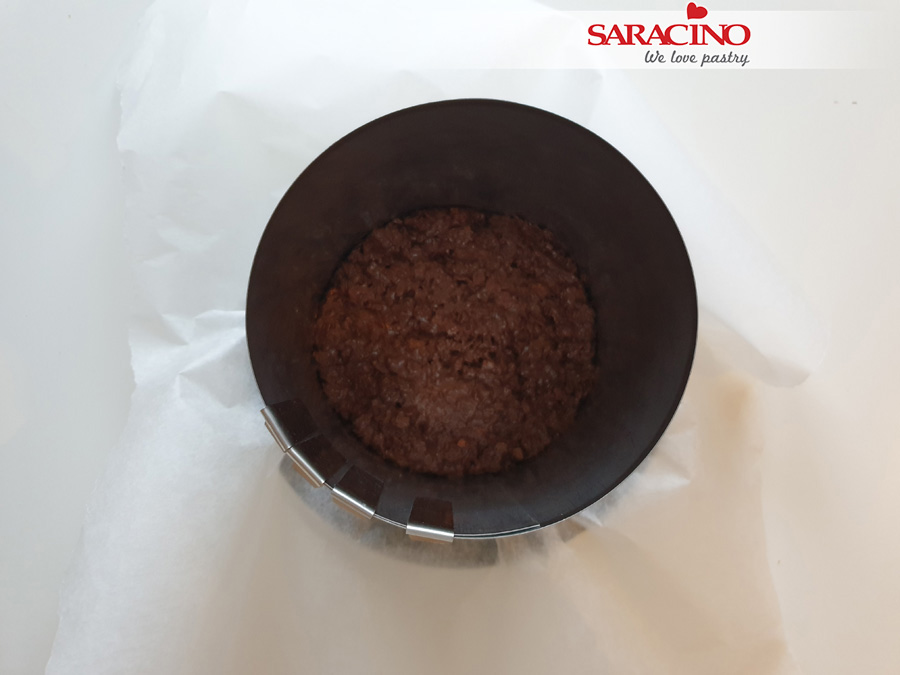 Step 13
Line the bottom with baking paper, then transfer the mixture. Put in the freezer for a minimum of 8 hours.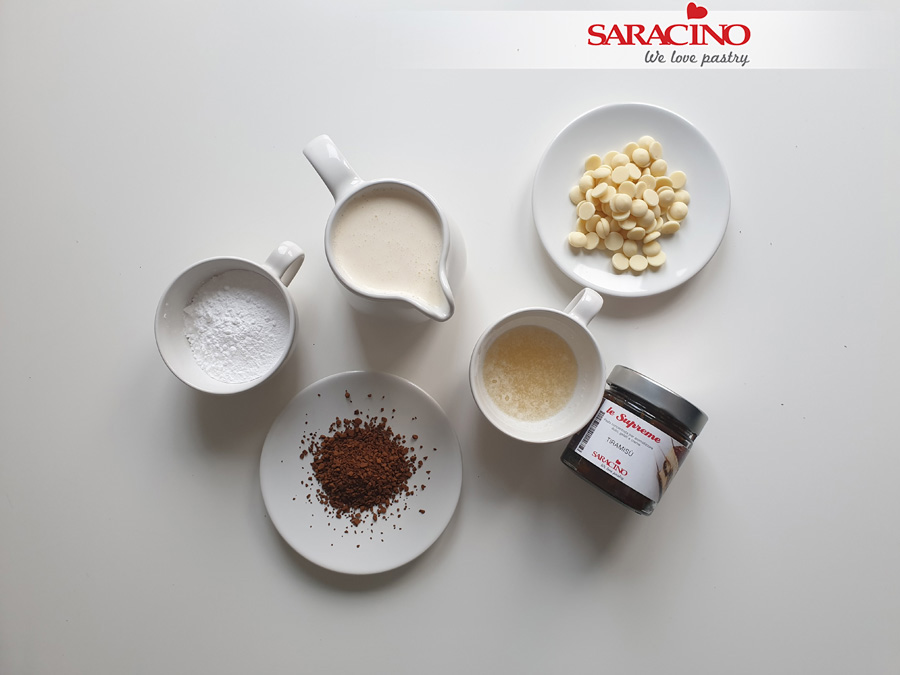 Step 14
 Get all your ingredients ready for the mousse.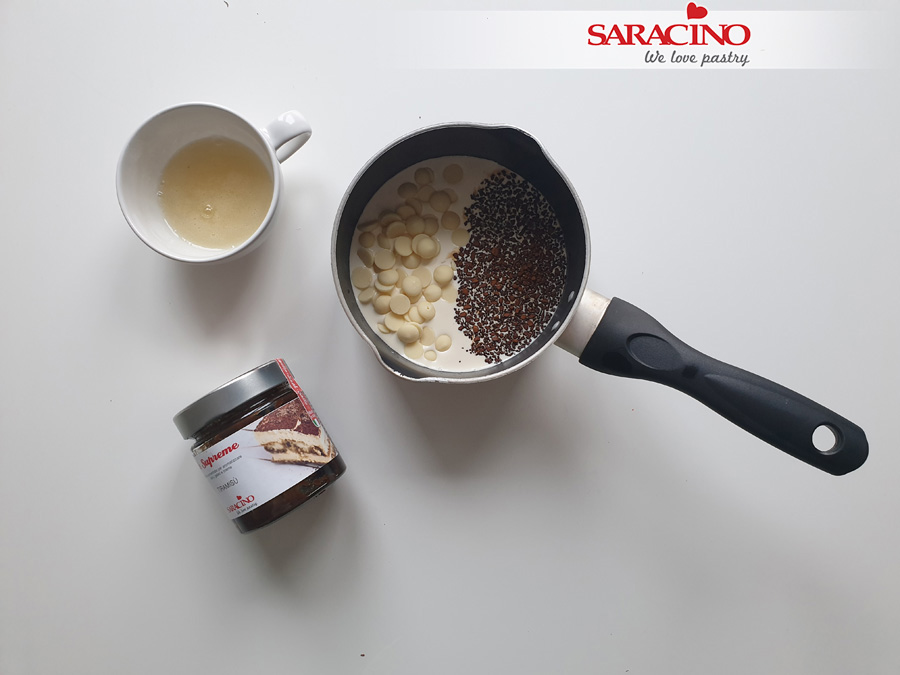 Step 15
Mix gelatine with water and set aside. Measure 100ml of cream and heat it with chocolate and coffee. Stir until dissolved and combined.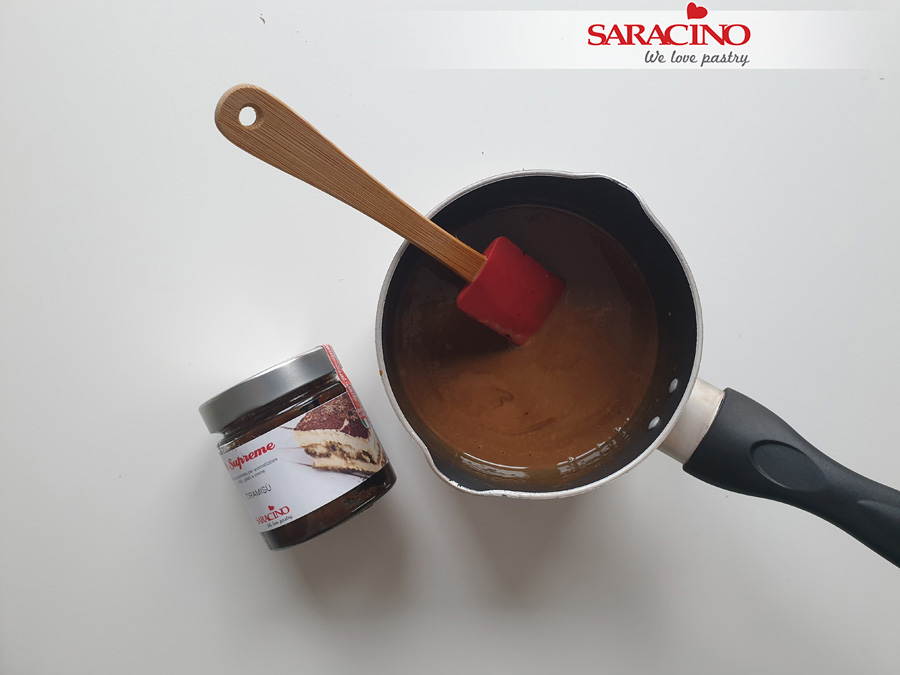 Step 16
Heat the gelatine in a microwave and add to the finished chocolate and coffee mixture and combine.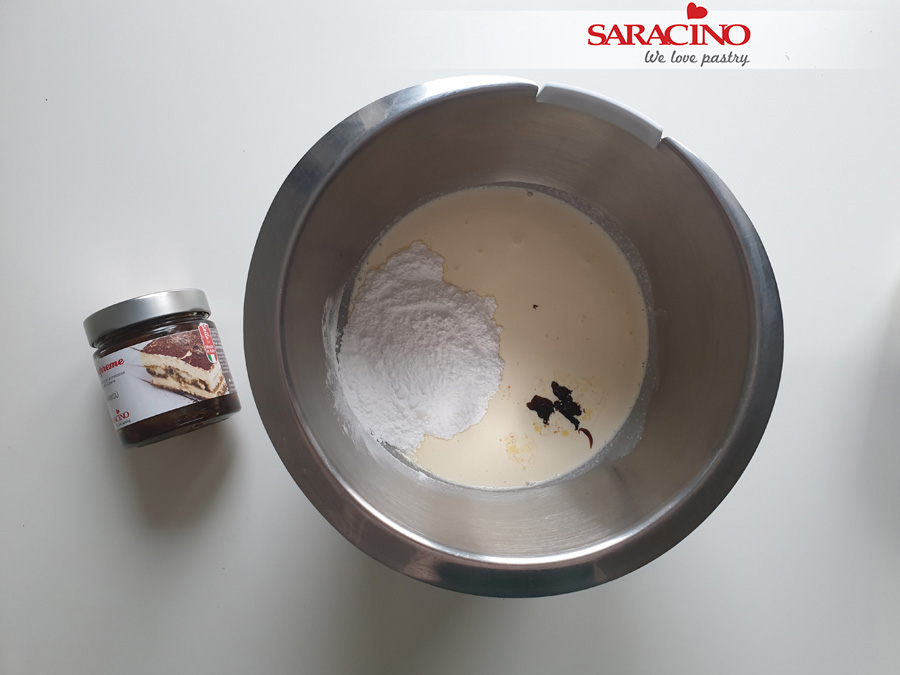 Step 17
In a mixing bowl, beat the remaining cream with icing sugar and Tiramisu flavouring paste to a semi-stiff consistency.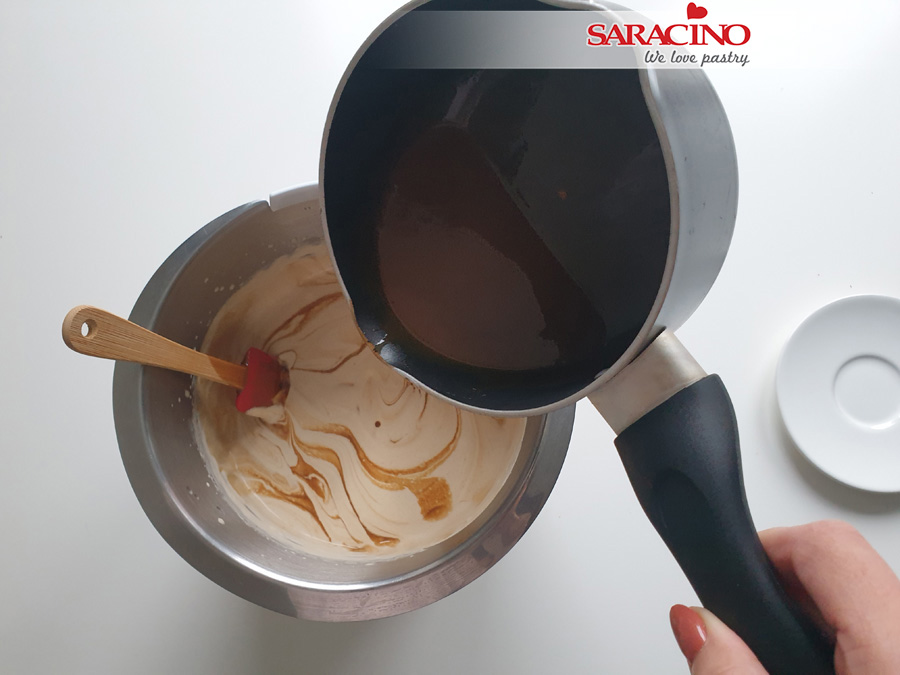 Step 18
Then, in a slow stream, add the previously prepared chocolate-coffee mixture and gently combine with the cream.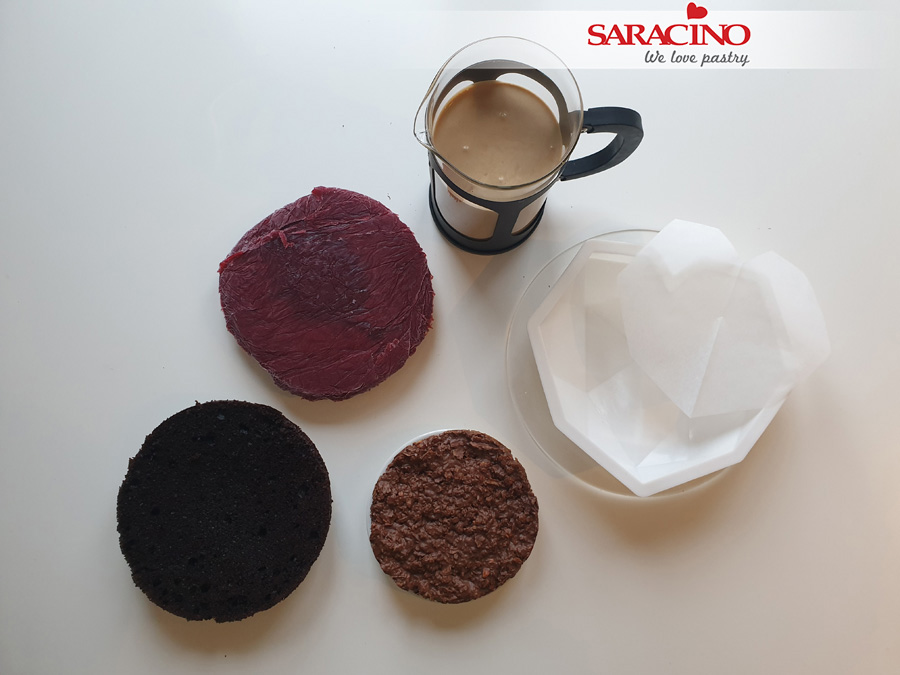 Step 19
Now for stacking the cake. Pour the mousse mixture into a jug. Prepare a heart shaped silicone form, your frozen jelly, crisp base, cake and baking paper.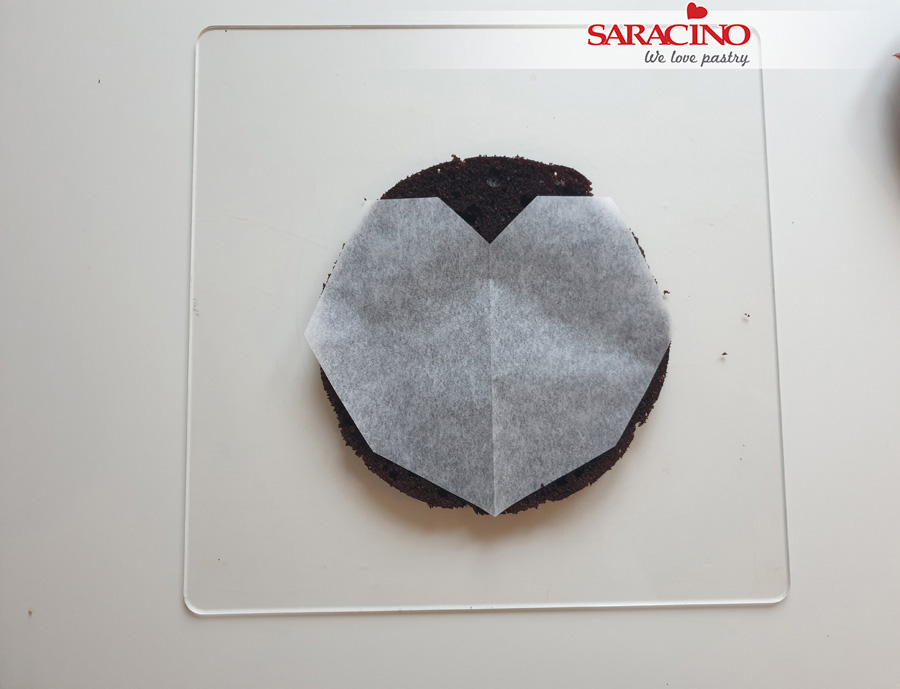 Step 20
Cut out a heart shape from the paper that matches the size of our mould. Place the template and cut out the heart shape in our cake and jelly.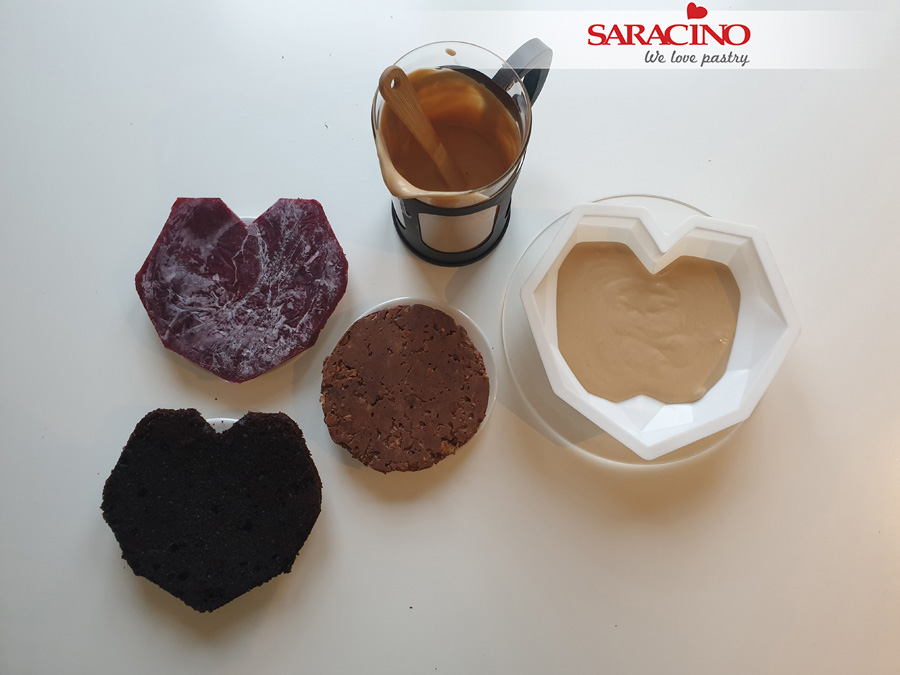 Step 21
To assemble the cake. Place the silicone mould on a rigid base or board. Now prepare the cut jelly, cake and crispy base. Pour a little mousse into the bottom of the mould.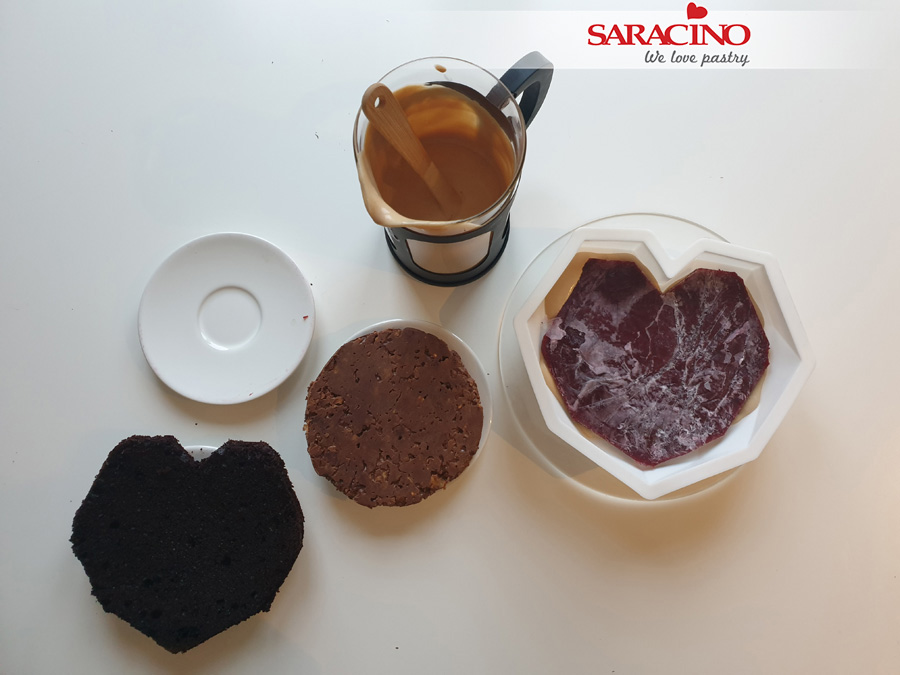 Step 22
First we place the frozen jelly.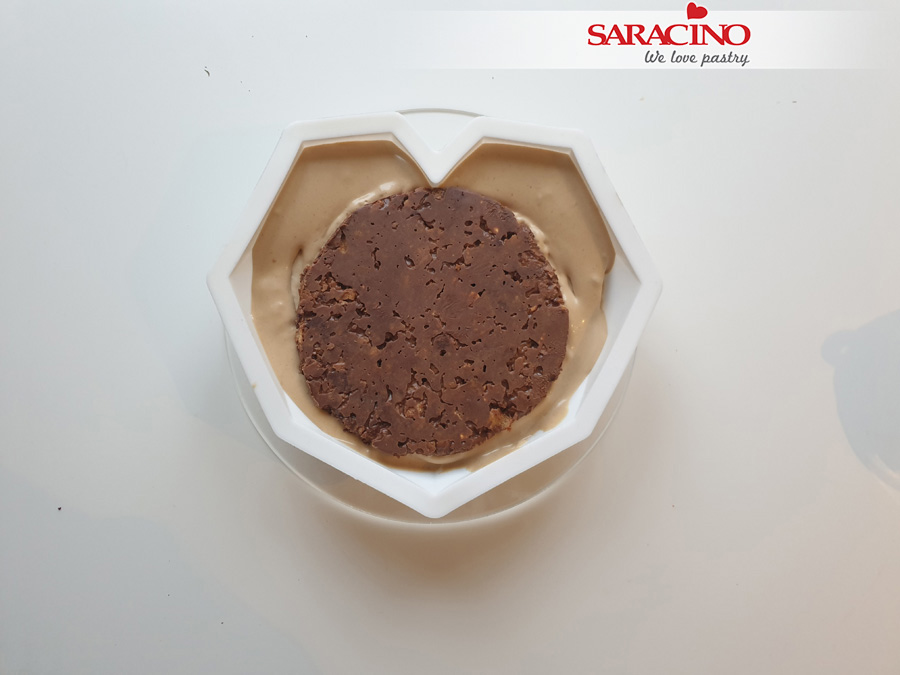 Step 23
Cover the jelly with a little mousse and place the crispy base over.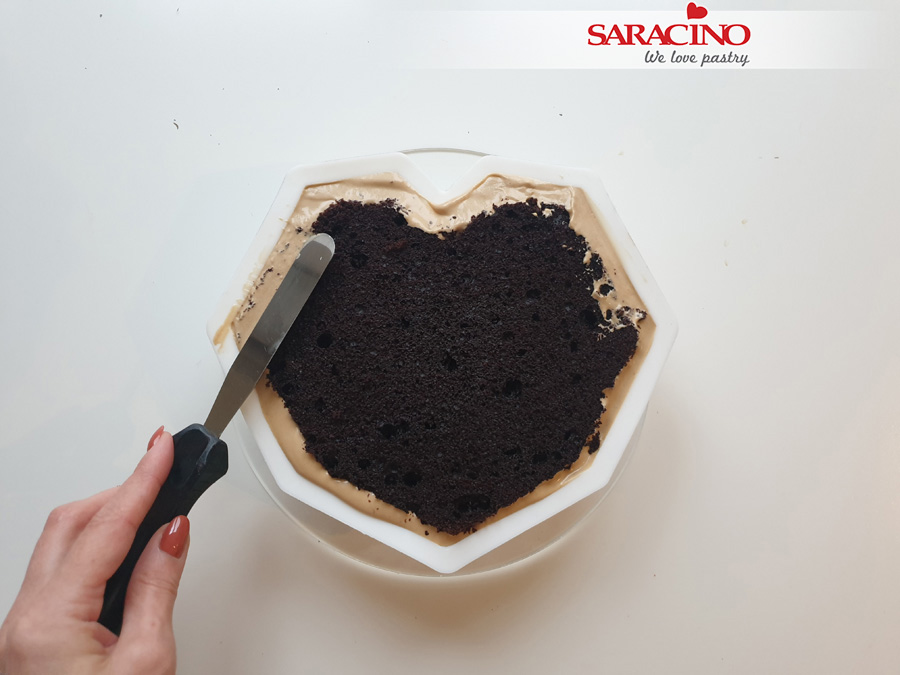 Step 24
Add more mousse and place the cakes. Gently press them down and remove any excess mousse.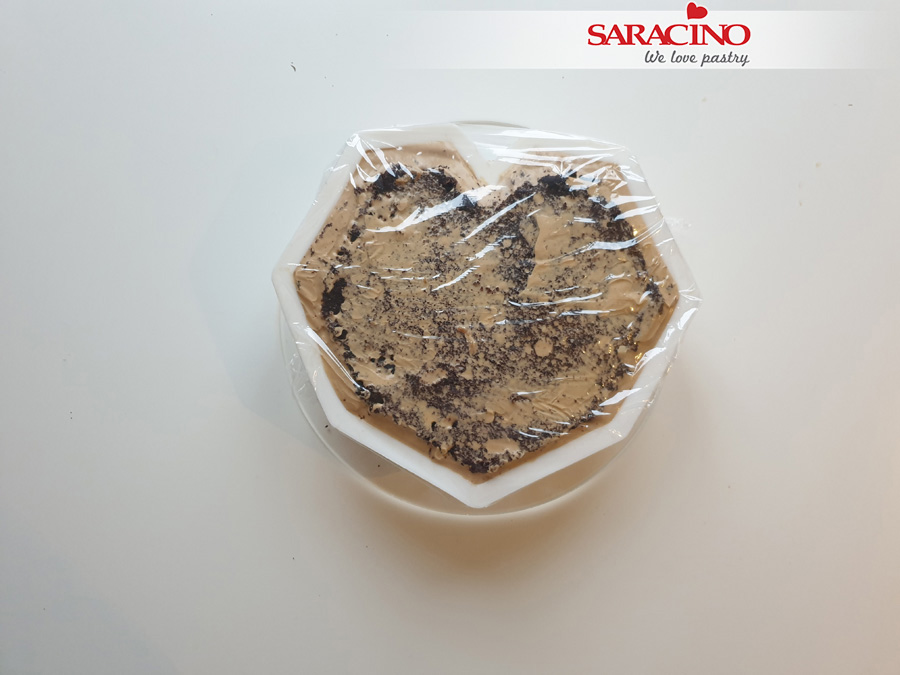 Step 25
Cover the finished cake with cling film and put it in the freezer for a minimum of 12 hours.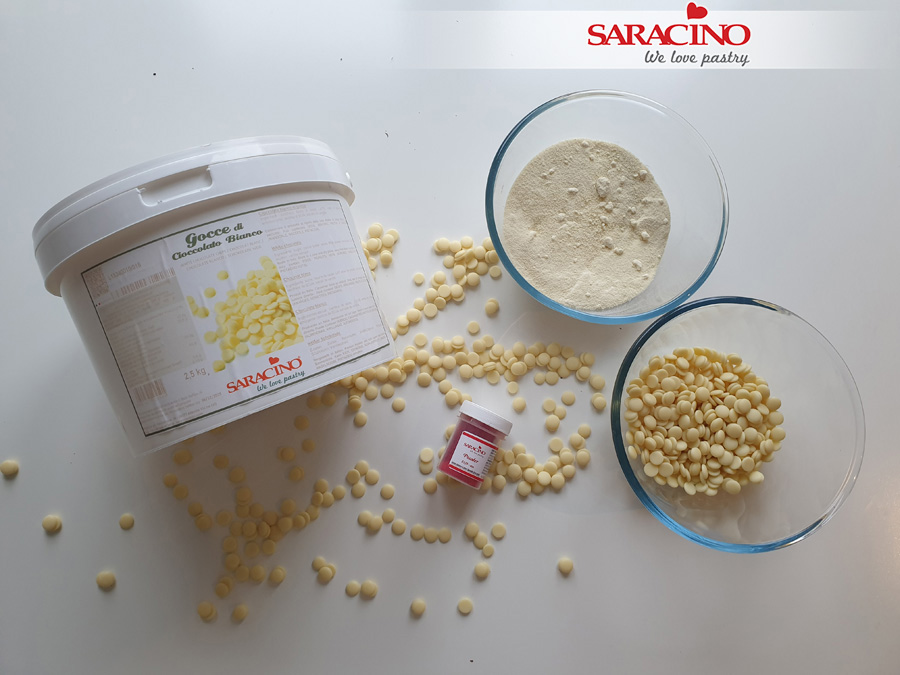 Step 26
To make a suede effect we measure out all the necessary ingredients.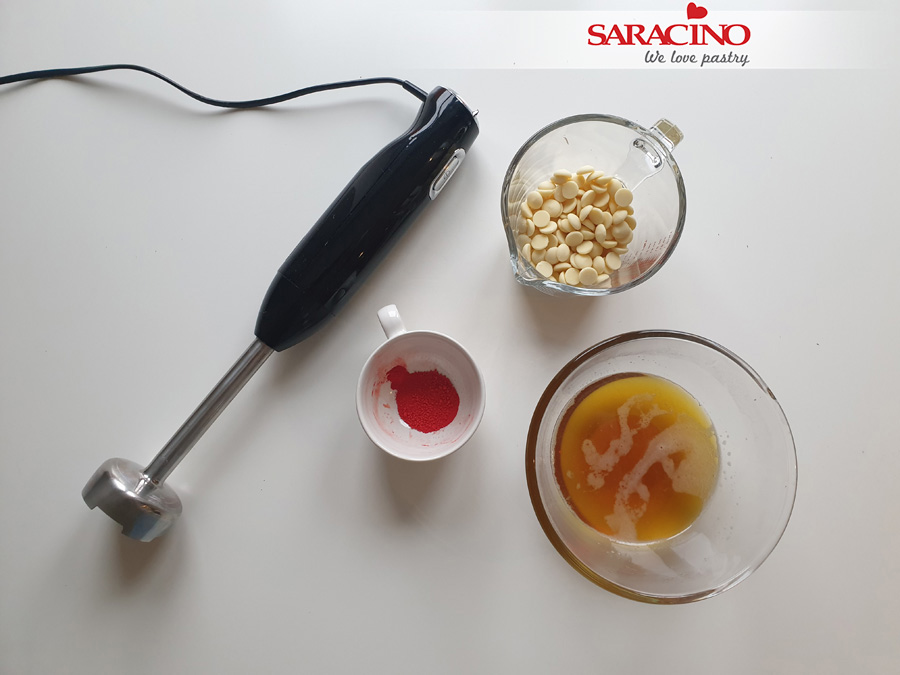 Step 27
Melt the cocoa butter, put the chocolate in a tall dish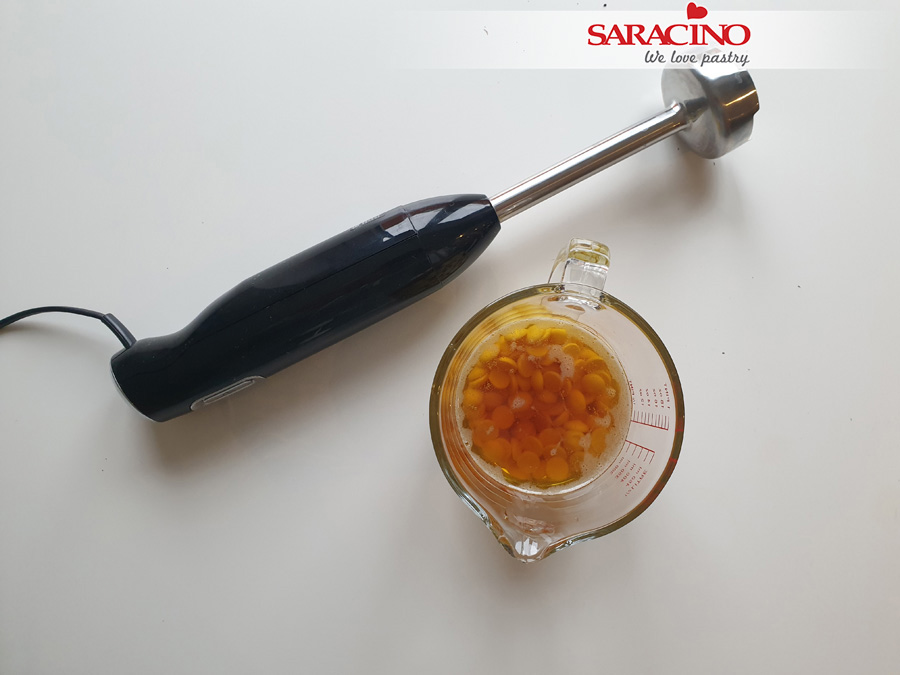 Step 28
Pour hot cocoa butter over the chocolate.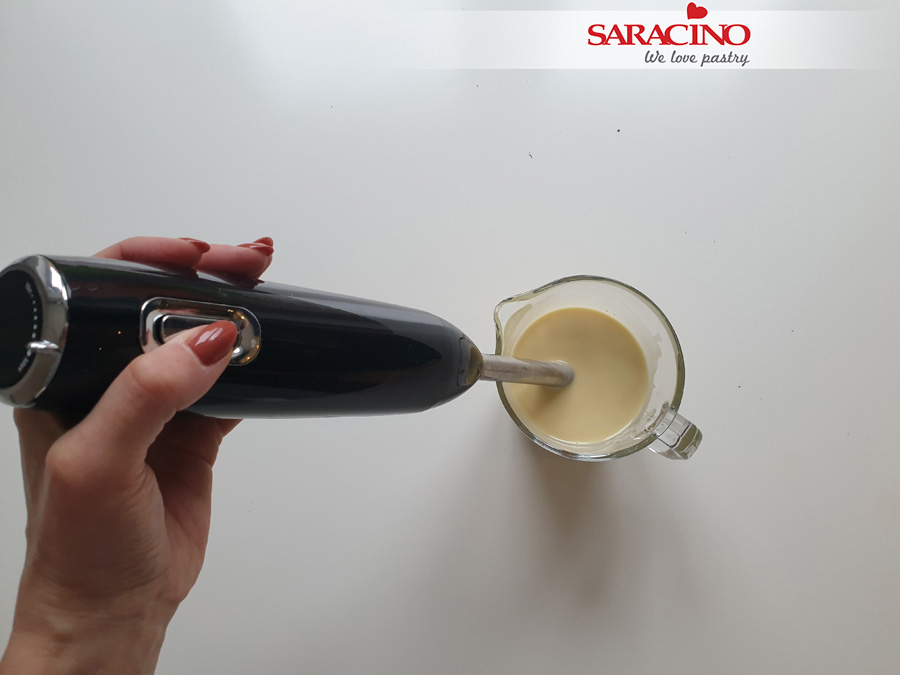 Step 29
Blend until combined.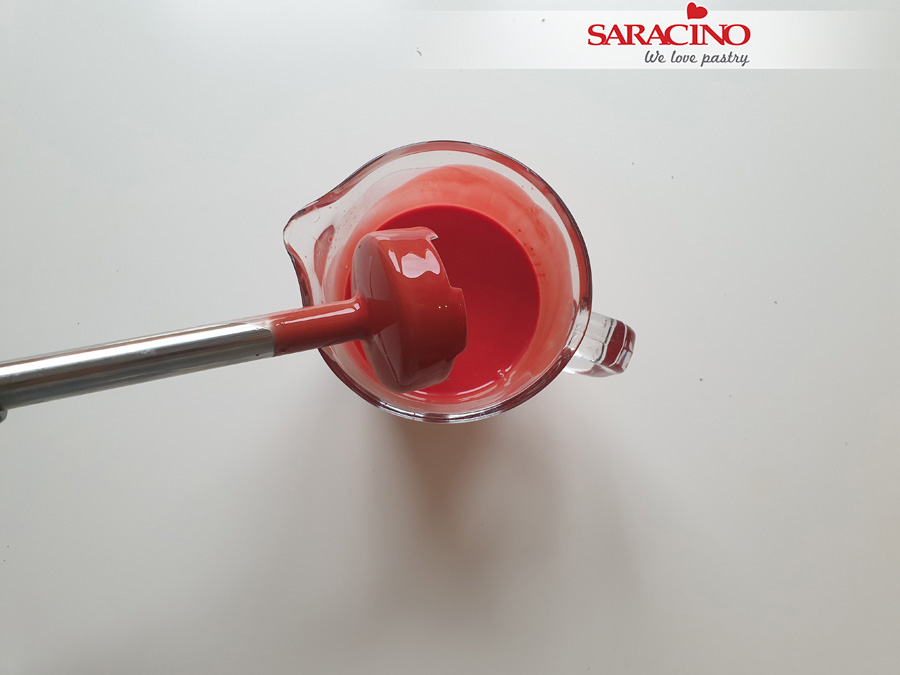 Step 30
Add the red powder colour and combine with a blender.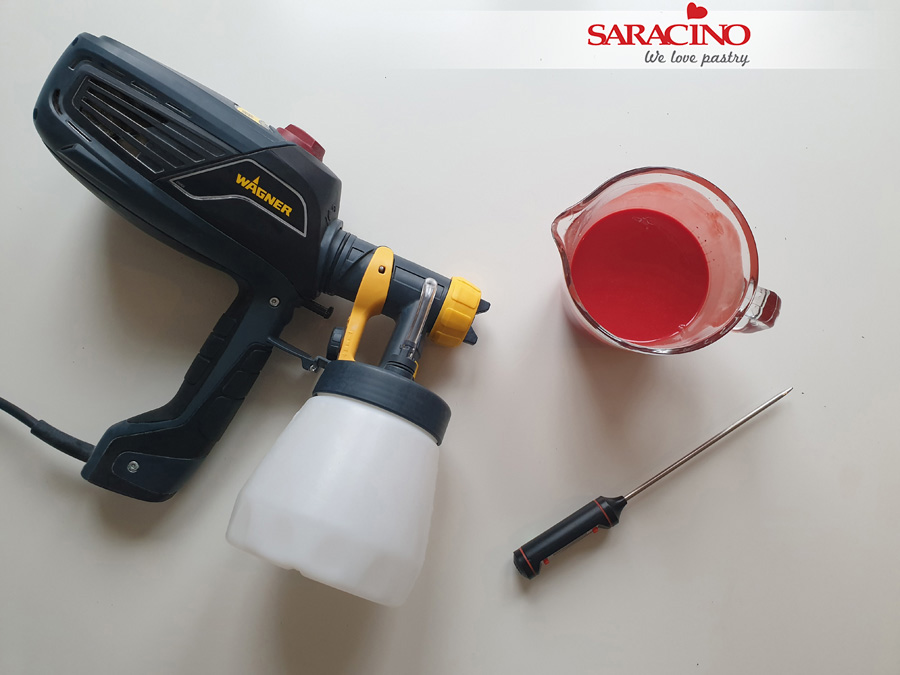 Step 31
We are preparing our Spray Gun. Hire one from Andy. He has everything.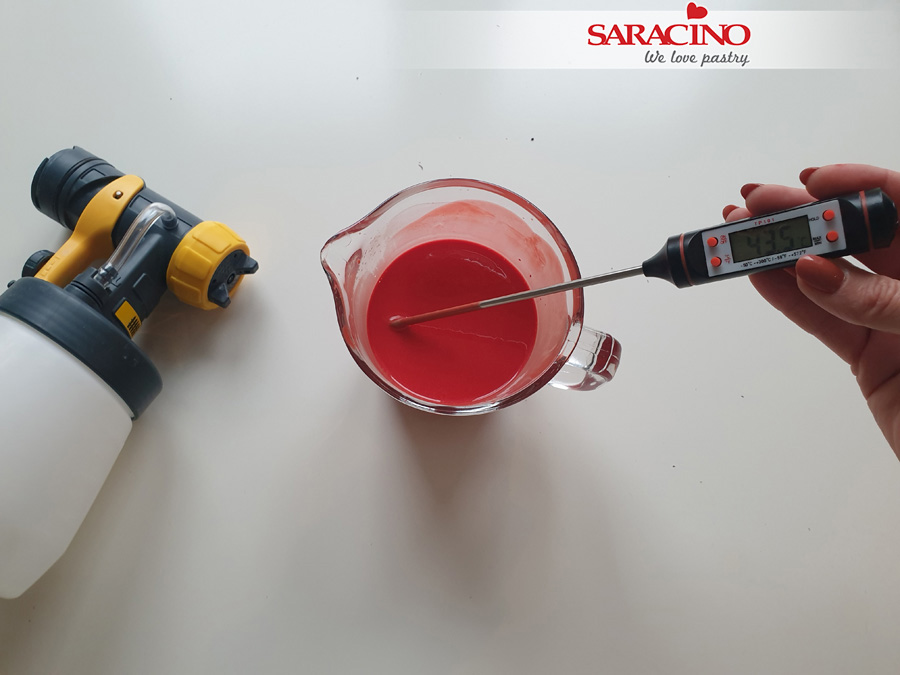 Step 32
Check the temperature of the mixture (it needs to be between 40-50°C).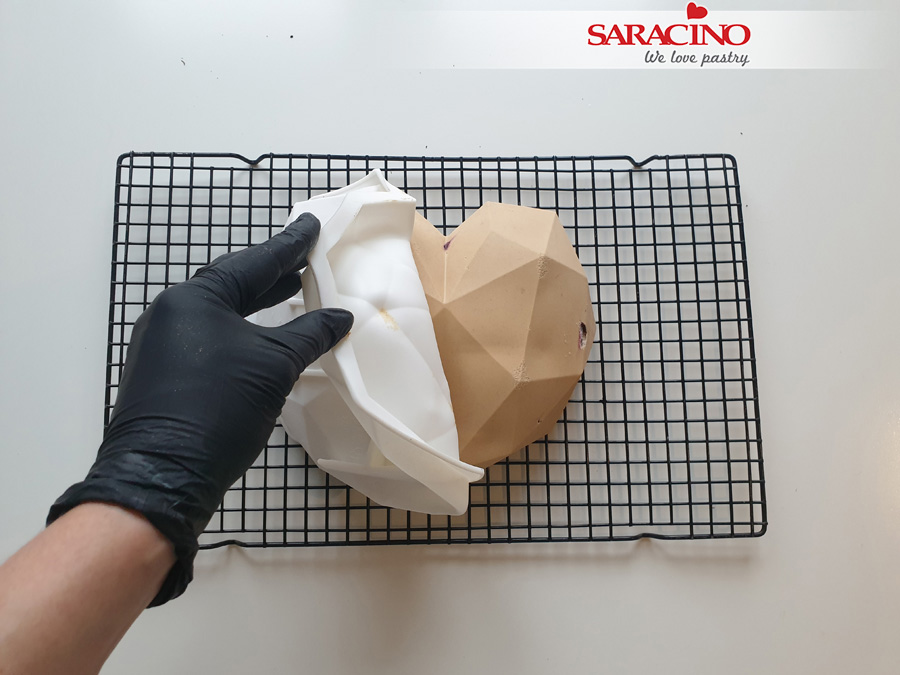 Step 33
Take the frozen cake out of the mould.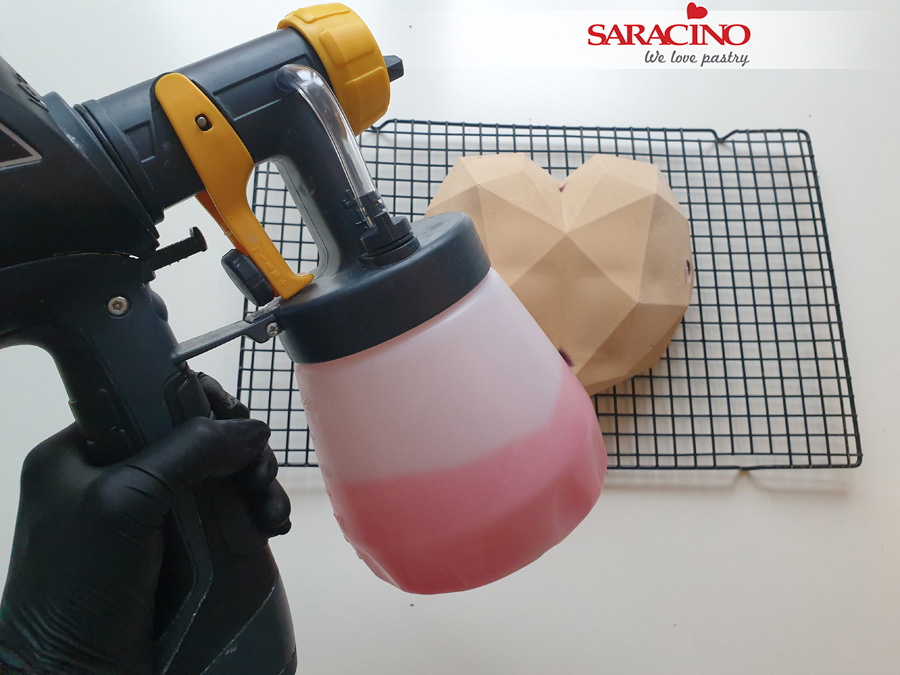 Step 34
Pour the mixture into the tank of the spray gun.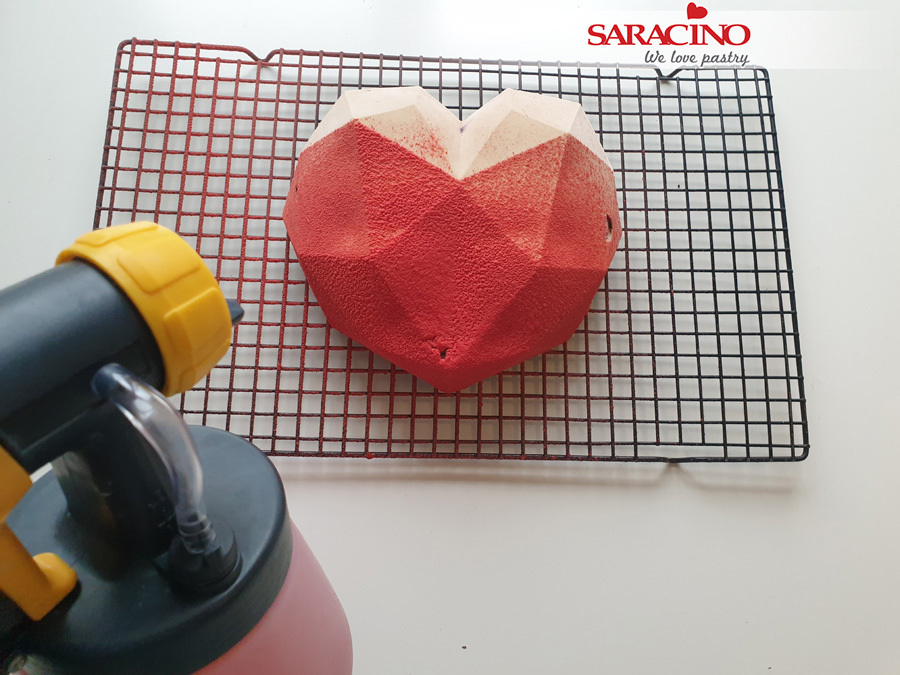 Step 35
Spray from a distance of about 10-15 cm.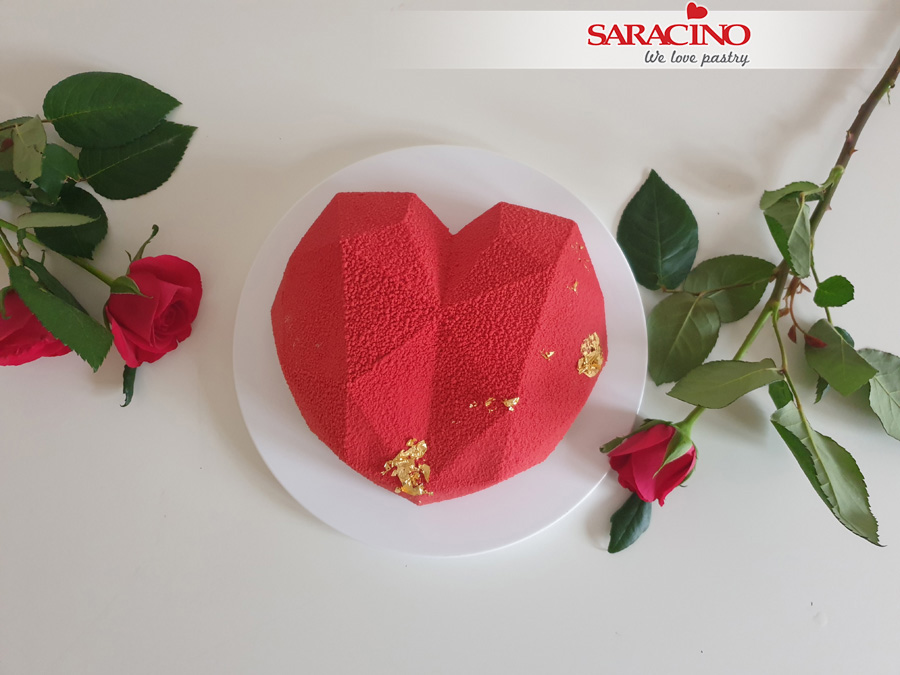 Step 36
Your cake is ready, you can also add edible gold if you want to give a different effect.