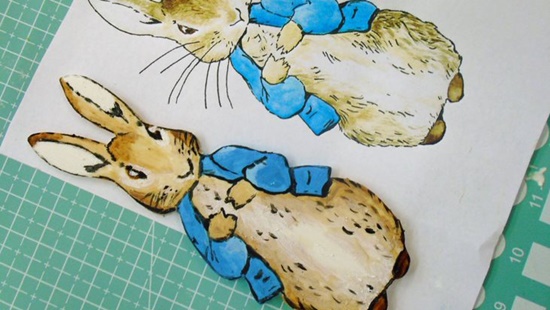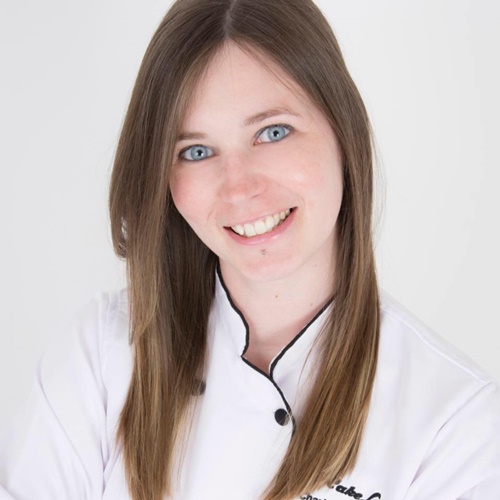 Skill level:
INTERMEDIATE
TIPS FROM CHARLOTTE
Remember to keep referring to the image of Peter to keep it as close as possible to the original
If your brushes get clogged up, remove the excess with some kitchen roll before continuing.
.
You will need:
White Saracino Modelling Paste
Saracino Dust colours: Blue, Brown, White, Black
Saracino Cocoa Butter
Rolling pin
Cornflour puff
Craft knife
Cerart small ball tool
Fine paint brushes
Bowl of boiling water
Small glass bowl
Kitchen roll
Printed image of Peter Rabbit to the size you require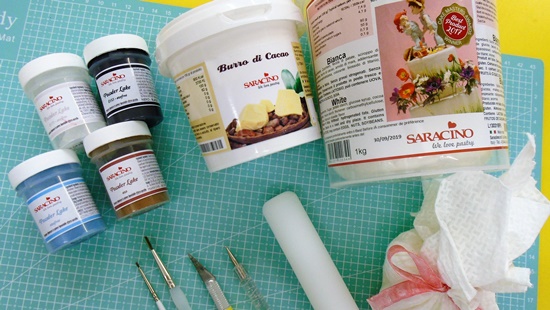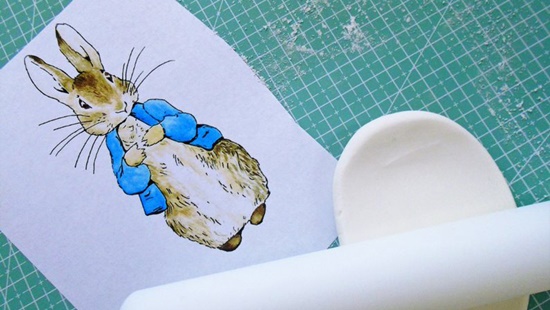 Step 1
Knead your modelling paste and flour your surface with a little cornflour. Roll out the paste to approx. 35mm thick and bigger than your image of Peter Rabbit.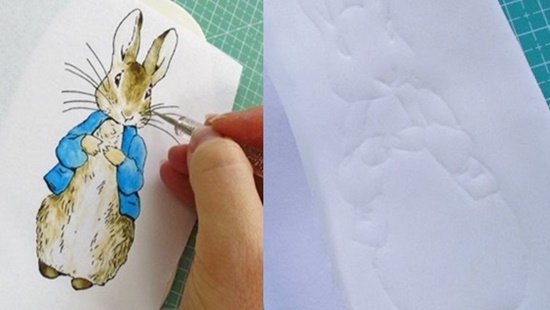 Step 2
Place your image on top of your rolled out paste and using the cerart tool trace all the outlines starting at the top and work your way down being careful not to miss any.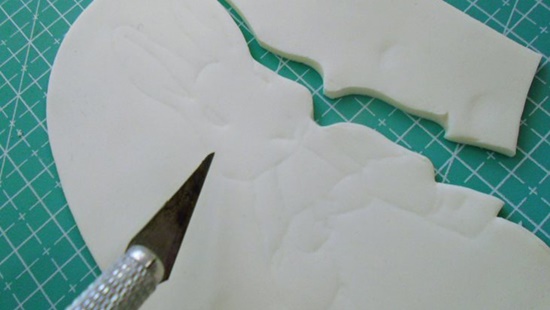 Step 3
Remove the paper and using the craft knife cut around the outline. Smooth any edges with your finger after cutting, if needed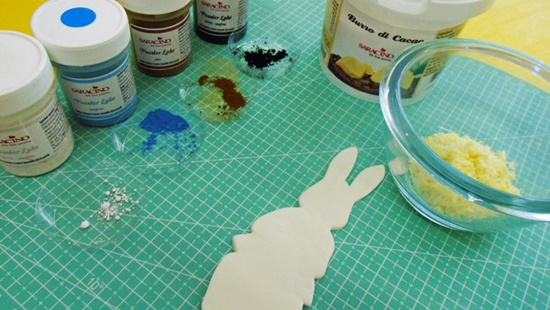 Step 4
Melt the cocoa butter in a small glass bowl using the instructions on the container. Place this bowl in a large bowl with boiling water to keep it liquid. Using a paint palette or individual palettes, put some dust colour in each one ready. Remember to paint the sides of your piece as well as the top.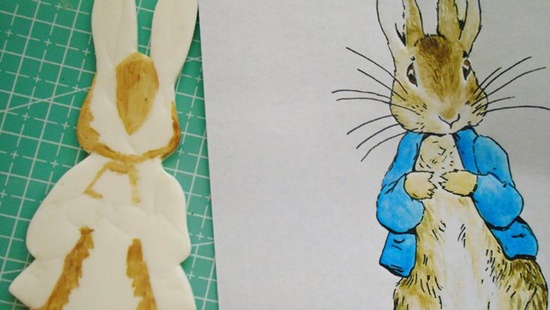 Step 5
Starting with the brown colour, add a small amount of cocoa butter with the dust and mix. Starting with the darker parts (edges, feet and ear tips).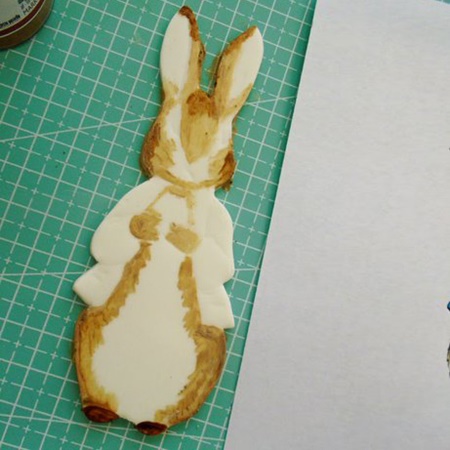 Step 6
Paint in slightly circular motions to add effect. Then add some white to make a lighter brown and work towards the centre of the body, ears, hands and face leaving a space to add some white.
.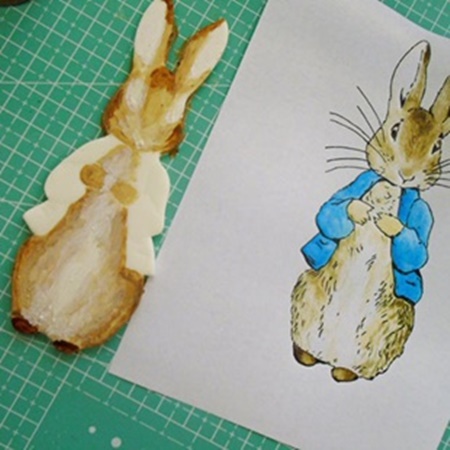 Step 7
Mix up some white dust with cocoa butter and paint the rest of the body, head and ears, referring to the original image.
.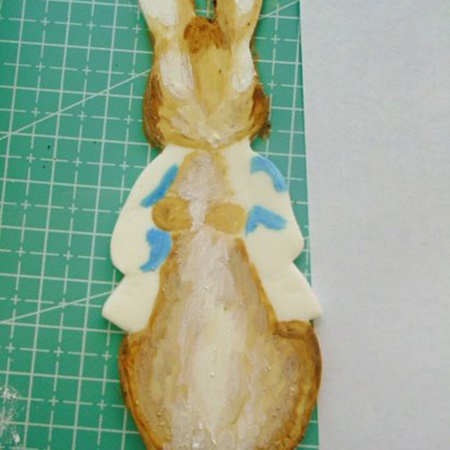 Step 8
Now mix some cocoa butter into the blue paste and add a little white on the side o make a small amount of pale blue. Paint a few highlights on the jacket in the lighter blue first then using the darker blue colour, fill in the rest of the jacket.
.
.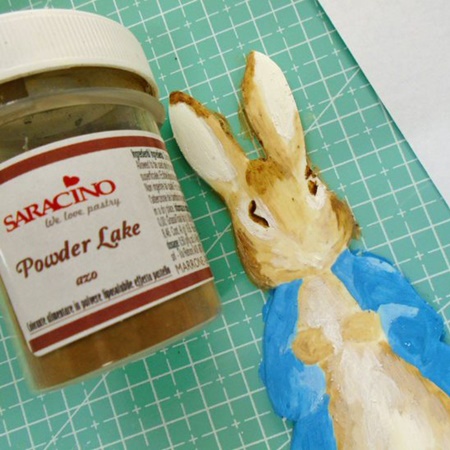 Step 9
Using the dark brown again add a small amount for the eye detail. Peter's eyes are an unusual shape but if you copy the design it will turn out just right.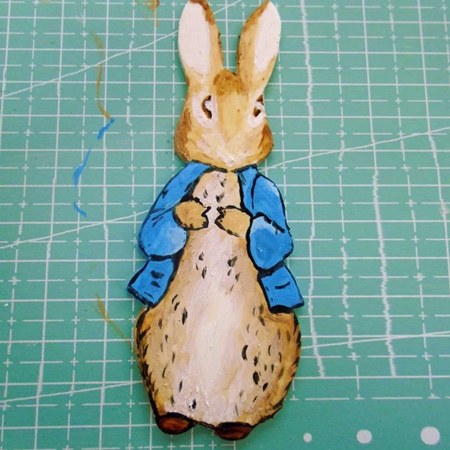 Step 10
Now mix the black dust with some cocoa butter. Using a fine brush begin working lightly on the outline.
.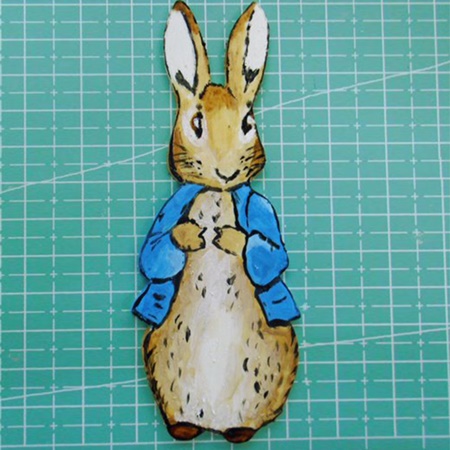 Step 11
Continue making sure you get as much detail as possible.
.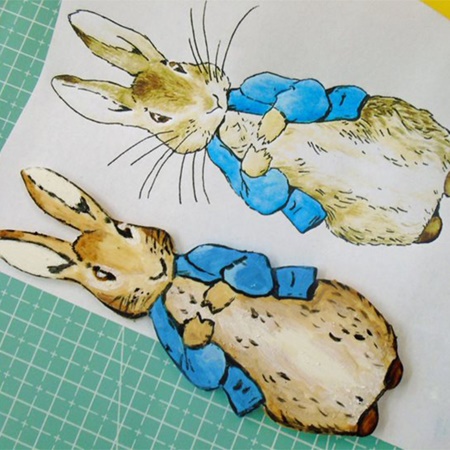 Step 12
Leave your character to dry and then he is ready to fix on to any cake. If you wish to make him stand then dip two cocktail sticks in glue and press those ends into each foot once the shape is cut out, then begin painting.
.