You will need:
250g Saracino Pasta Model: Baby Pink
20g Saracino Pasta Model: Baby Blue
50g Saracino Pasta Model: Tiffany
2g Saracino Pasta Model: Black
2g Saracino Pasta Model: Fuschia Pink
5g Saracino Pasta Model: Yellow
Teaspoon of Yellow Royal Icing
Gel Colour: As pasta model colours above
Modelling Tools: dresden, balling tool
Foam pad
Blossom cutters (2 sizes)
Polystyrene dummy
Wooden dowel
Craft knife
Kitchen knife
Edible glue
Paintbrush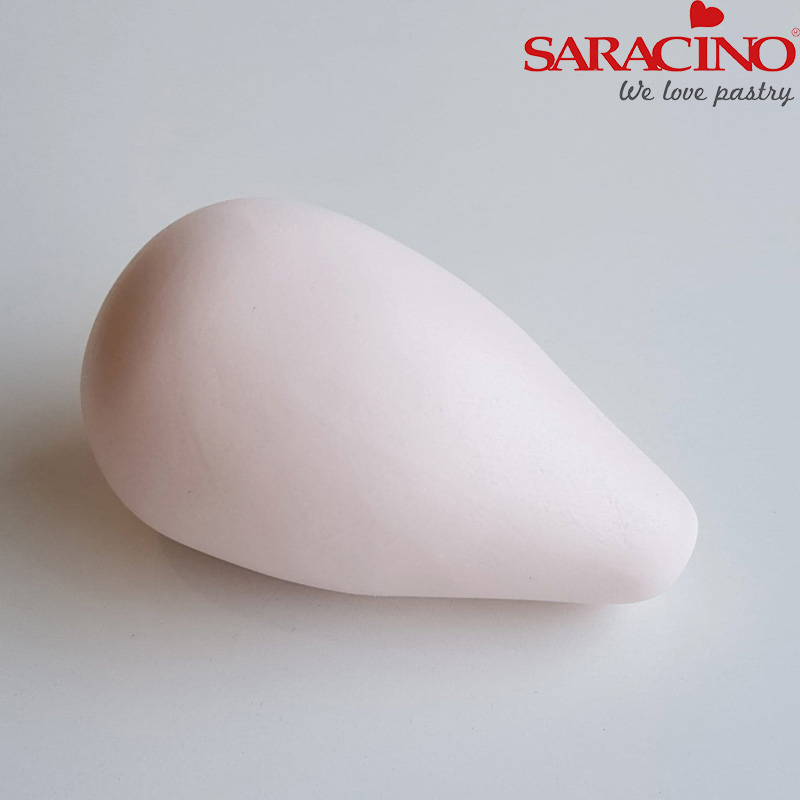 Step 1
For the body shape use 250g of pink Saracino modelling paste and form it into a cone shape.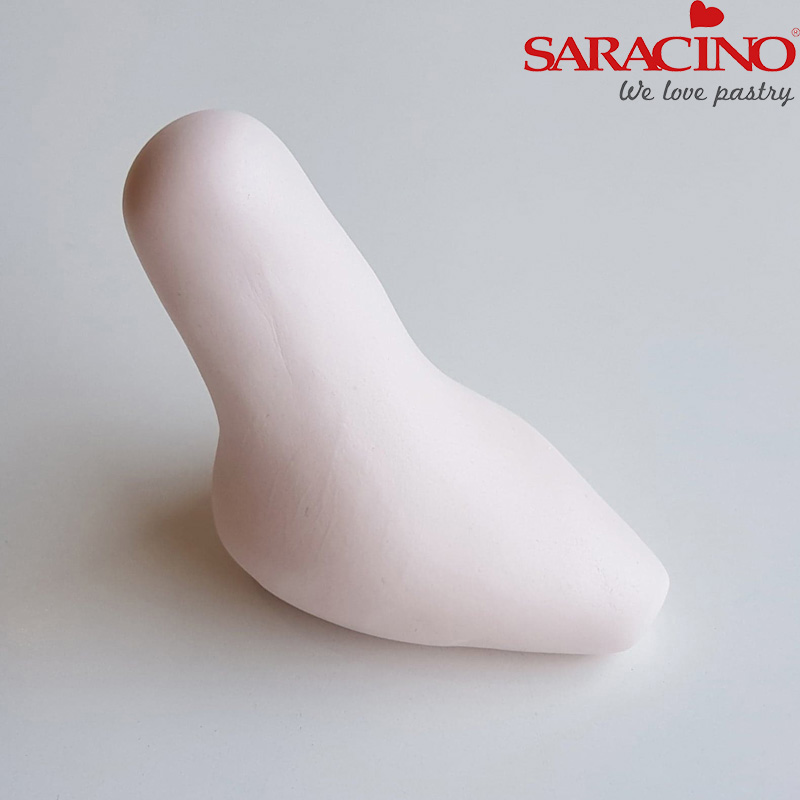 Step 2
Work with the thicker side of the cone, pull and work out the neck of the Llama until it's long and thin keeping a ball shape at the very tip for her head.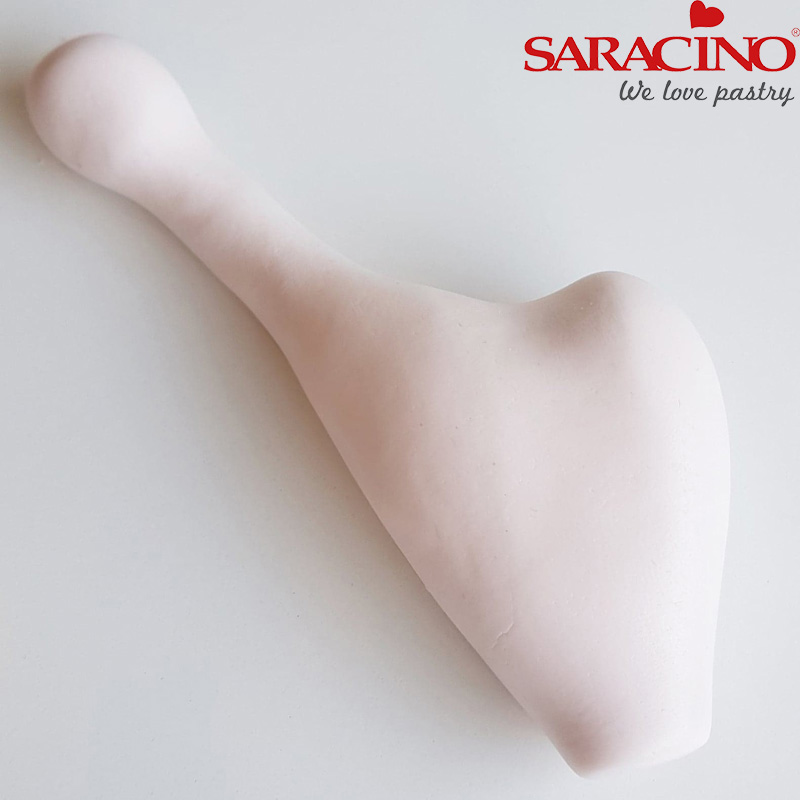 Step 3
Start to work the body of the Llama a little so it looks like a heart shape with the neck ,I have also made sure that the base (feet end) is flat so that the Llama will stand proud.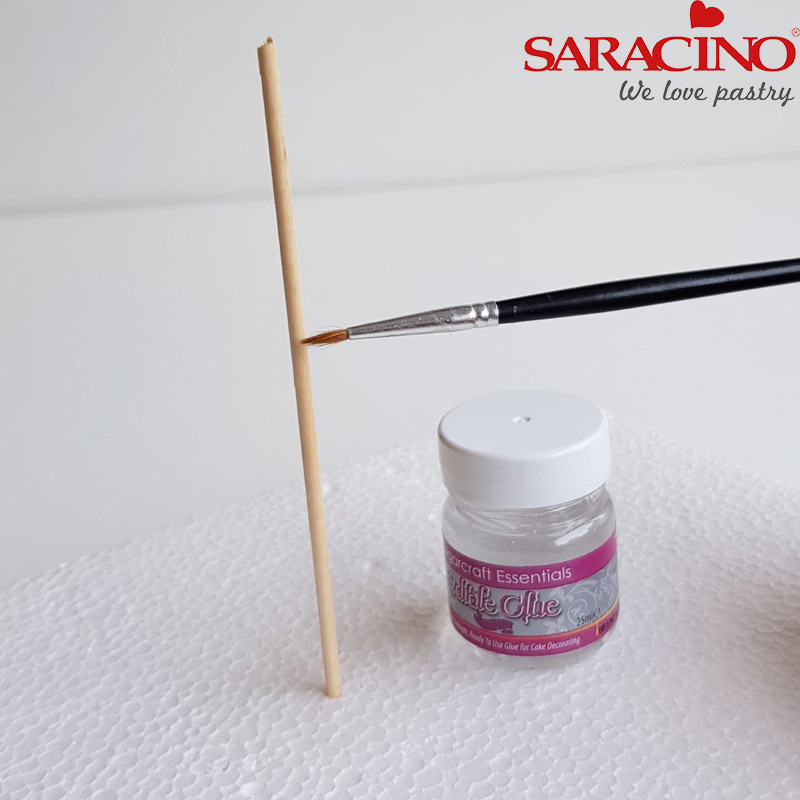 Step 4
Insert a wooden dowel into your polystyrene, then paint the rest of the dowel with a little edible glue.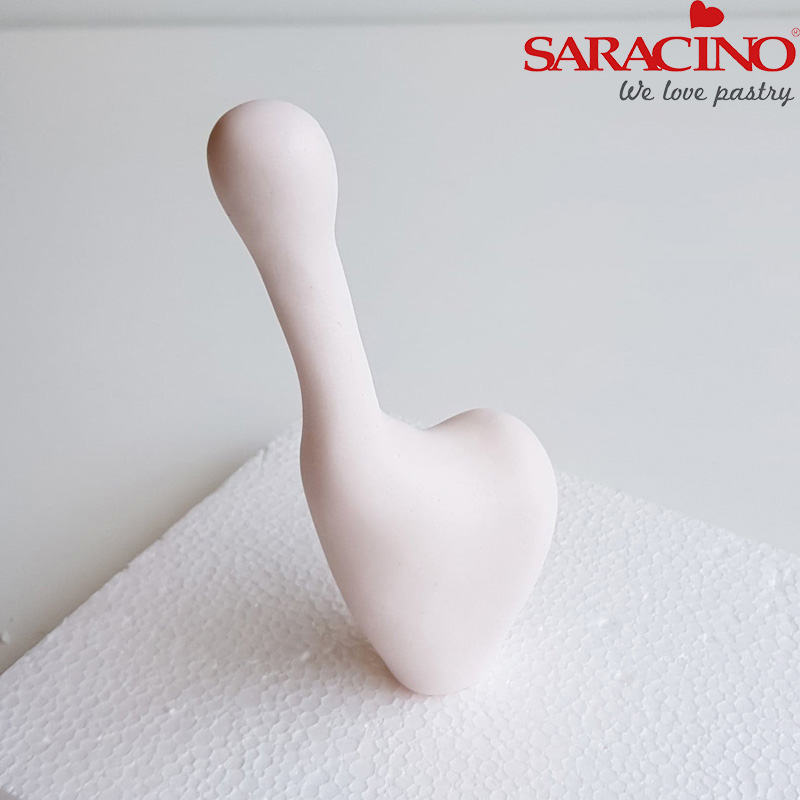 Step 5
Place your soon to be Llama onto the wooden dowel and double check that he is standing straight and as you want him, as this is how he will set and dry.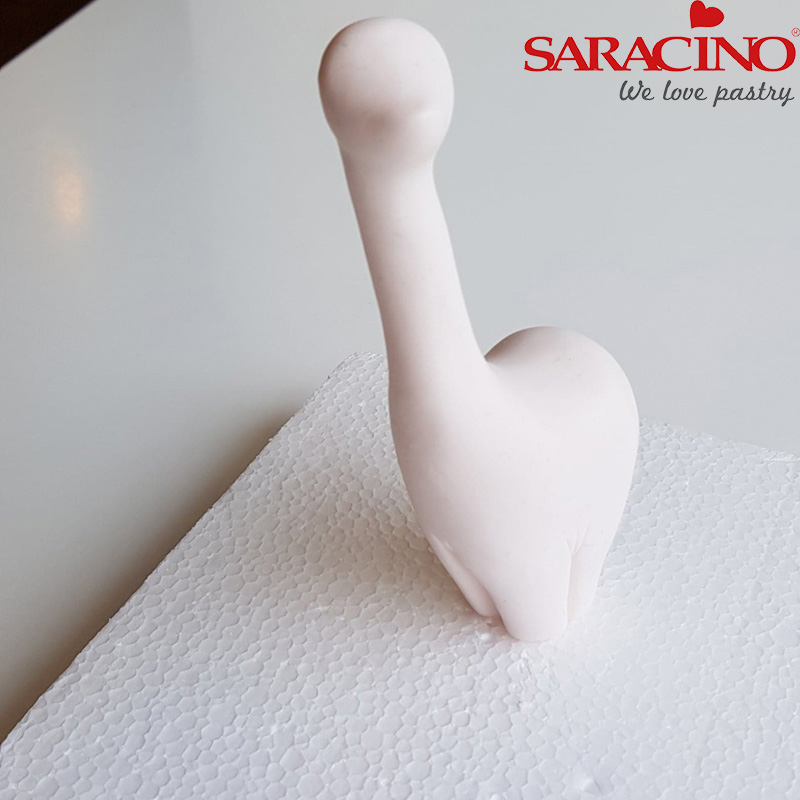 Step 6
Now it's time to add some features. Carefully add your marks for the legs with either your dresden tool or your knife. I used my dresden tool to create four marks all together, one mark on each side, and then one in the front, and then at the back.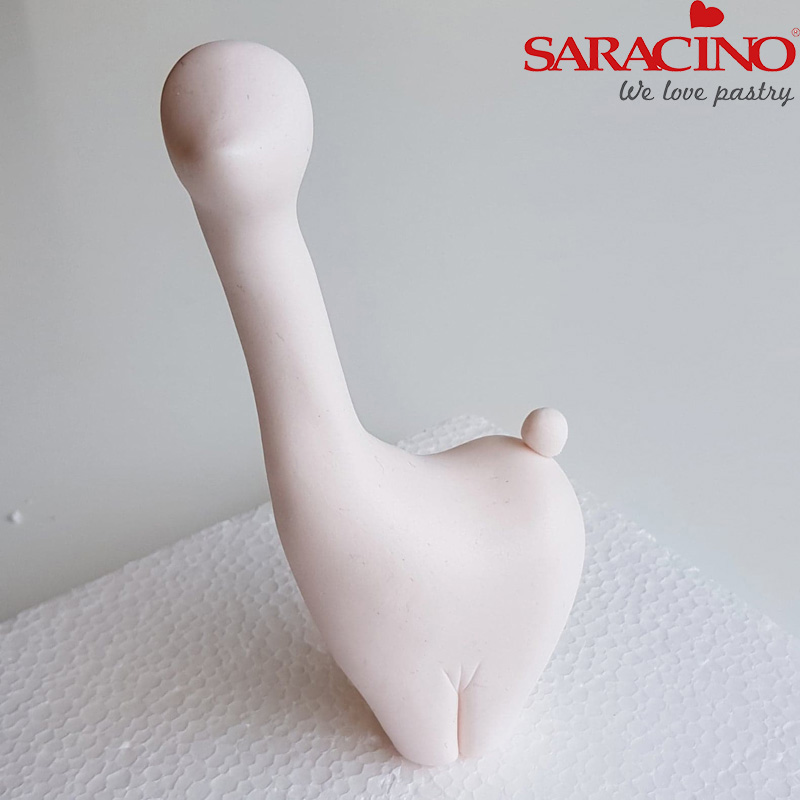 Step 7
Make sure you are happy with the length of the neck now. Once you are, form the ball that's at the end of your neck into a cone shape for his mouth. Add a tiny ball for the Llama's tail, don't forget the bigger the ball, the bigger the tail!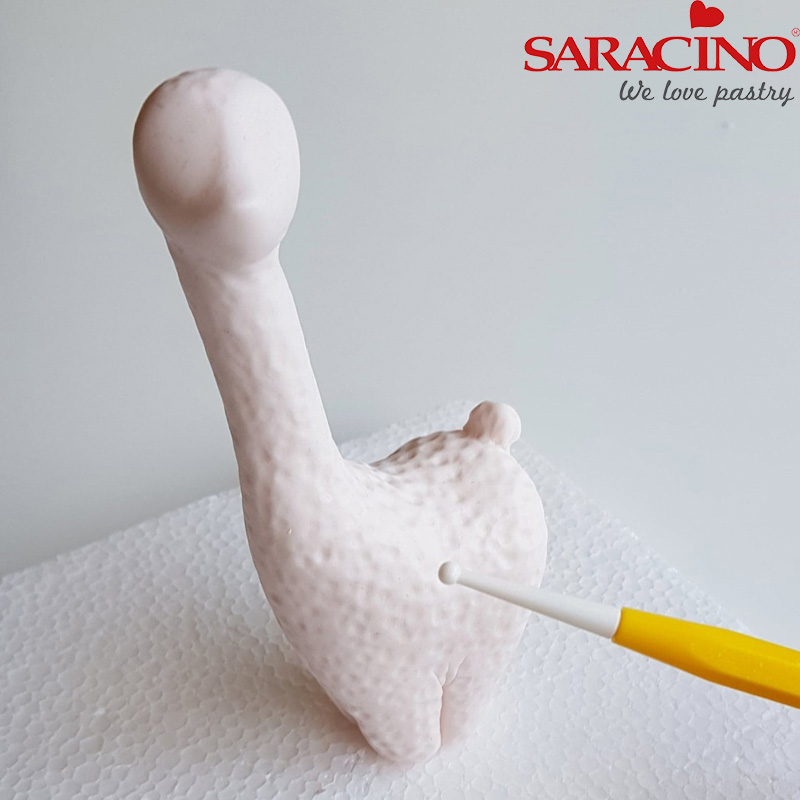 Step 8
With my balling tool, I like to tab the surface of the Llama all over to create a nice wooly texture ( I try to avoid the face area a little at this stage)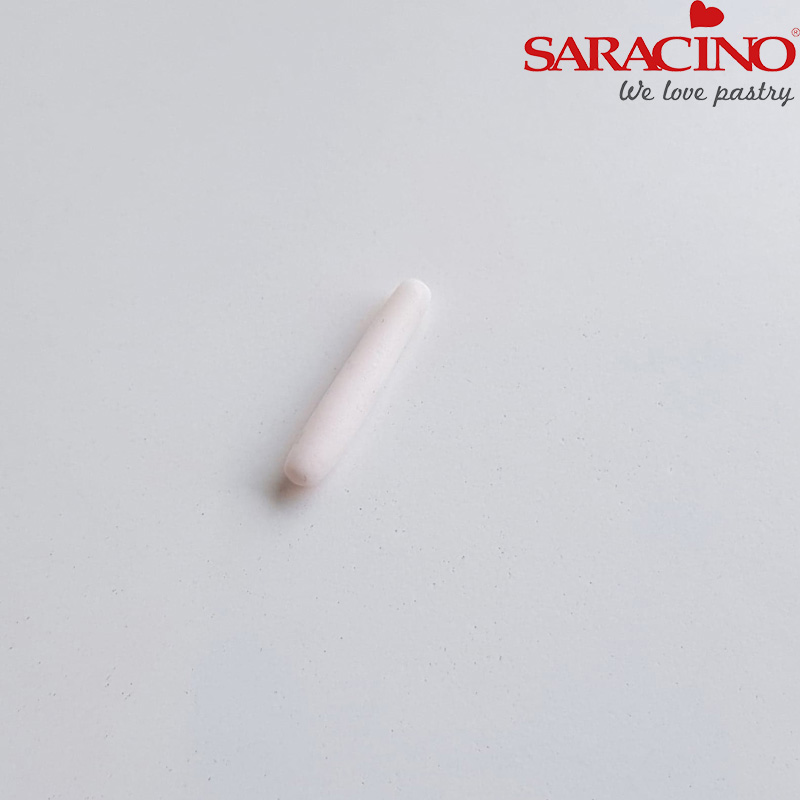 Step 9
To create the ears I start off with a little bit of the pink modelling paste, and work it into a tiny sausage shape.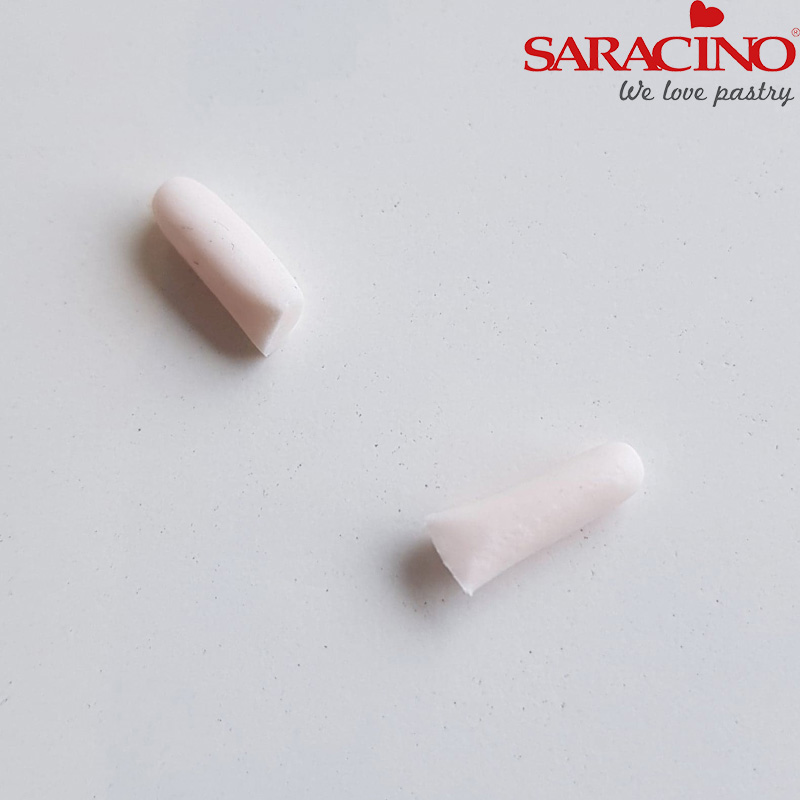 Step 10
I have cut the sausage shape in half (I usually double check to see if I'm happy with the length of the ears at this stage) . Although Llamas usually have long ears, feel free to cut them down to the size you prefer.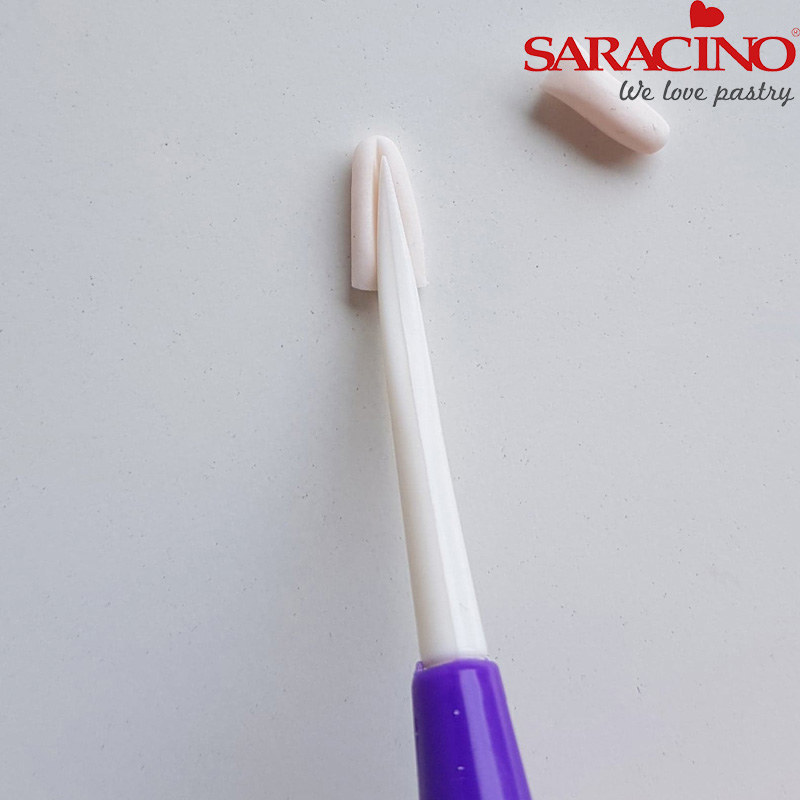 Step 11
Place your dresden tool in the center of the ear and shape as seen to create the ears.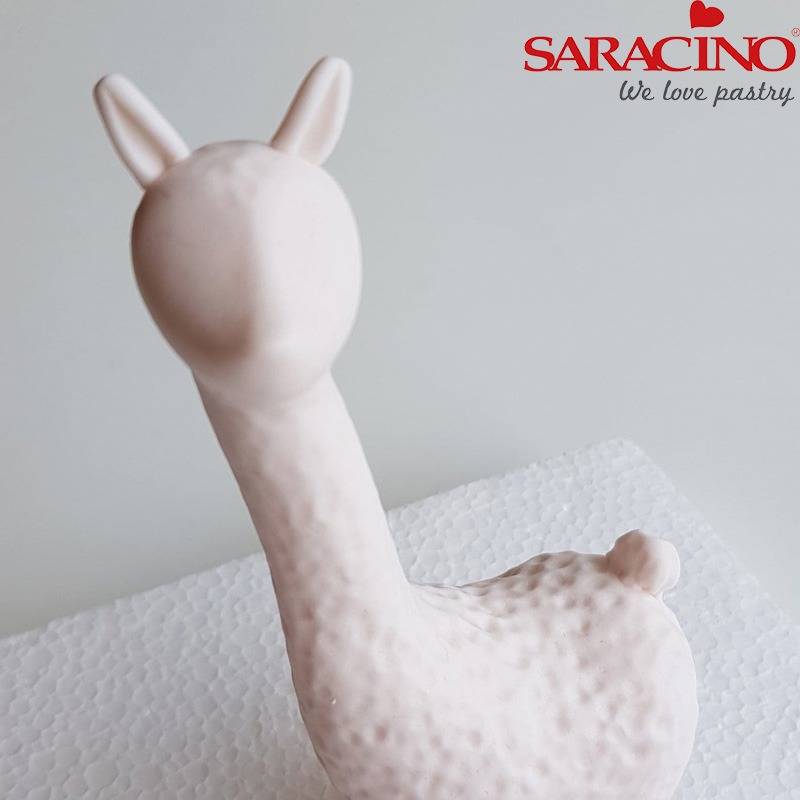 Step 12
Attach the ears with a little edible glue either side of the head making sure they are sticking up into the sky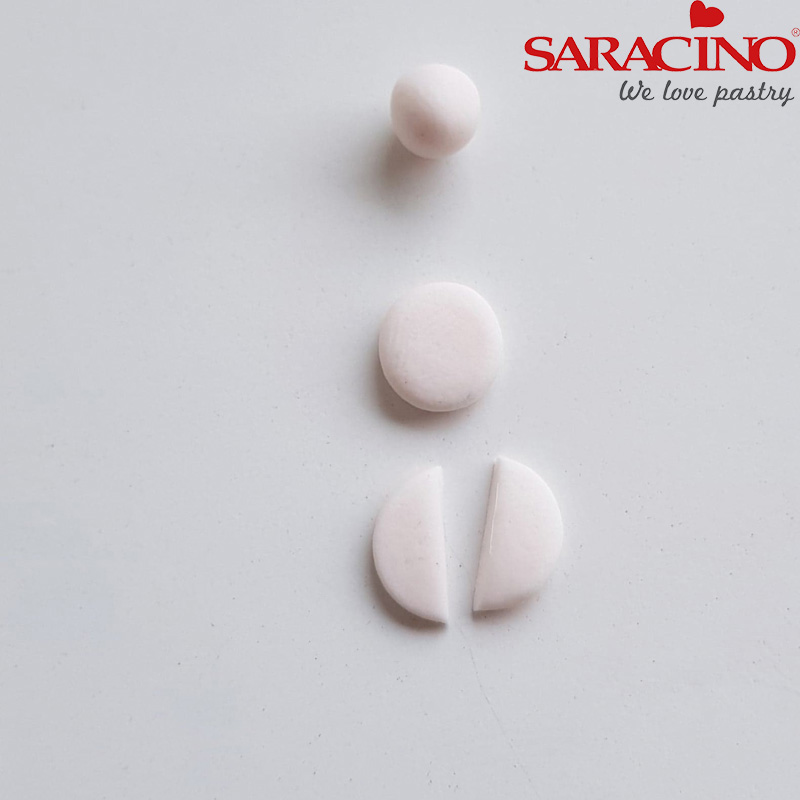 Step 13
To create the eyes I have got a small pea-sized ball of pink Saracino modelling paste, pressed it down on my board so that its flat, and cut it in half to result in two eyelids for the face of your Llama.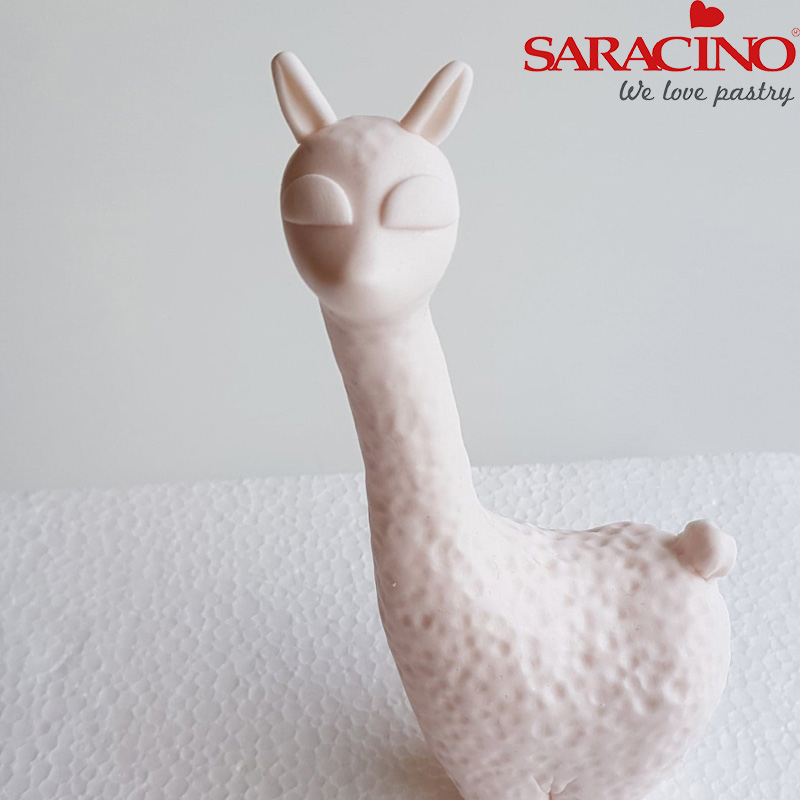 Step 14
Place one eyelid on each side of your Llama's face with a little edible glue, with the straight edge at the bottom.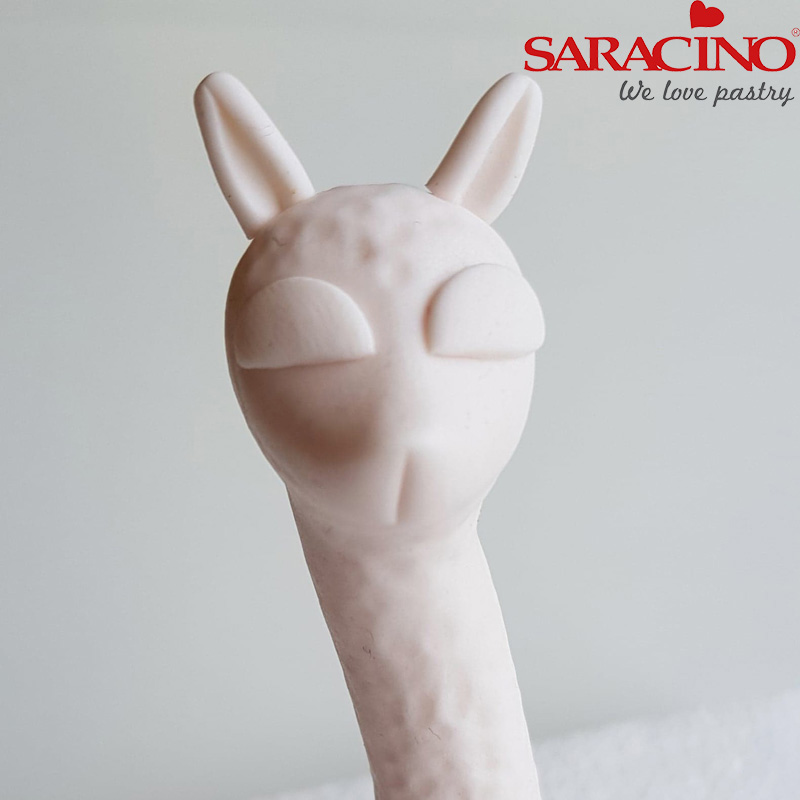 Step 15
Use your knife to create a mark in the middle of the Llamas snout.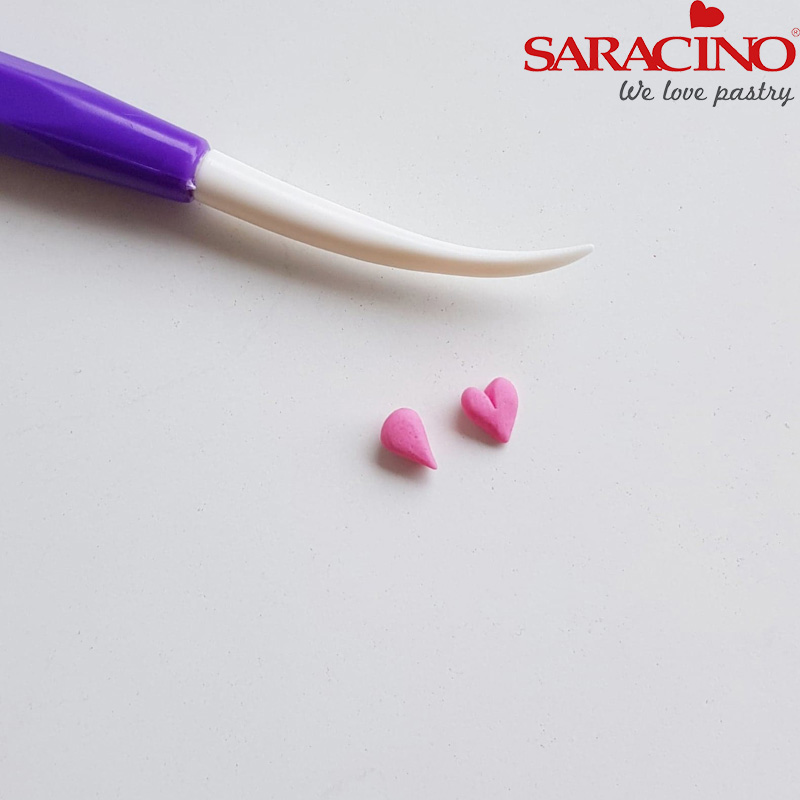 Step 16
Now we are ready to make the cute heart nose! Create a teardrop shape with a tiny ball of fuchsia pink Saracino modelling paste. Use your dresden tool to indent the thick side of your teardrop to create a cute little heart.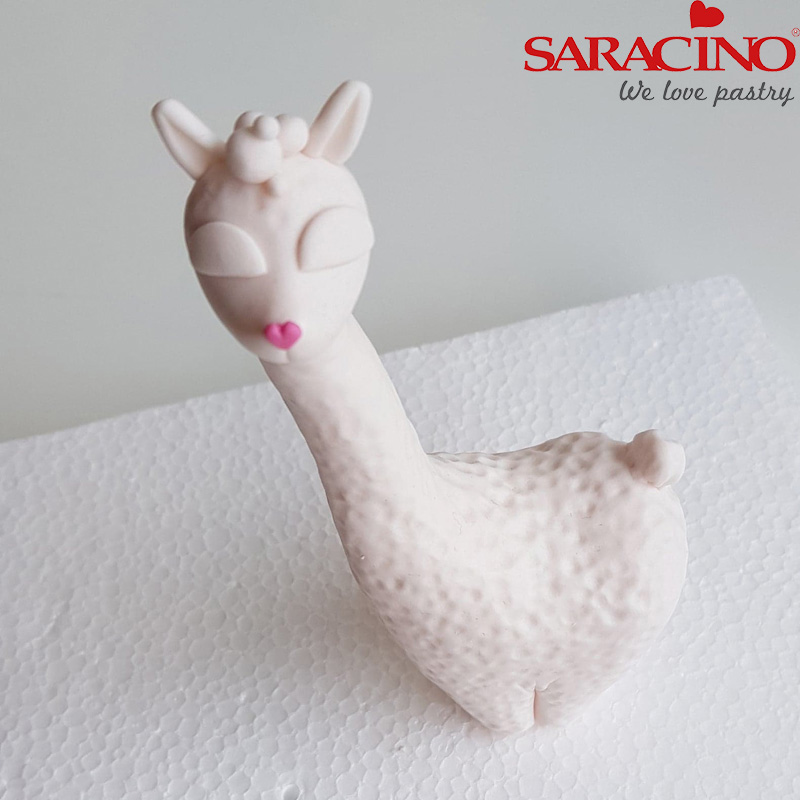 Step 17
Glue your nose on the tip of your original cone shape, I have also added a couple of little light pink balls on the top of the head to create the look of wool.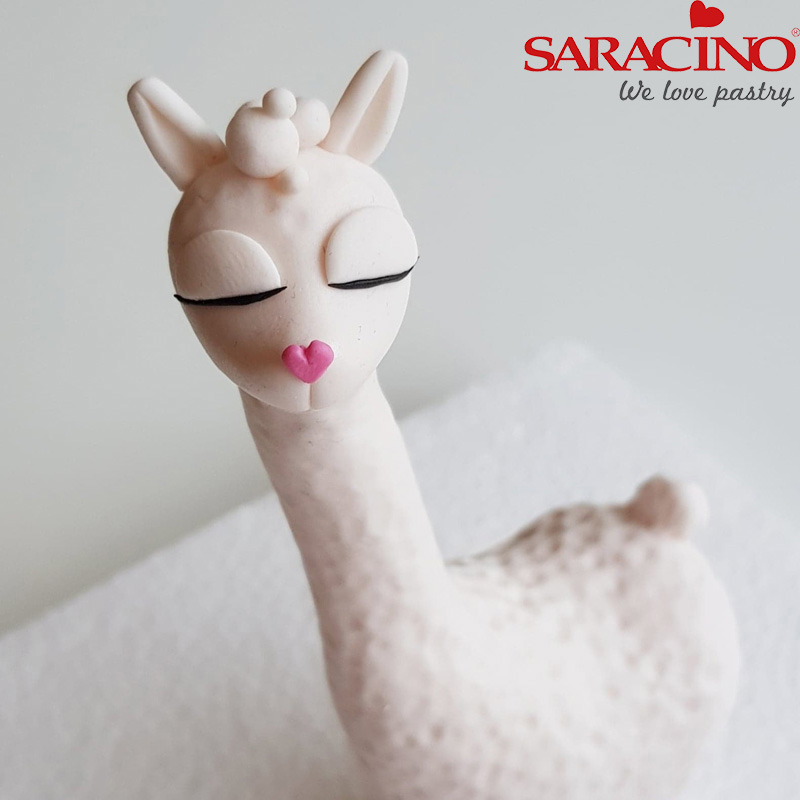 Step 18
Finish the face off with a tiny slither of black Saracino modeling paste rolled out with my fingers and placed at the bottom of each eyelid.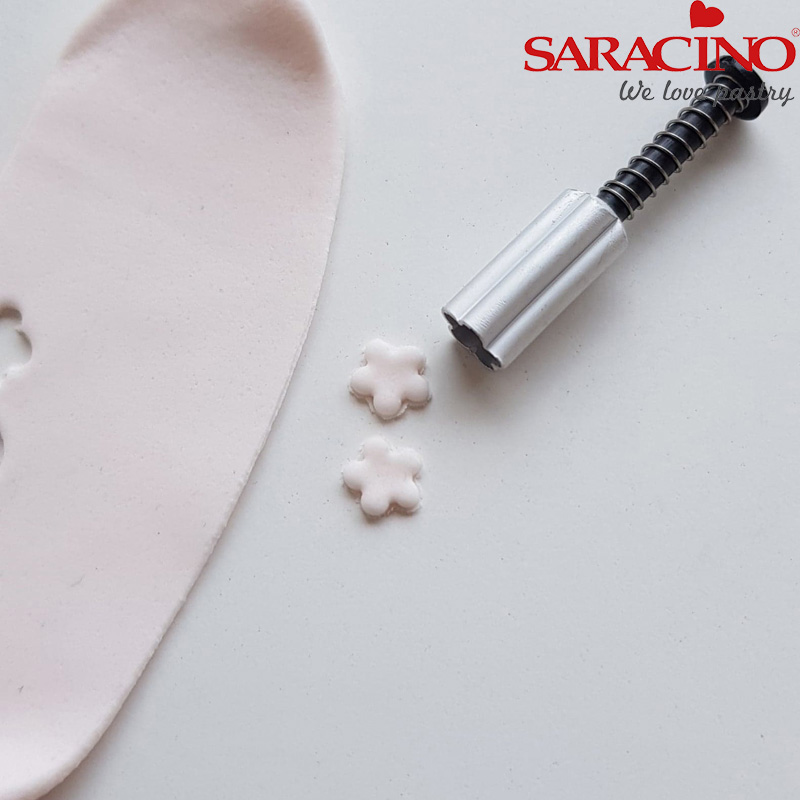 Step 19
As if our Llama wasn't pretty enough! Why not add some beautiful little flowers around the base of the neck! Here I've just rolled out different pink ,yellow and blue pastel Saracino modelling paste very thin and cut out with small blossom cutters.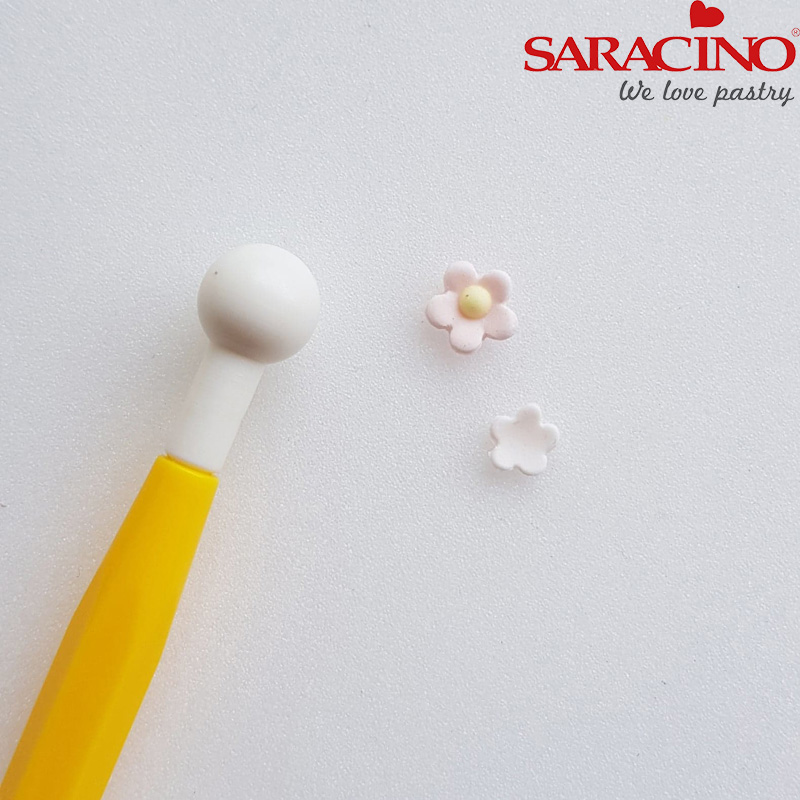 Step 20
Using my balling tool I have balled each flower out on a foam pad to help cup them up and thin them out a little more! I have also added a center to each flower with a little bit of Yellow Royal Icing.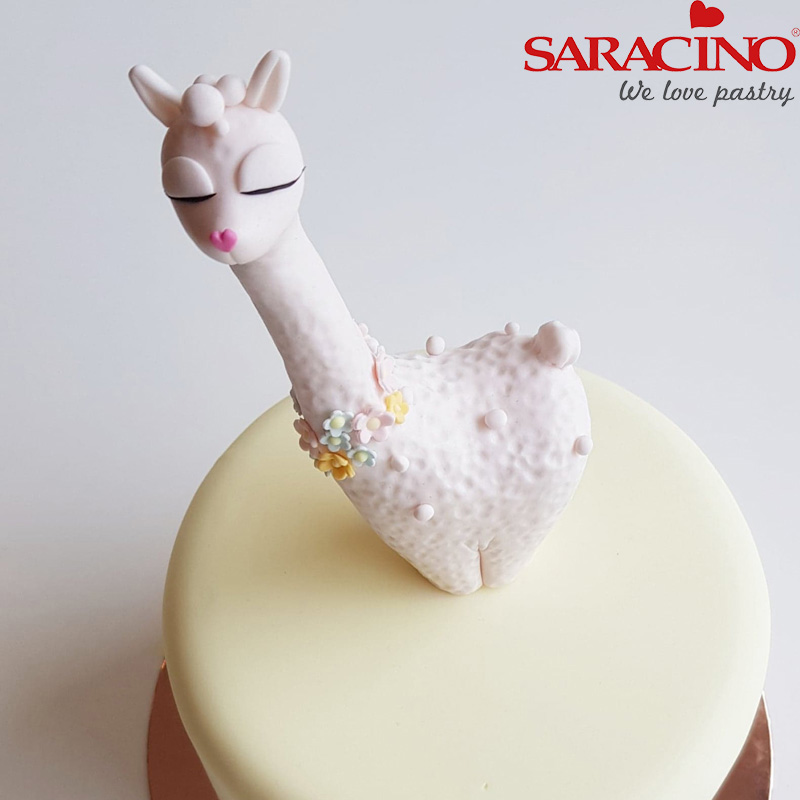 Step 21
To finish off my little Llama I have arranged all the flowers around the neck with a little edible glue to create a beautiful colour of flowers.
As you can also see in this photo I have transferred my little Llama to a 6" round cake, covered with pastel yellow Pasta Top.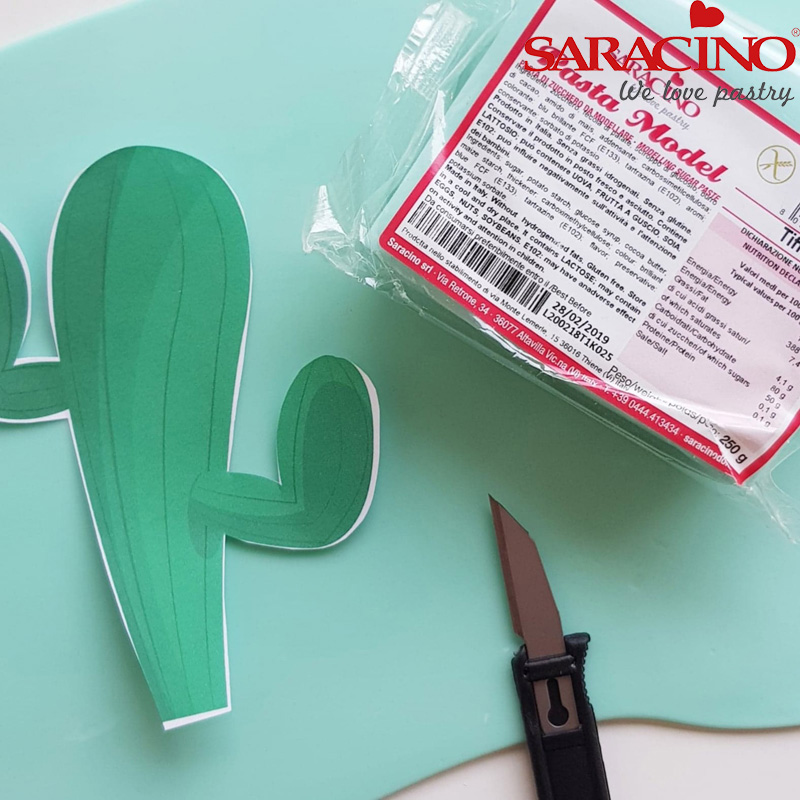 Step 22
To accompany my Llama, what's better than a couple of cactuses created with my favorite Tiffany coloured Saracino Modelling Paste. Using a simple cactus template! I have carefully cut around with a sharp craft knife.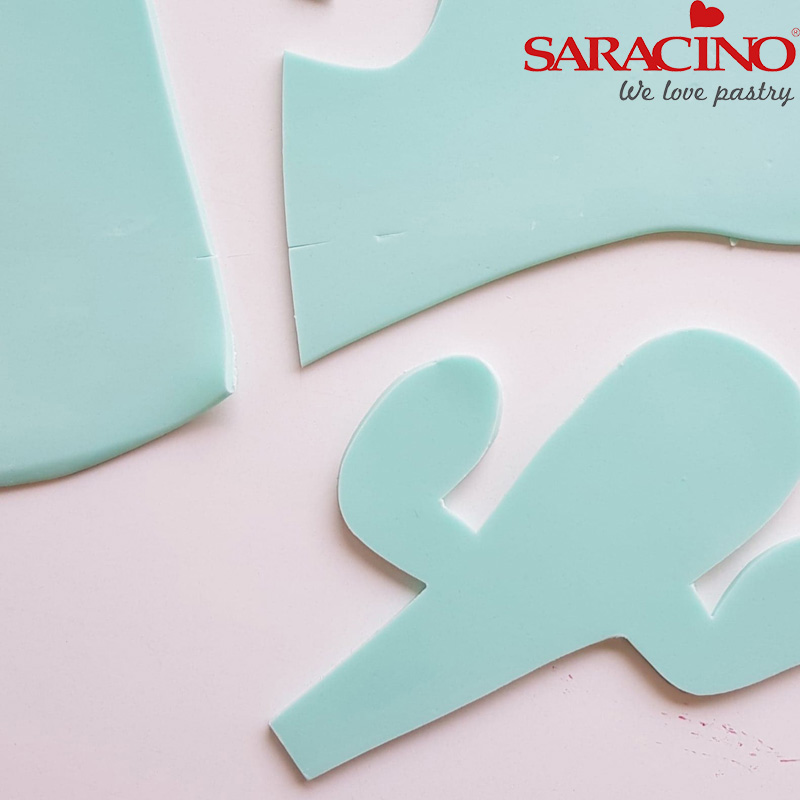 Step 23
Cut out as many as you wish and leave to dry and set hard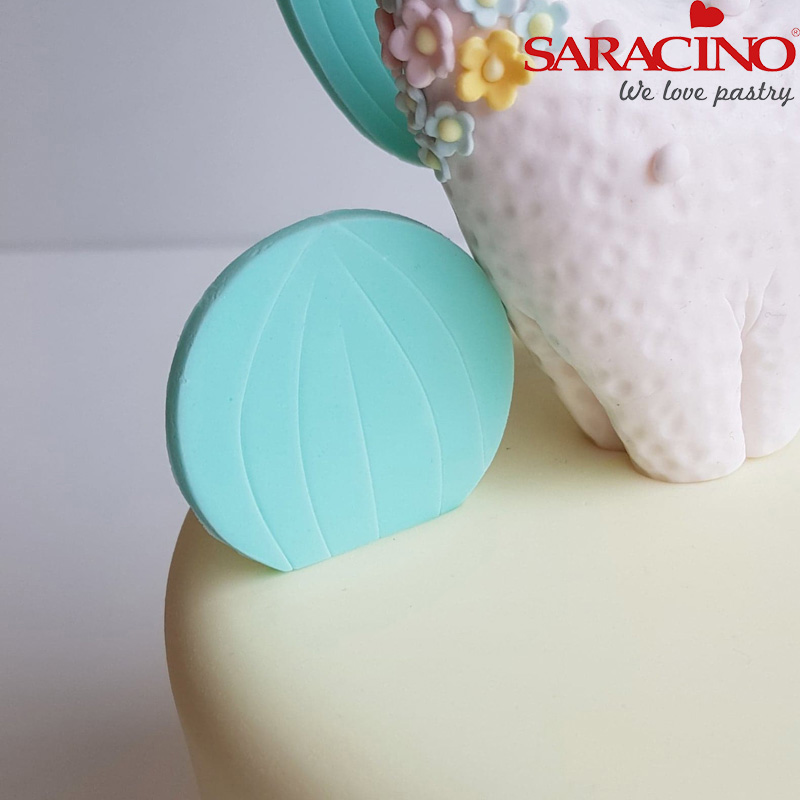 Step 24
I have added in little lines with my dresden tool to create this effect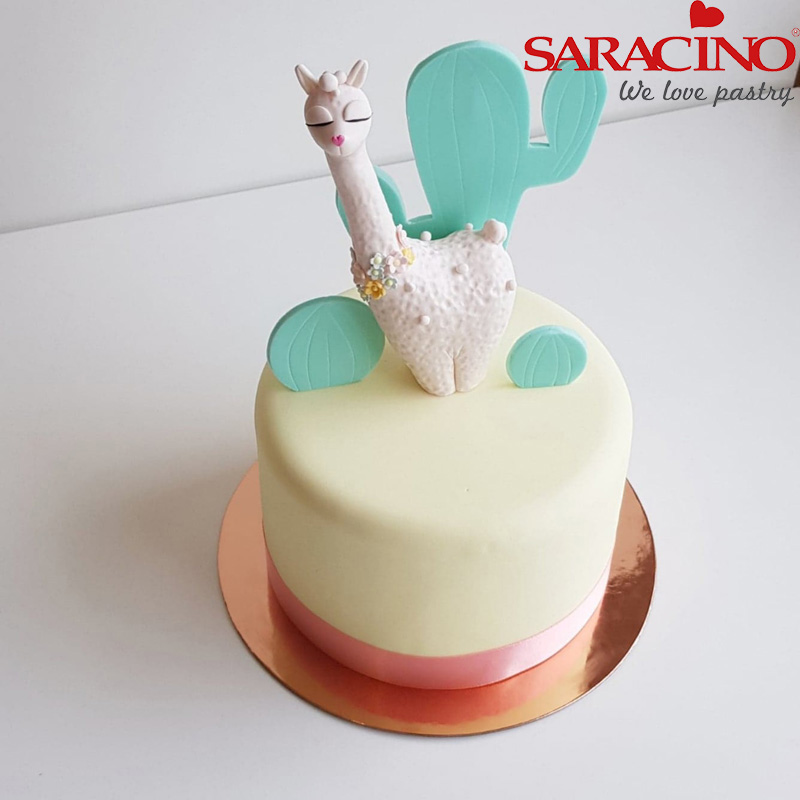 Step 25
Once the Cactuses have set hard, with a little bit of edible glue, I have stuck the cactus onto the cake using the Llama as support for the bigger cactuses (glue the cactus to the Llama also)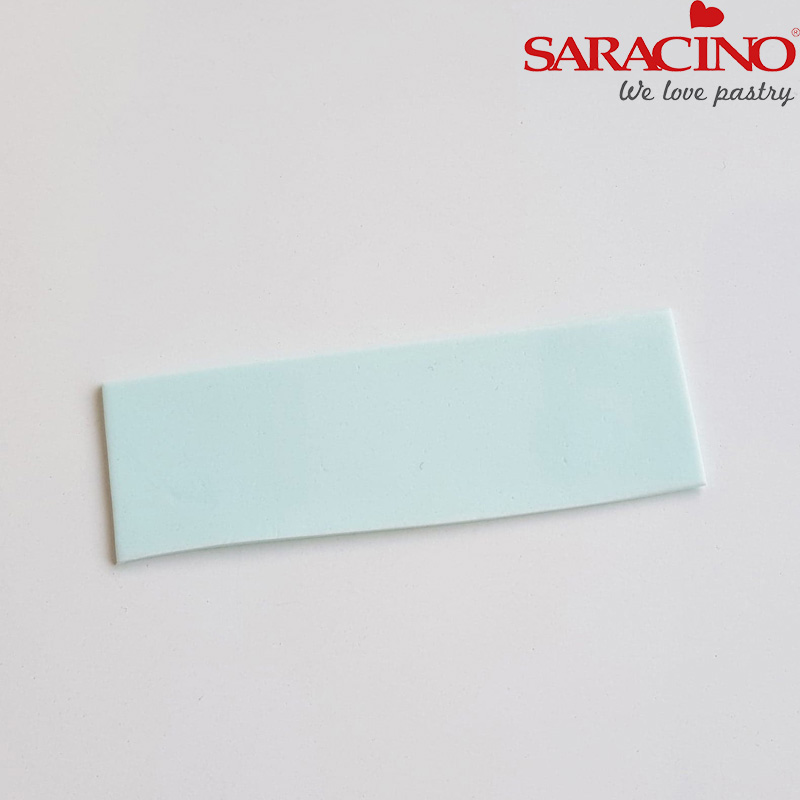 Step 26
No Llama cake is complete without a pompom or a tassel somewhere in the mix.
To start your tassels I have rolled out some Baby Blue Saracino Modeling paste and cut a thin strip about 4cm wide by 8cm long.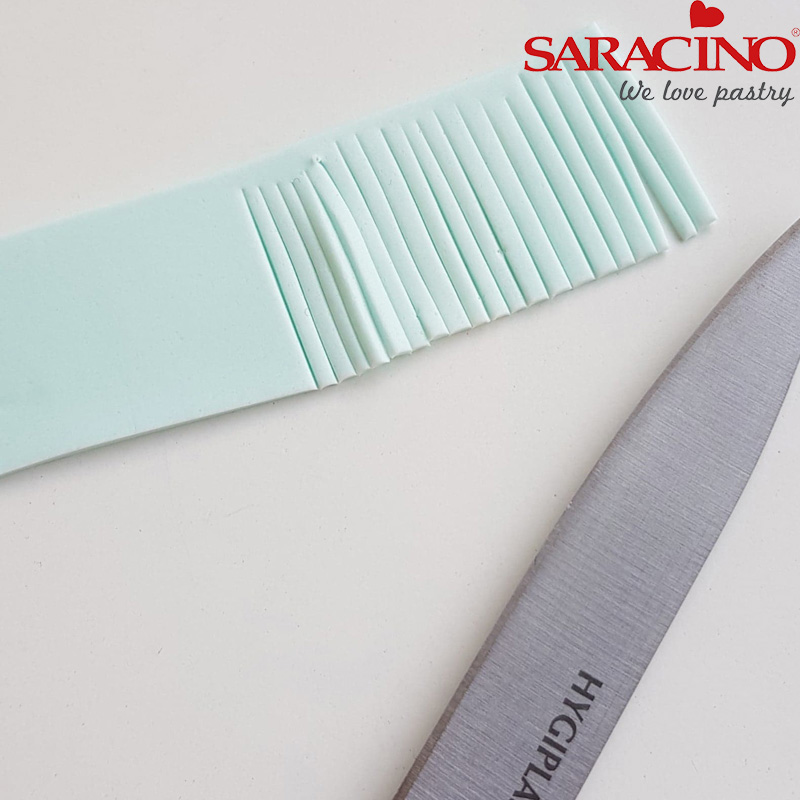 Step 27
Then carefully cut the strip leaving a tiny bit uncut at the top of the strip.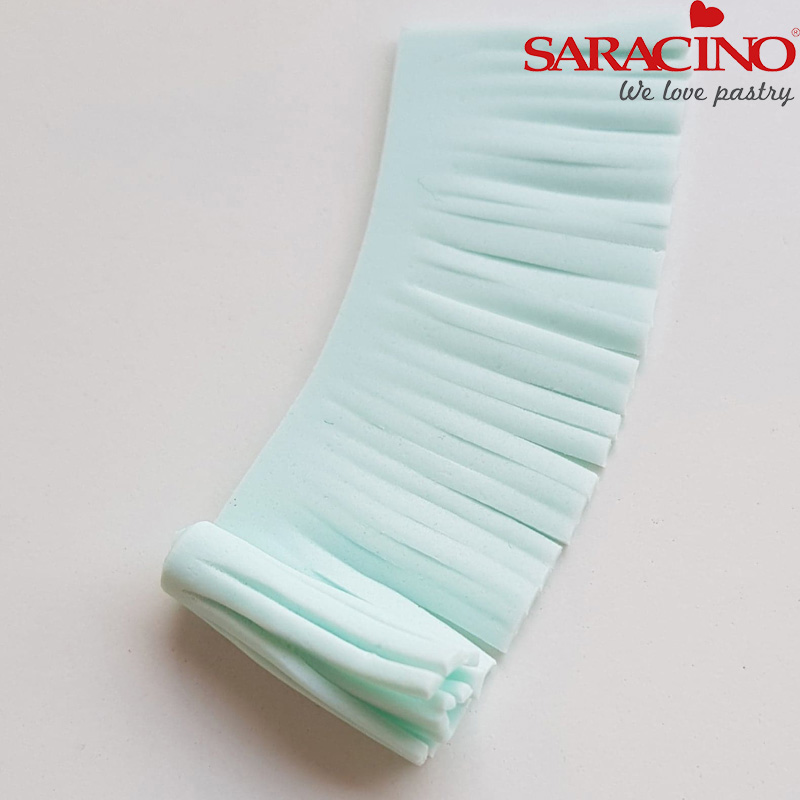 Step 28
Then roll the strip up to create a lovely bottom half to your tassel, You might need to use a little glue to help secure the tassel and stop it from unraveling.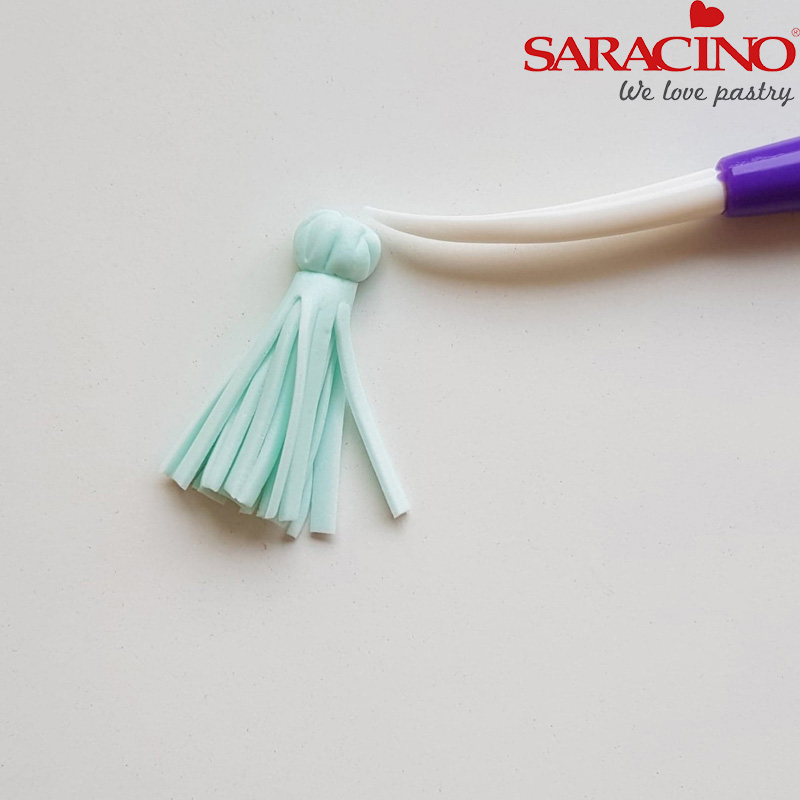 Step 29
Add a small ball to the top of the tassel with a bit of edible glue and mark it all over with your dresden tool.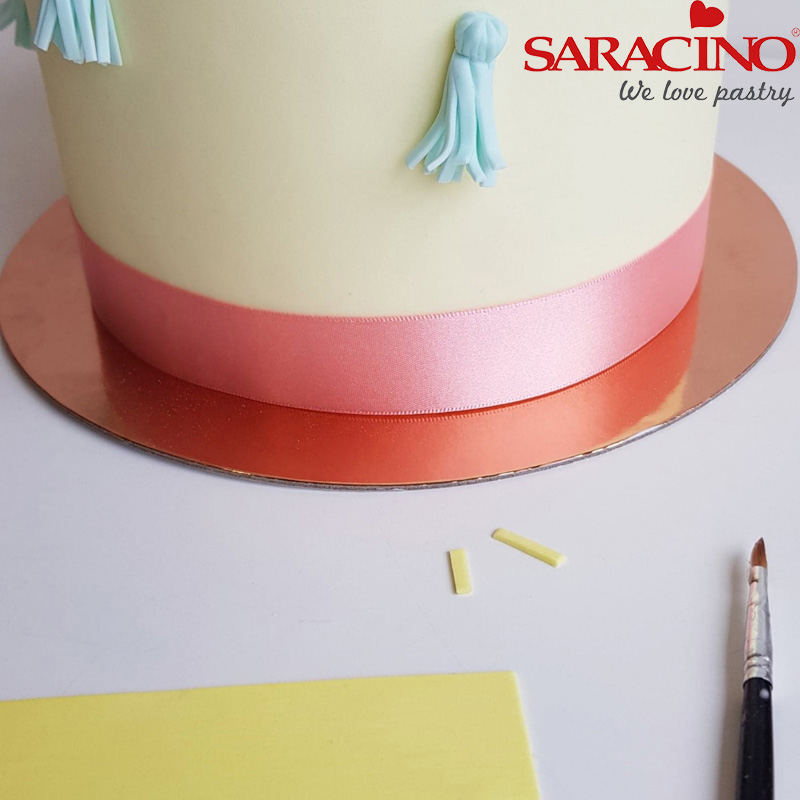 Step 30
Carefully stick to the side of your cake with a little bit of edible glue, and then add a small strip of pastel yellow to cover the join as seen above.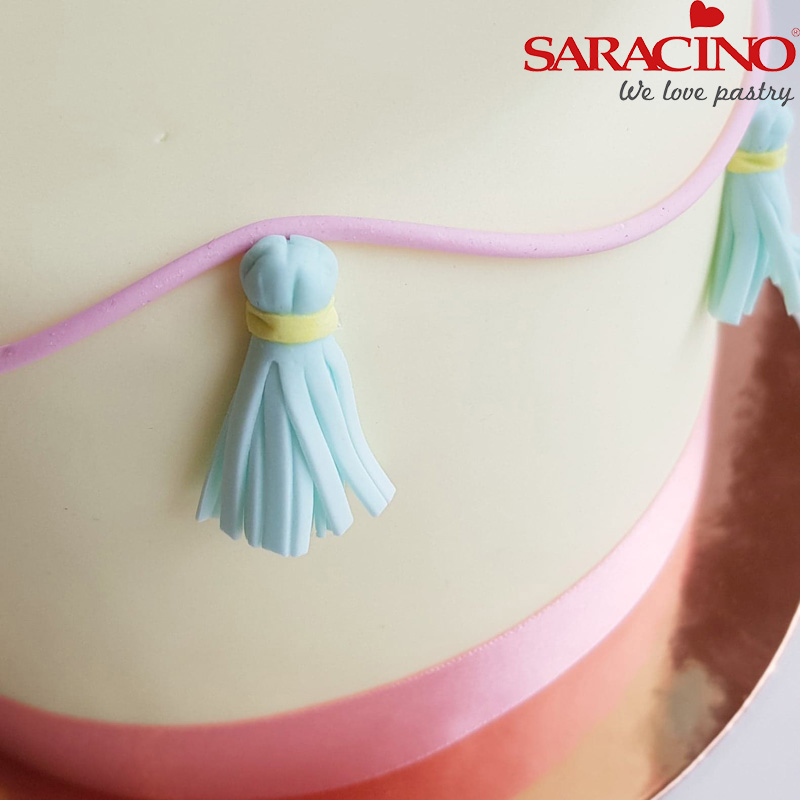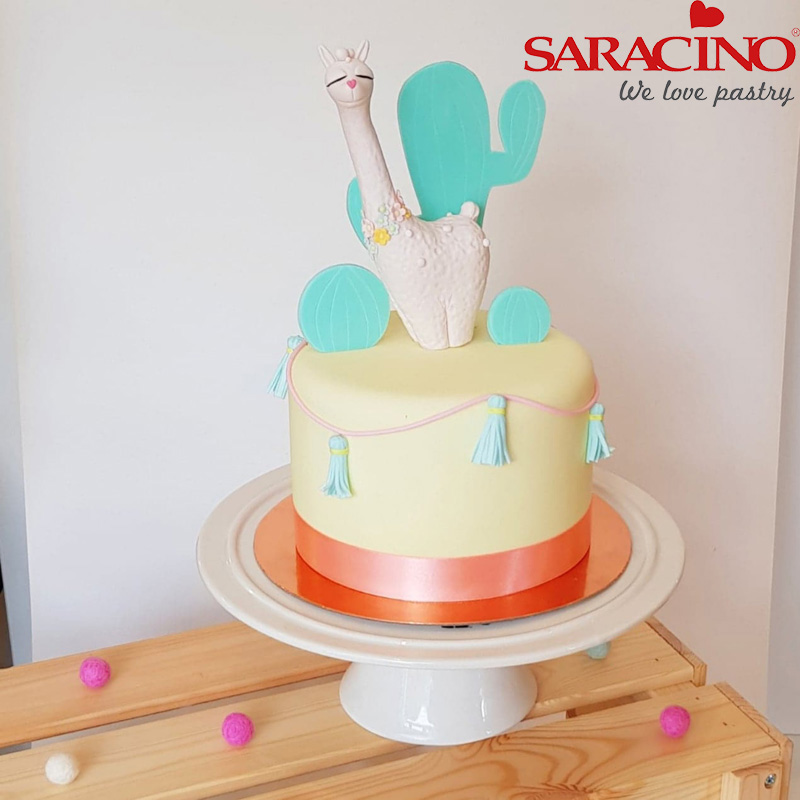 Step 32
Sit back and enjoy what you have just created and enjoy the special occasion.