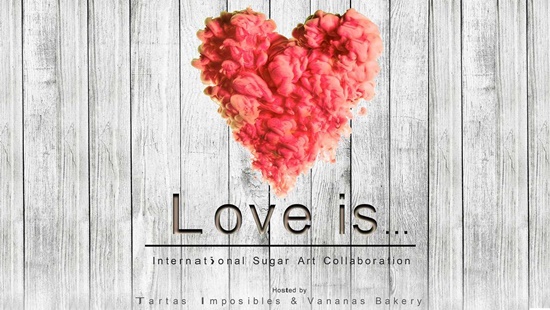 Hosted by 'Tartas Imossible' and 'Vananas Bakery'
Love Is…
When we were kids, everyone was asking us 'What do you want to be when you grow up?'
We were told to go to school, study, get job, get married, have kids and this is how we will be happy!
But, happiness is much more than this.
Happiness is all the small things, we often don't see. That we can feel in our heart…
Love! The most important thing is to love ourselves! To be satisfied with what we do and be happy for others.
Just to stop for a moment and breathe. Smell the rain, let the sun caress your face, catch the snowflakes with your tongue.
Live and love the moment!
This Collaboration will allow all of you to see behind the curtains of several international cake artists showing you, what love means to them. Pictures you've never seen before.
Intimate and very personal…
Let's share this strong message. Let's make love go viral.
Cooperate with each other, appreciate moment, smile…
Don't fight. Don't hate.
Love is..
Congratulations On Your Amazing Creations!
We'd love to send you the latest news, discounts & exclusive offers via email! By signing up below you are confirming you are happy for Saracino to send you marketing emails. We will always treat your personal details with the upmost respect & will never sell your details to other companies for marketing purposes.
• All the latest industry news   • FREE video tutorials   • Exclusive product offers