Congratulations to Sandra Smiley – Sugar Sugar by SSmiley's!
Who wins our top spot for SARACINO CAKE OF THE MONTH – FEBUARY 2018. You won't believe the outstanding details on this incredible cat cake!

Exclusive for Saracino, Sandra is telling us her story, how has she became fascinated about cakes.
'Hello everyone!  My name is Sandra Smiley, married to a wonderful man and mama to 24 rescue cats, living just outside Nashville, Tennessee (Music City), USA and I am proof positive that old dogs can learn new tricks.  The love of baking was acquired, at a very early age at my mom's knee, but I didn't discover the amazing world of cake art until I started researching ideas for a wedding cake for my niece in 2011.  Fondant, gum paste flowers and modeling chocolate figures were all completely new to me.  I was amazed (flabbergasted!) and intrigued and knew I had to learn more.
In 2013, I retired and at last had time to play.  My new hobby started with birthday cakes for all my neighbors and friends, who (bless their sweet hearts) had to endure my learning process.  The cakes looked pretty sad, but at least they were delicious, so no one complained.
By 2014, I was confident enough to join CakesWeBake (no longer active), an on-line cake site, who's members graciously welcomed me into the group.  Through their encouragement and guidance, I started to explore new techniques and mediums.  By this time I was getting a little better at making flowers and was dying to try my hand at modeling.  About a year later, I was invited to fill in for a lady who injured her arm and was unable to complete her piece for an important, charity collaboration.  This opened up a whole new world for me, with collaborations affording the opportunity to try all sorts of new techniques.  BAM!  I discovered modeling chocolate and fell in love!  Since that first, pathetic attempt, I've learned to control (more or less) this tricky medium and love sculpting.
Many of my sugar artist heroes, who live abroad, use Saracino Modeling Paste for their figures and they are so smooth and perfect.  I have so longed to get my hands on it, but Saracino is not available in the US, BUT IT IS COMING SOOOON and I can't wait!  Thank you so much, Saracino, for the wonderful honor of selecting my Bronze Egyptian Mau as your Cake of the Month!
Description of the Bronze Egyptian Mau:
Made of modeling chocolate and rice cereal treats, the Mau is 15 inches tall and supported by a wire armature with a styrofoam ball for the head.  His is painted with a variety of edible dusts and his whiskers are made from the bristles of a paint brush.'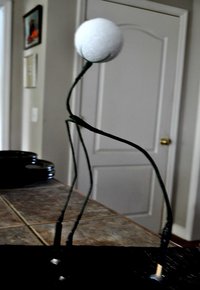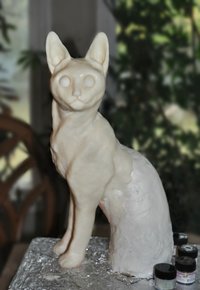 CONGRATULATIONS!!!
Saracino Team