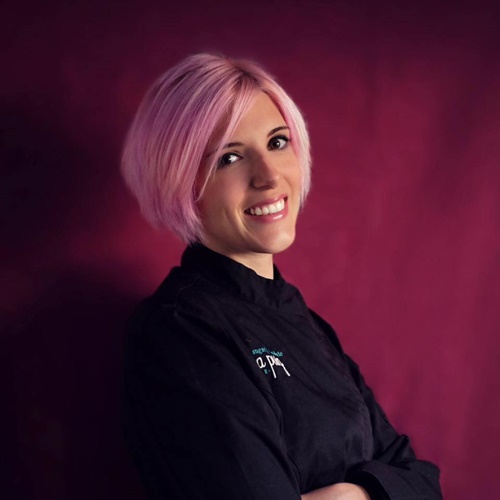 My name is Carla Puig, and I live and work in Girona, Spain. My artistic journey began when I was really young, from the age of 5, I would take drawing and painting classes. This lead me to pursue interior design studies, and to later develop a passion for sugarcraft and cake design.
I first started experimenting with modelling paste until I got introduced to modelling chocolate. I have since then improved a lot, practicing and experimenting on my own, following my sense of creativity and using everything around me as a source of inspiration.
I have since been asked to participate in many international collaborations. My works have been published in specialized international magazines and I have had the honour of winning many prizes and golden medals in various European competitions, among which the Best in Show International prize at the Cake International Birmingham 2016.
For the past year, I have been giving courses in chocolate sculpturing and carving cake in schools around the world. So far, this has allowed me to travel to Taiwan, Orlando, the Philippines, New York, Mexico, Peru, Argentina, Indonesia and Costa Rica among others. In November 2017 I received my greatest recognition, being winner at Cake Masters Magazine Awards (Sculpted Cake Award).
We'd love to send you the latest news, discounts & exclusive offers via email! By signing up below you are confirming you are happy for Saracino to send you marketing emails. We will always treat your personal details with the upmost respect & will never sell your details to other companies for marketing purposes.
• All the latest industry news   • FREE video tutorials   • Exclusive product offers