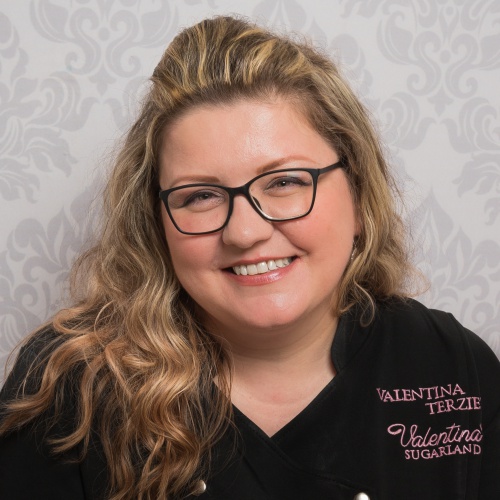 As a teacher she loves to watch her students learning during the courses and improving later on. Valentina's special subject is modelling human figurines with realistic faces. In this discipline she has been awarded many prizes and medals – she wonsixgold medals and was twice awarded "Best of Class" at CAKE International in Birmingham, UK, also winning three silver and three bronze medals. She is a member of the German team judging competitions in Germany, Austria and Switzerland. At Cake International in London 2019 she will be as trainee in the Judging Team of Cake International.
Valentina likes to share her knowledge by writing tutorials for magazines in Germany, UK, Spain and France. She even makes the video tutorials for the English online academy Paul Bradford Sugarcraft School.
 Valentina's first book about cake design and Modelling with sugar paste "Valentina's Sugarland" was published in Germanin May 2017. In July 2018 the book "Valentina's Sugarland – lifelike cake characters for hobby and professional artists" was published in English too.
Email: info@valentinas-sugarland.de
Business name: Valentina's Sugarland
Business Page: www.valentinas-sugarland.de
Facebook Page: https://www.facebook.com/ValentinasSugarland/
Instagram and YouTube: @valentinassugarland
We'd love to send you the latest news, discounts & exclusive offers via email! By signing up below you are confirming you are happy for Saracino to send you marketing emails. We will always treat your personal details with the upmost respect & will never sell your details to other companies for marketing purposes.
• All the latest industry news   • FREE video tutorials   • Exclusive product offers