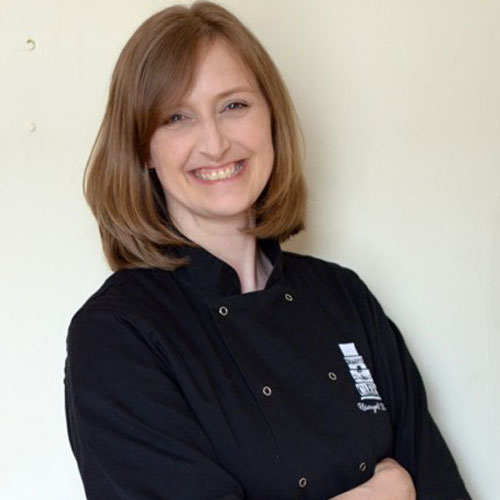 Rhianydd Webb started Dragons & Daffodils Cakes based in South Wales, UK in 1999. Initially trained in Music, she became addicted to cake decorating while making cakes for her two now grown-up children and hasn't been able to stop since.
Rhianydd (or Rhi for short) has created over 3000 wedding cakes and countless birthday cakes, and is proud to have won multiple awards for these. She was runner-up for Celebration cake maker of the year at the Baking Industry Awards, London.
Rhianydd now concentrates on her first love of teaching and teaches regular weekly classes in her home town in South Wales, for which she won the NIACE award for Best Tutor in her area. She is an accredited demonstrator for the British Sugarcraft Guild.
Rhianydd enjoys writing magazine tutorials which she has been writing since 2000. Some of the well-known magazines she has written for include: Squires Kitchen Cakes & Sugarcraft; Cake Decorating & Sugarcraft; Cake International Magazine and Cake Masters Magazine as well as contributing articles to the British Sugarcraft Guild and ICES Newsletters.
Rhianydd initially learnt cake decorating from books and the British Sugarcraft Guild, then attended City & Guild and ABC Courses in both Rhondda and Neath Port Talbot College where she was awarded distinctions and 1st place at the Welsh National Baking Exhibition. Since November 2014, Rhianydd has been awarded six gold medals for her wedding cakes; sugar flowers, sculptures and modelled figures at Cake International as well as Gold and Silver at Salon Culinaire and is thrilled to have won best in class at both.
Rhianydd has displayed three solo features at Cake International: The Faraway Tree, Spiderwick Fieldguide and Away with the Faeries. In 2017 she was proud to join the judging team for Cake International.
Rhianydd has a particular style, she adores everything Faerie, Whimsical and Woodland – creating miniature worlds or scenes, always with a story, and if she can sneak sugar or wafer paper flowers in there too, she is never happier.
www.facebook.com/DragonsandDaffodilsCakes
www.instagram.com/dragonsanddaffs
We'd love to send you the latest news, discounts & exclusive offers via email! By signing up below you are confirming you are happy for Saracino to send you marketing emails. We will always treat your personal details with the upmost respect & will never sell your details to other companies for marketing purposes.
• All the latest industry news   • FREE video tutorials   • Exclusive product offers