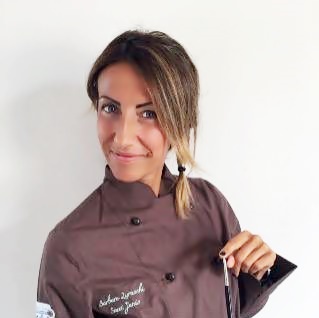 Barbara Luraschi, AKA Sweet Janis was born and lives in Como, Italy. She discovered her passion for cake decorating about 5 years ago, her cakes have pastel colors and modelling is what she loves most. Her work has been featured in many international magazines, she mainly travels the world teaching face to face modelling classes. She is also online guest tutor at Pretty Witty Cakes.
She was awarded Gold at London Cake International in March 2015 and at Birmingham Cake International in November 2015, and she was finalist at Cake Masters Modelling Excellence Awards in November 2015.
One of the collaborations she took part was awarded as Best Collaboration of the year 2016, it was about endangered animals (Bakers Unite to Fight) and she made a life sized parrot. She has been demonstrator and tutor at Cake International show in Birmingham and London, in March 2017, April 2017 and November 2017.
She has also been instructor at Americas Cake Fair in October 2017
Website: https://www.sweetjanis.com
Facebook page: https://www.facebook.com/SweetJanis
We'd love to send you the latest news, discounts & exclusive offers via email! By signing up below you are confirming you are happy for Saracino to send you marketing emails. We will always treat your personal details with the upmost respect & will never sell your details to other companies for marketing purposes.
• All the latest industry news   • FREE video tutorials   • Exclusive product offers