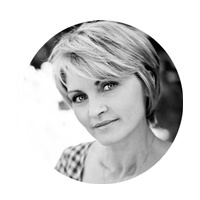 Claudia Prati began her activity as a cake decorator in 2010 just when the trend of cake design was starting in Italy.
Attending classes with the best international tutors (Sir. Eddie Spence, Kathleen Lange and Kelvin Chua, Carlos Lischetti, Alan Dunn) she starts developing her own style based on royal icing but also on modeling, gumpaste flowers and cake painting.
She worked as tutor in 2011 at the birth of the first cake design Italian magazine "Torte spettacolari"
In 2012 one of his creations was published in the book "Sweet Tables" for Rizzoli
In 2013 he appeared in 18 episodes of the Rai 2 "Detto Fatto" broadcast as a cake design tutor
In the same year he published his first book "Manuale della ghiaccia reale" published by Chiriotti
From 2012 to 2015 she is the owner of the "Claudia Prati Academy" Carate Brianza. Cake decorating school
First gold in the International category at the Cake International Birmingham 2015. Gold in the Christmas category the following year.
Finalist at the cake masters awards 2017 in the "Royal icing" category
Judge in national competitions such as the "Glamour Italian Cakes" by Sigep and the Cake Design Italian Festival 2016 in Milan.
"Manuale della ghiaccia reale" was awarded as the best book on cake design 2015 during the Cake Design Festival event in Milan. During the same event in 2016 Claudia was awarded as the best Italian artist on royal icing.
In 2017 she launches a mixed technique of painting and palette knife royal icing that she called "Materika". Currently he holds classes of "materika" and traditional real icing in Italy and abroad.
We'd love to send you the latest news, discounts & exclusive offers via email! By signing up below you are confirming you are happy for Saracino to send you marketing emails. We will always treat your personal details with the upmost respect & will never sell your details to other companies for marketing purposes.
• All the latest industry news   • FREE video tutorials   • Exclusive product offers