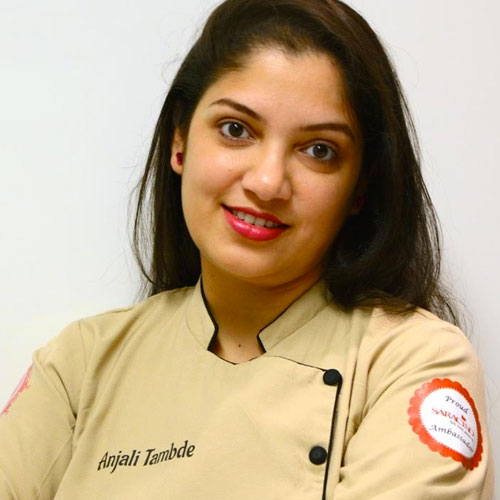 Anjali Tambde is a multi-award winning sugarcraft artist and a cake designer who holds a distinct achievement of winning back to back Best in Show awards in 2016 at Cake International and Irish Sugarcraft Show.Anjali has also won several Gold and Best in Class awards at Irish Sugarcraft show in Dublin,Cork Sugarcraft Association,Cake and Bake Germany and Cake International London and Cake International, Birmingham.
She loves conducting demonstrations and workshops in different parts of the world and many popular cake shows. She is also one of the few artists whose tutorials regularly feature in various Cake Magazines,websites and social media, Anjali enjoys writing a regular column in Indian magazines and newspapers filled with her tips and whats trending in the cake industry. Her award winning pattern techniques have featured in many international magazines and have been immensely popular. Equally adept in sculpting, painting and miniatures Anjali has excelled and achieved great heights.
As a child Anjali showed extraordinary skills and was proficient in many art forms. She won several national awards in the field of arts and crafts and was focused on pursuing her career where she can use her skills at its best.
She is a qualified Fashion designer who worked in the designing industry for a few years and won awards for her designs too, she also used to teach in college when in India. For more than a decade she is running her own cake topper business under the name of "Global Cake Toppers" She also runs classes for various cake decorations.
Since 2017 Anjali is a brand Ambassador for one of the most popular sugar paste brand "Saracino" She loves being part of the team and actively participates in various collaborations that are held for a good cause and to help others in need.
Anjali is also a "Judge" at one of the most prestigious, biggest and oldest cake show "Cake International" followed by that she also judges various international cake shows and local events.
Painting,sculpting,sewing and crafting are few of her hobbies that she always incorporates into her cakes, loves cooking and experimenting.Enjoys travelling across the globe and sharing her knowledge with everyone.
Few useful Links and websites to get in touch with this Master Artisan
We'd love to send you the latest news, discounts & exclusive offers via email! By signing up below you are confirming you are happy for Saracino to send you marketing emails. We will always treat your personal details with the upmost respect & will never sell your details to other companies for marketing purposes.
• All the latest industry news   • FREE video tutorials   • Exclusive product offers