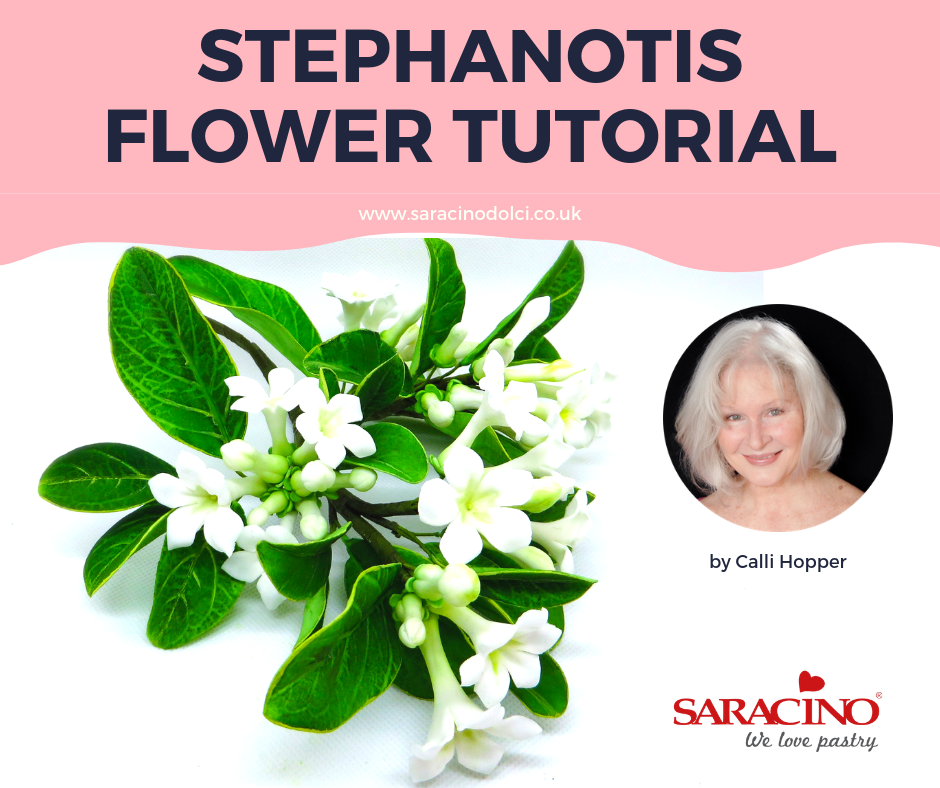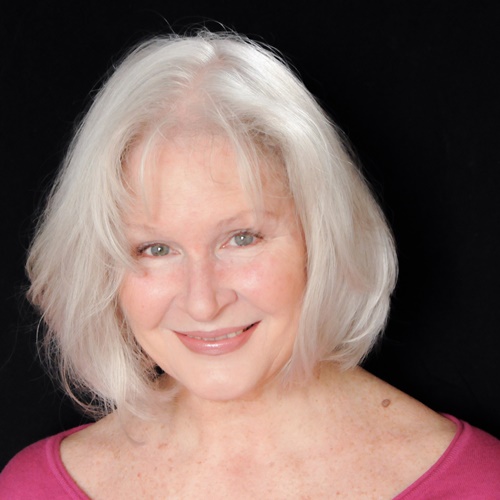 FROM CALLI:
I've made the flower as near to nature as possible, but used artistic licence so not botanically accurate.
You will need:
Saracino Flower Pasta Bouquet
Saracino Colour Dusts white, yellow, green, brown
Saracino Colour Paste (green)
Florist Wires (26, 22, 18)
Florist Tape (Nile Green – ¼ inch)
Edible Glue
Cornflour for dusting
Balling tool
Non stick rolling pin (I use 9")
Cel Pad
Cel Board
Dresden tool or cutting wheel
Paint brushes (Flat for dusting (size 2 – 4 and one fine line brush [eg 000 size])
Small blossom cutter (I used tinkertech metal, 1cm)
Wire Cutter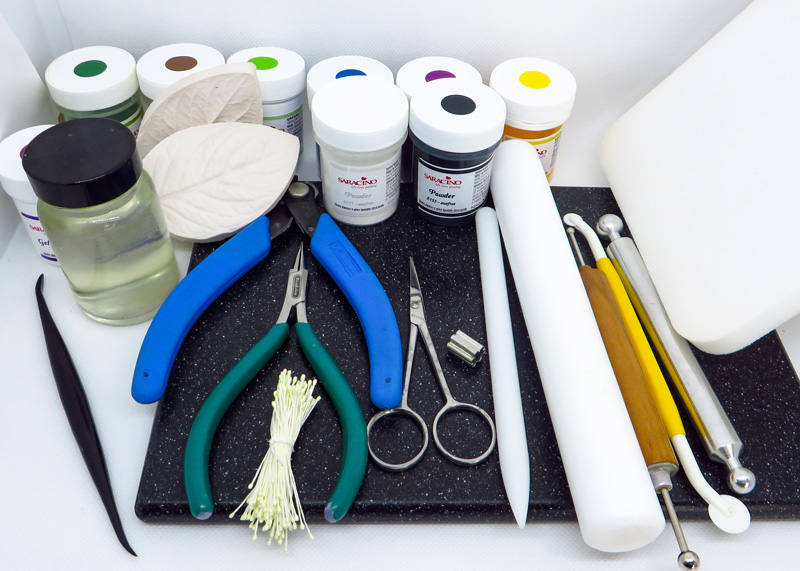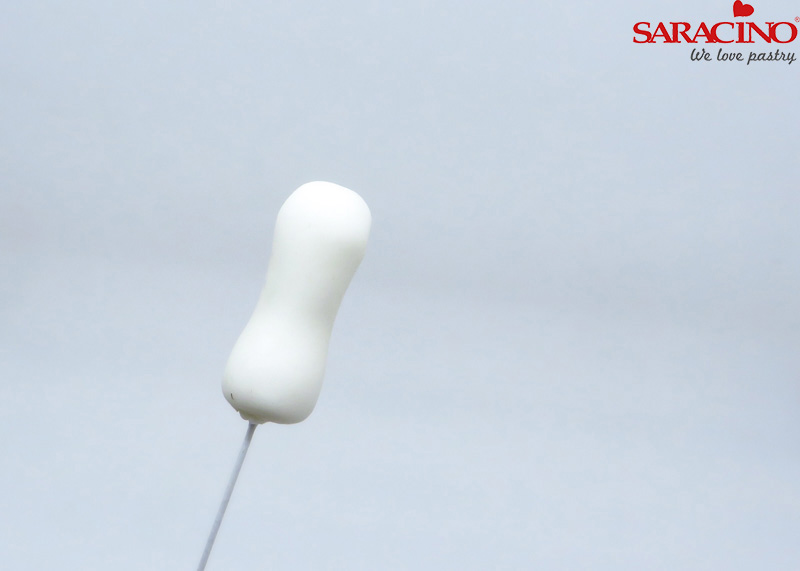 Step 1
Roll out a ball of Saracino flower paste (about the size of a large pea) onto a 26 gauge wire and roll the middle gently between thumb and forefinger to narrow centre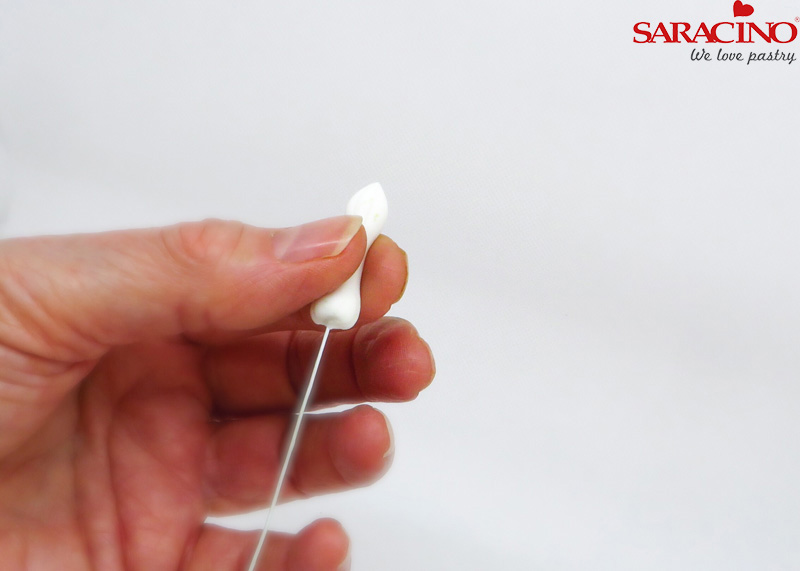 Step 2
Roll the tip of one end to form a point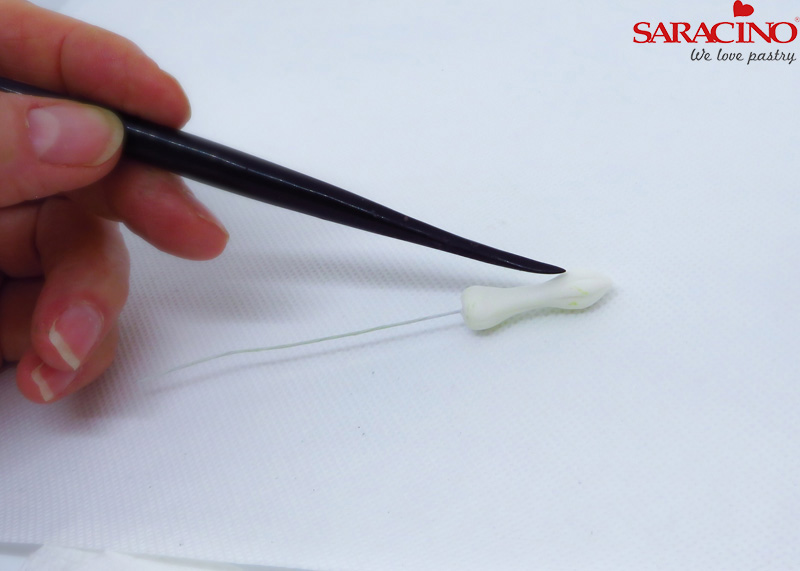 Step 3
Using your dresden tool or cutting wheel, scribe in a few random grooves.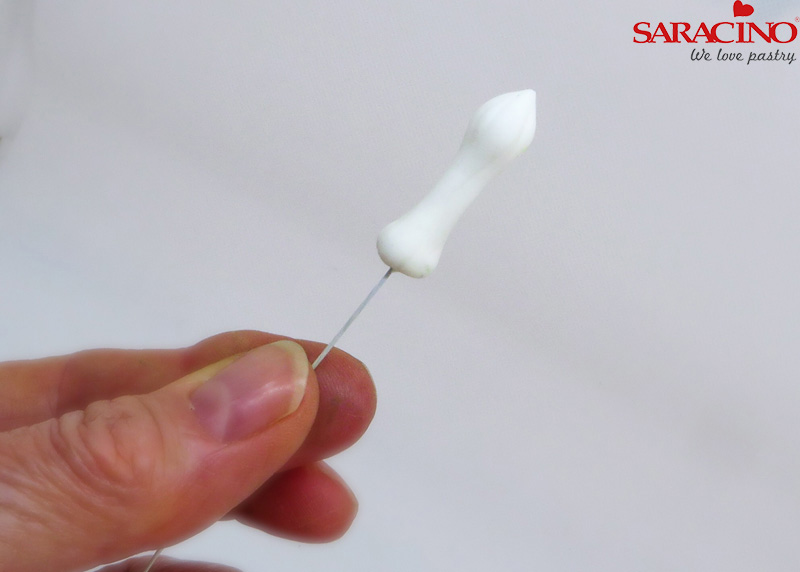 Step 4
Here is how it looks before colouring, the grooves are just there to indicate where petals are forming.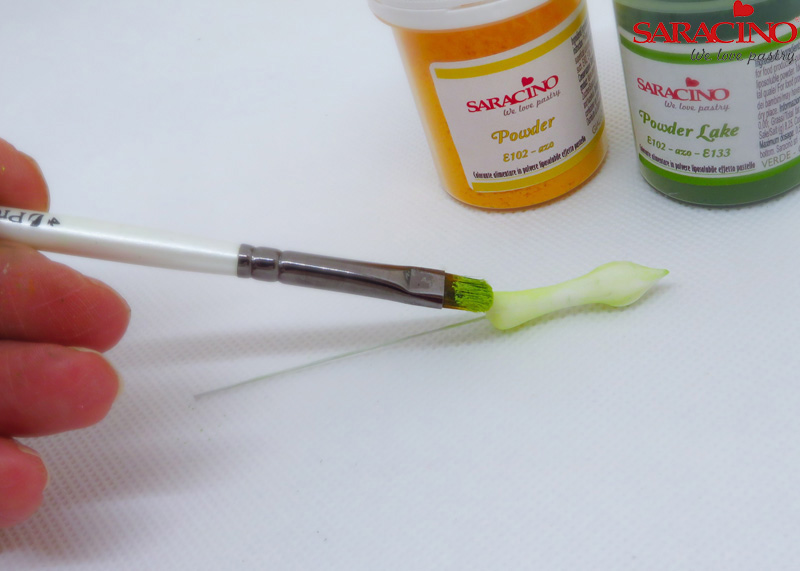 Step 5
Mix green and yellow dust colour to make a lime green. Brush lightly over base and tip of bud.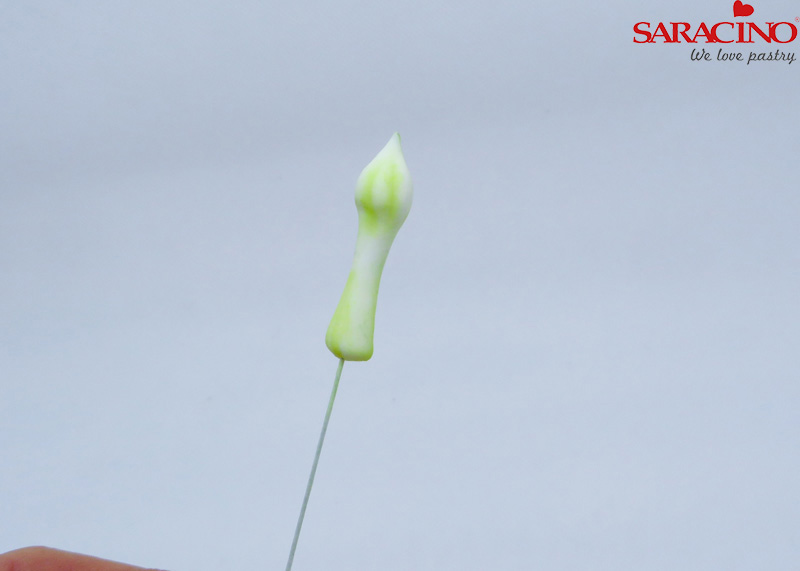 Step 6
Close up showing light green on bud and in groves. Make sure to leave white bits as the bud is not all green.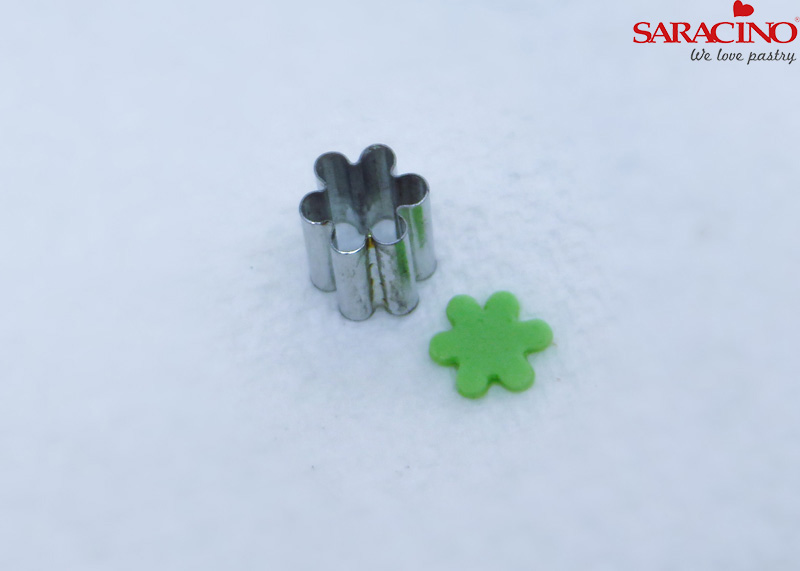 Step 7
To make the sepal (leafy part at base of buds and flowers) Roll out green flower paste quite thinly and cut with blossom cutter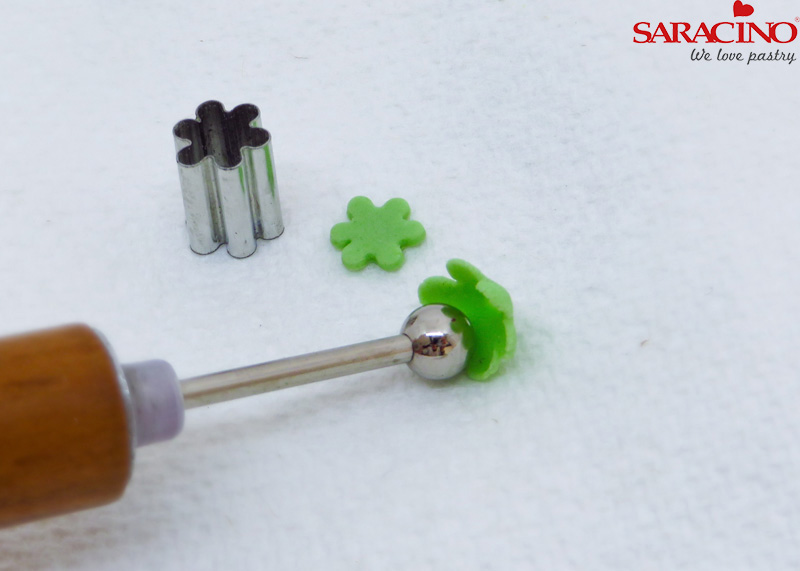 Step 8
Using Ball tool, roll out each part of sepal.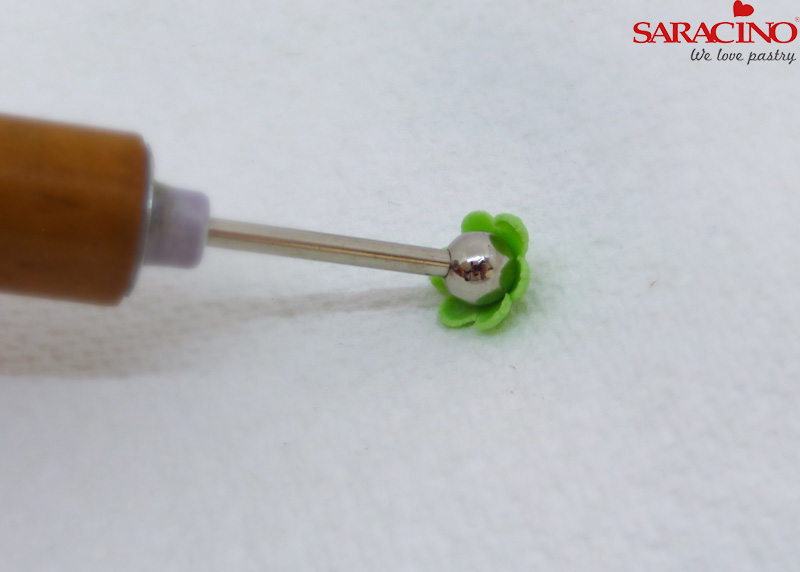 Step 9
As well as centre so it curls inwards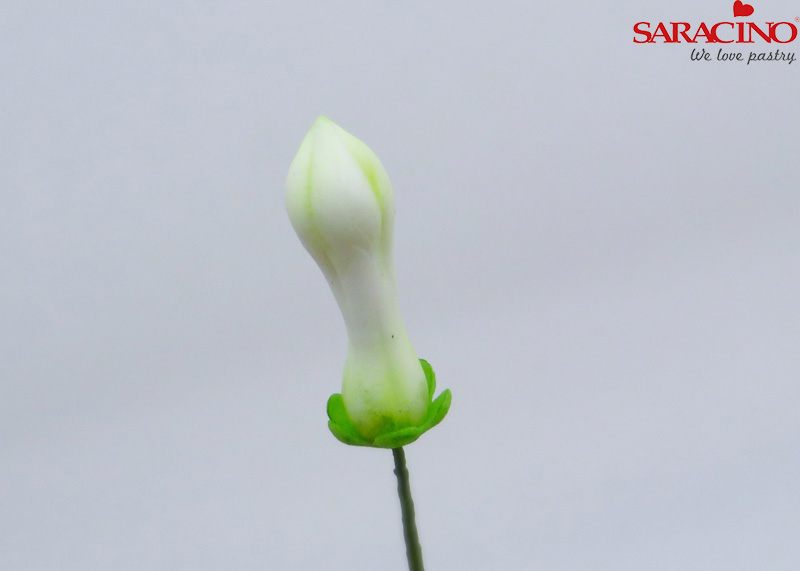 Step 10
Place a hole in the centre with toothpick and insert onto the base of bud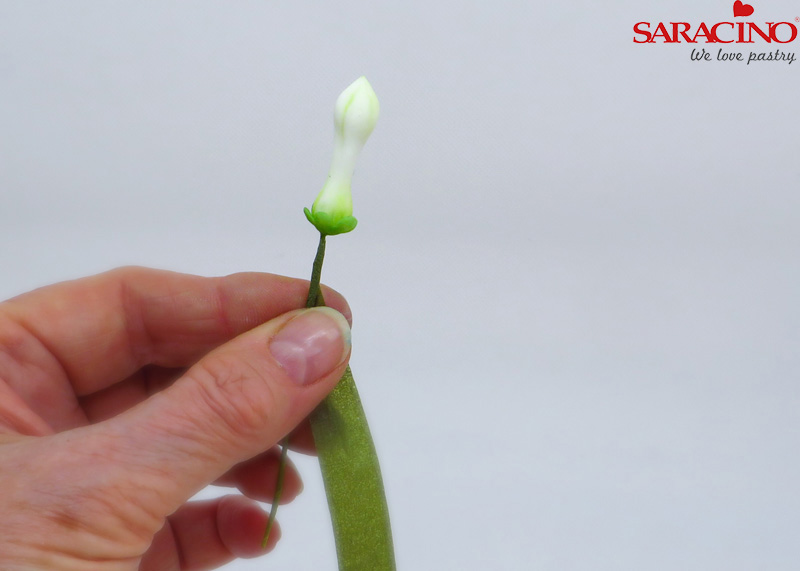 Step 11
Tape the wire with nile green tape.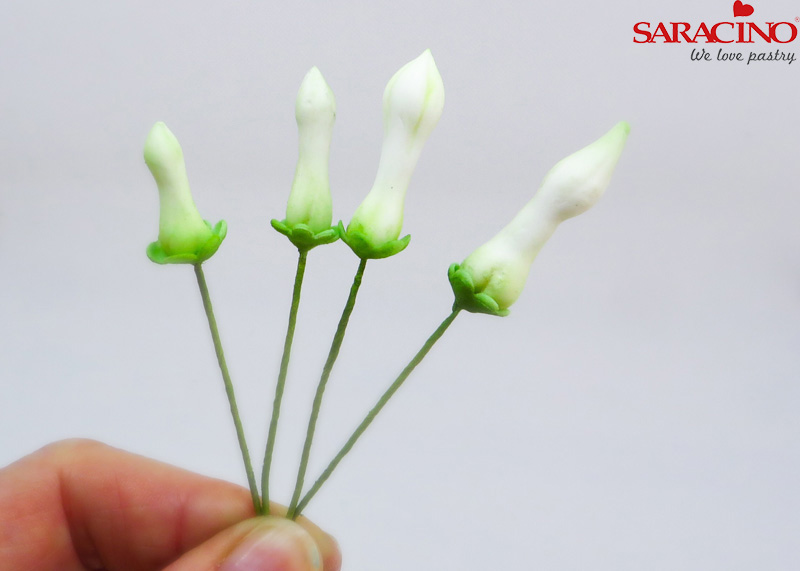 Step 12
Make quite a few different sized buds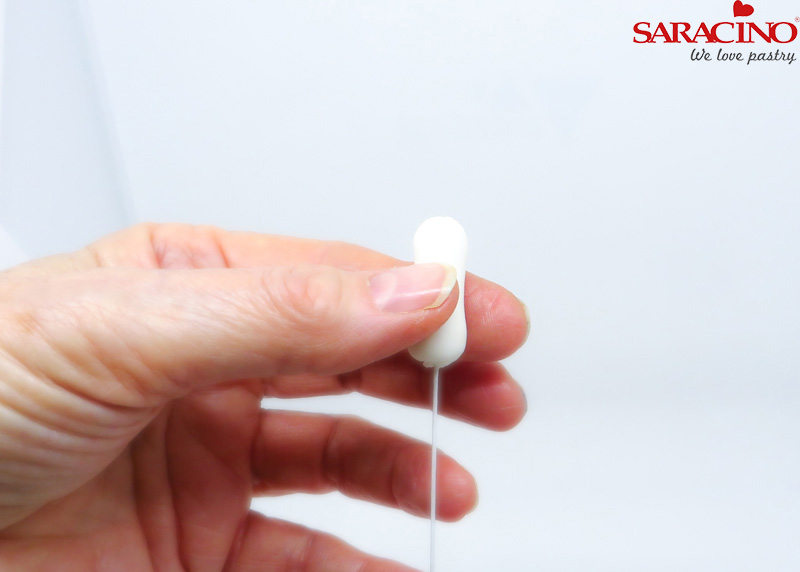 Step 13
Start same as making buds, using 26 gauge wire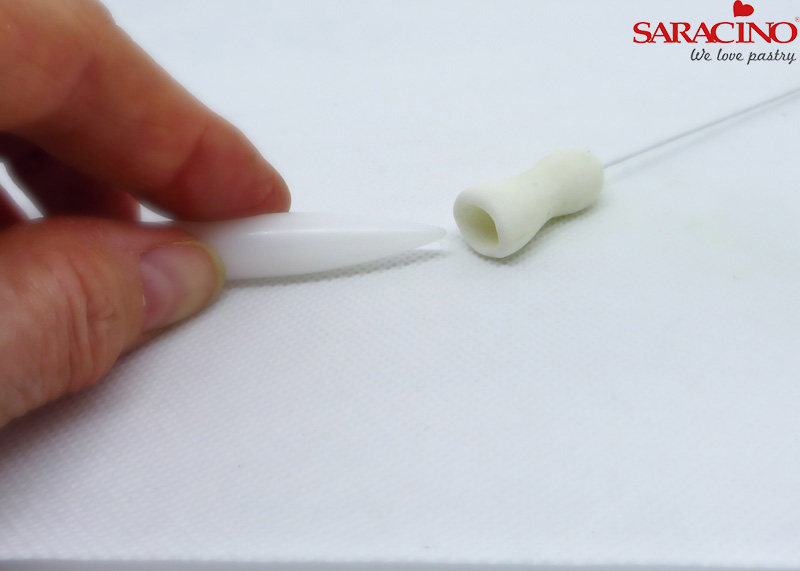 Step 14
Using cel stick, make a hole in centre.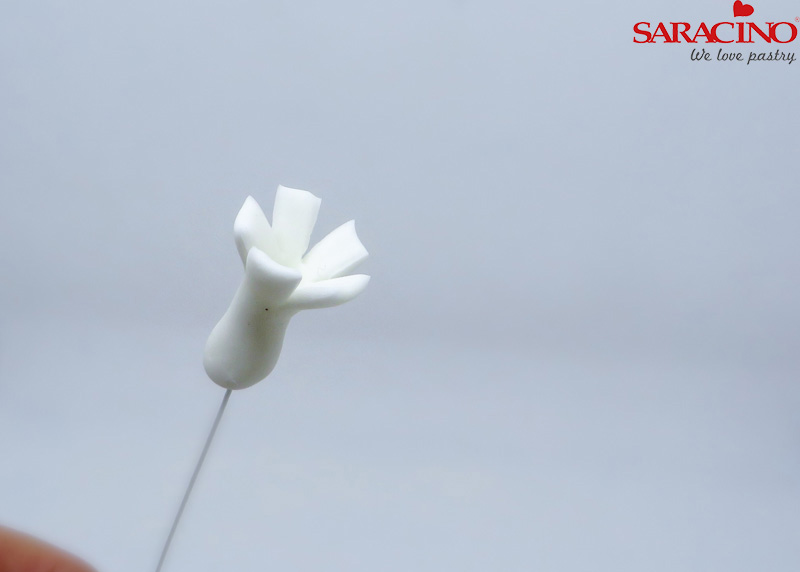 Step 15
Using small scissors, cut five petals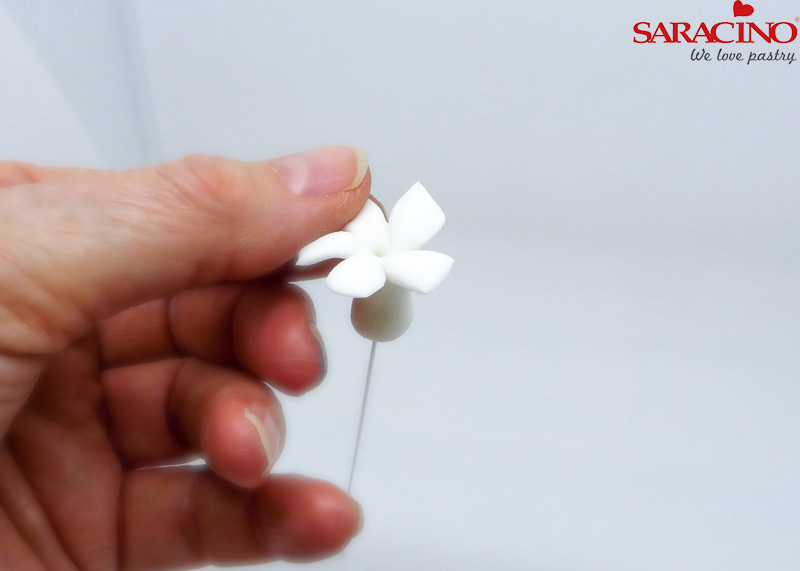 Step 16
Gently press the ends of each petal, between thumb and forefinger, to thin and form petal shape of the flower.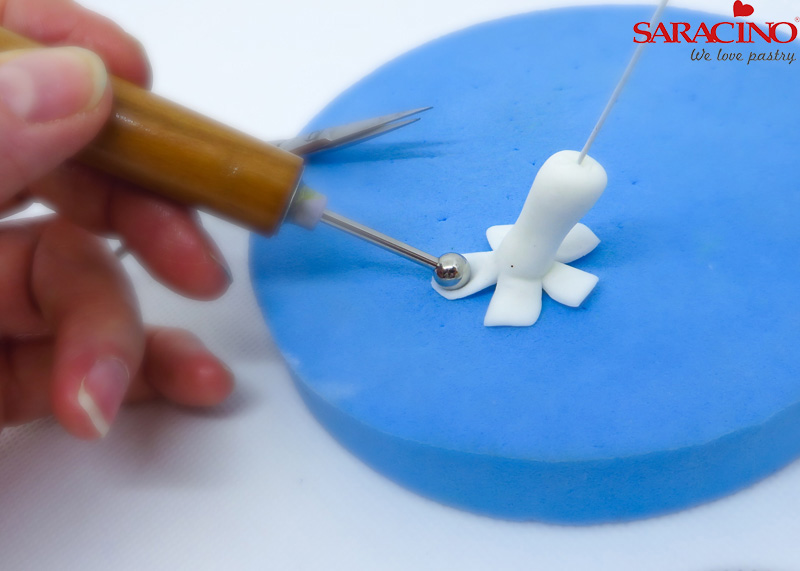 Step 17
Turn flower upside down onto a foam pad and gently press and roll out each petal, this aids in shaping the petals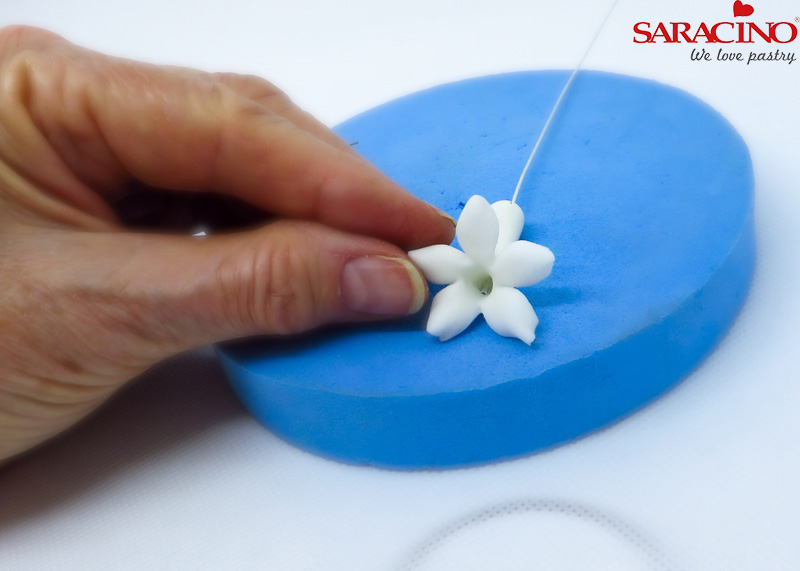 Step 18
Gently form edge of each petal tip between thumb and forefinger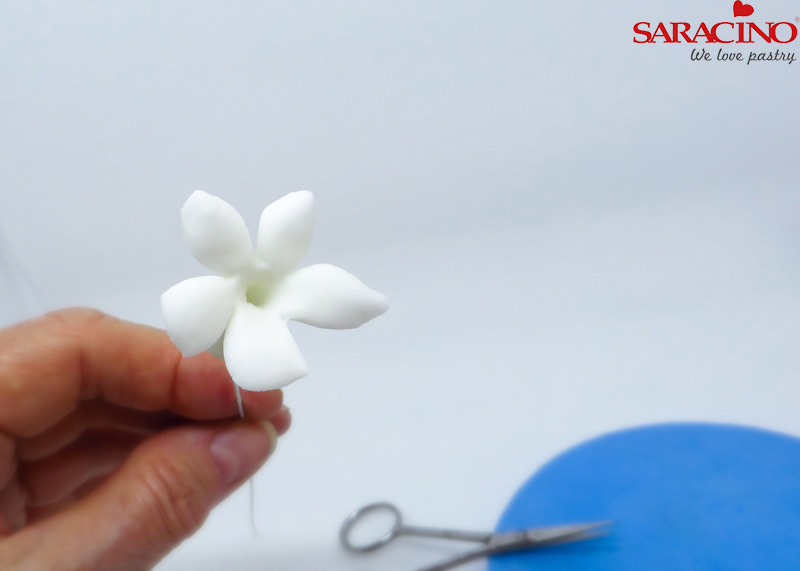 Step 19
This progress photo shows the flat petal as well as formed petals.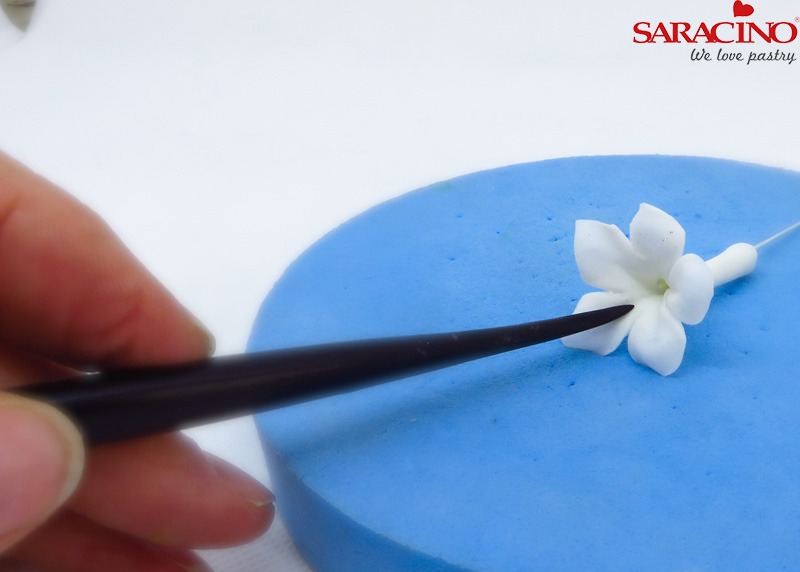 Step 20
Make a small groove in the centre base of each petal, using dresden tool.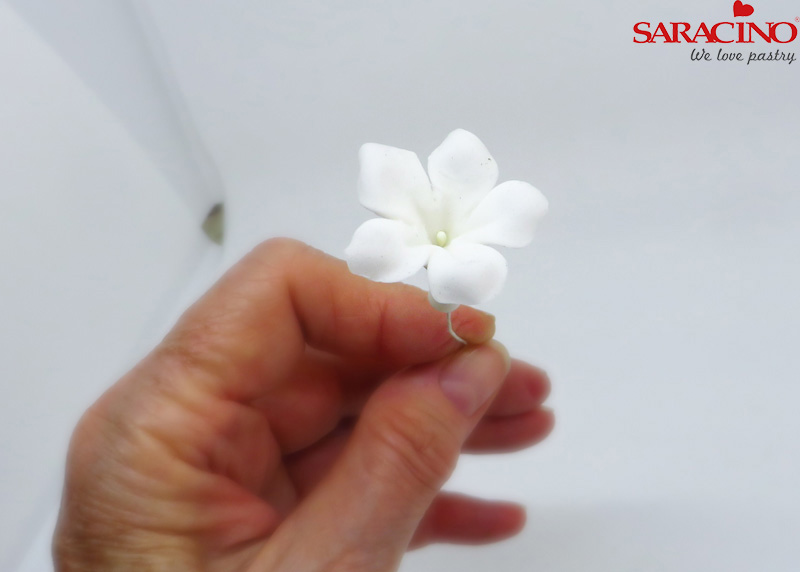 Step 21
Insert a small stamen in the centre.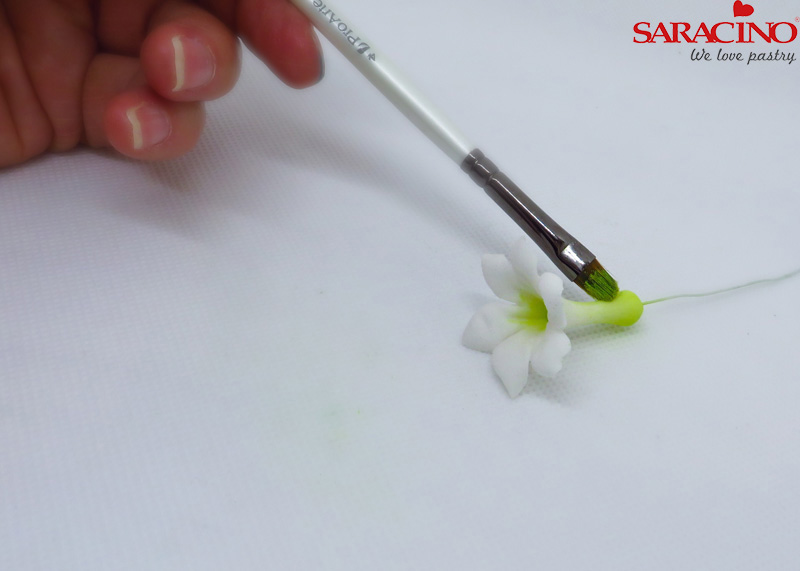 Step 22
Using same lime green as buds, lightly brush the base of the flower and a little in the centre.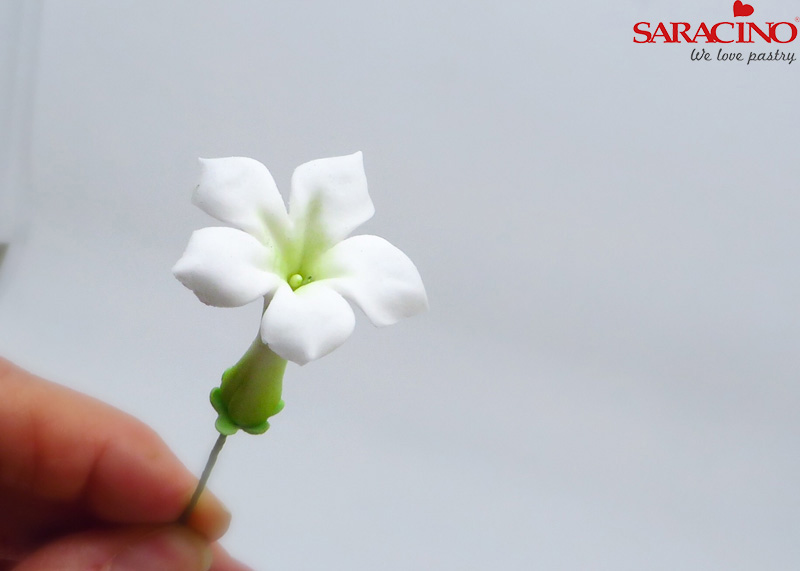 Step 23
As with buds, add the green sepal at base of flower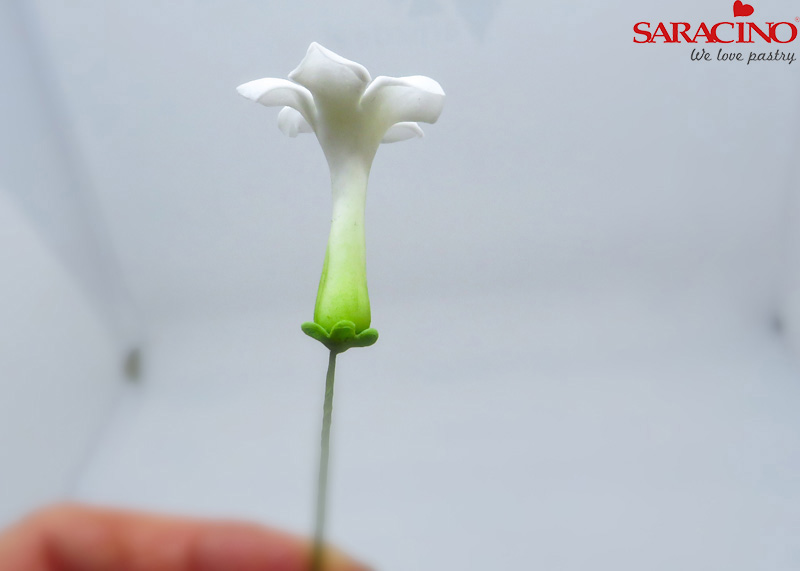 Step 24
As a guide, make enough flowers for approximately 1-2 flowers to about 3-6 buds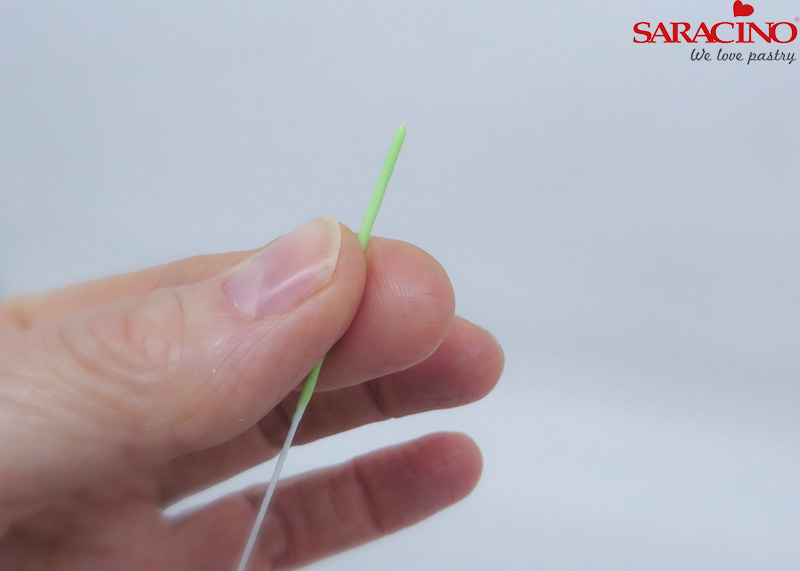 Step 25
You will need to make quite a few leaves of about 4-5 different sizes.
Place a small ball of green paste onto a 26 gauge wire (larger leaves use 22 gauge wire) and taper it down so that length will be just short of what the leaf will be.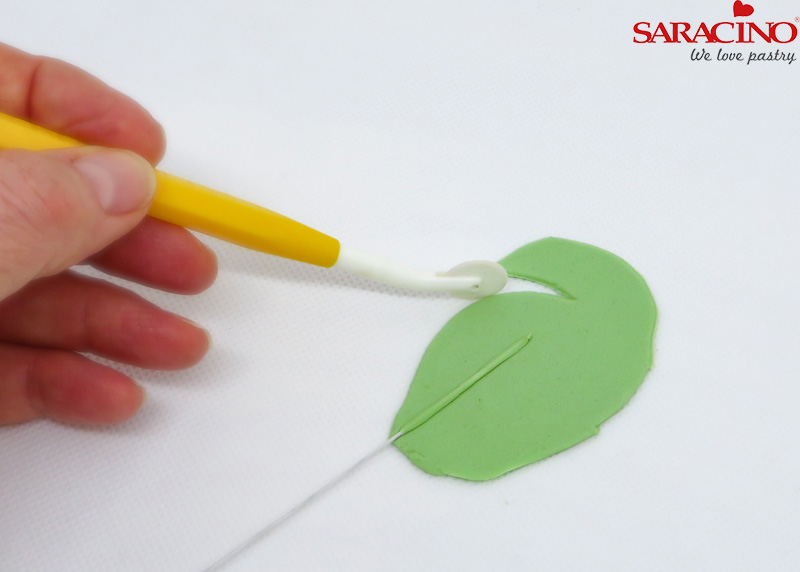 Step 26
Place onto  rolled out paste and cut a leaf shape with cutting wheel.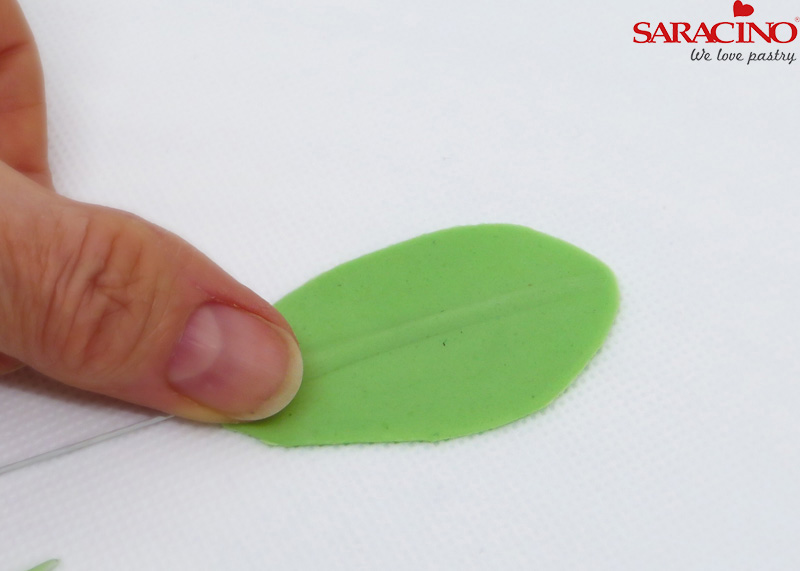 Step 27
Gently smooth the green covered wire  into the leaf.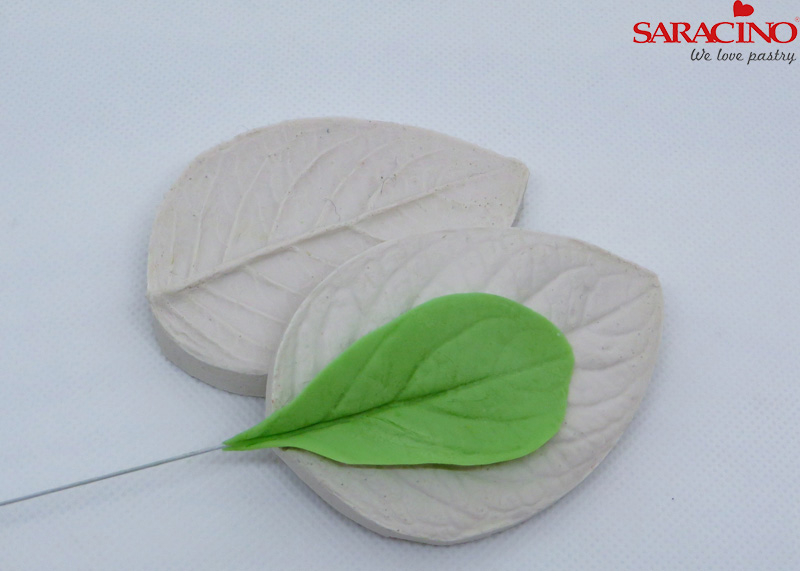 Step 28
Press gently into a universal leaf veiner and form a gentle shape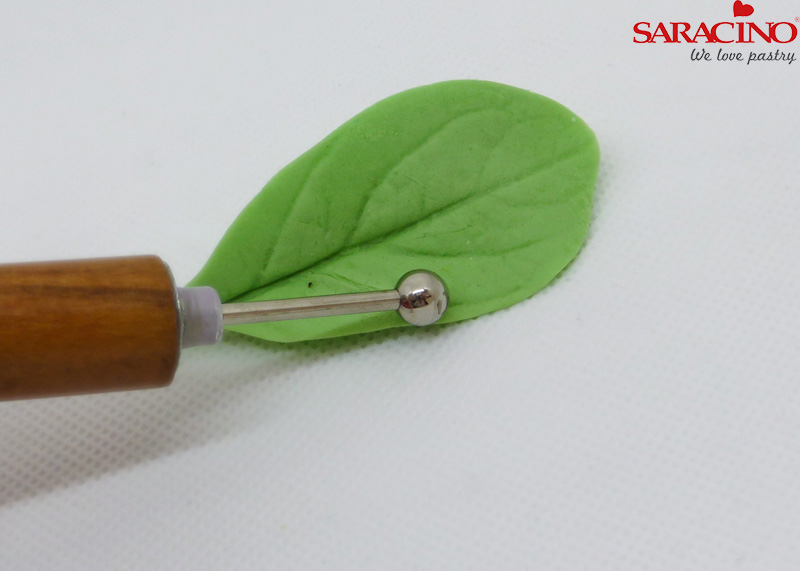 Step 29
Thin the edge with a balling tool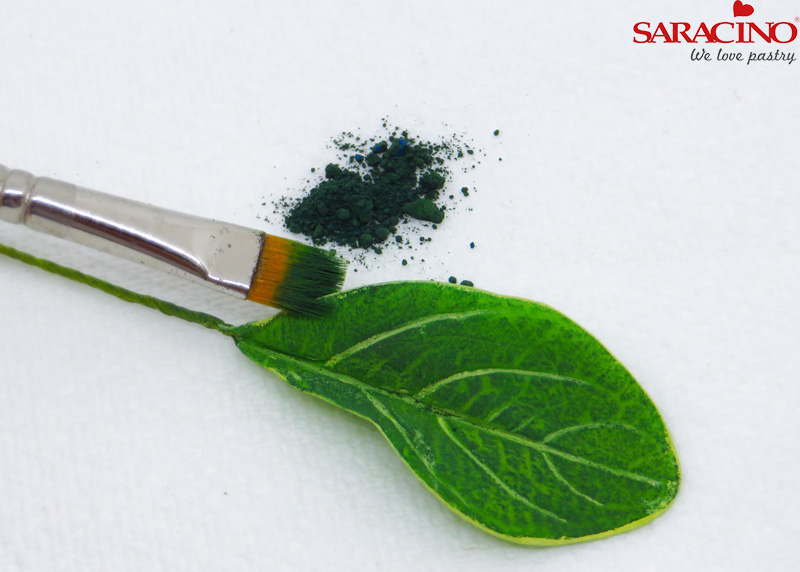 Step 30
Brush with Saracino green dust and over dust again with green/brown mix dust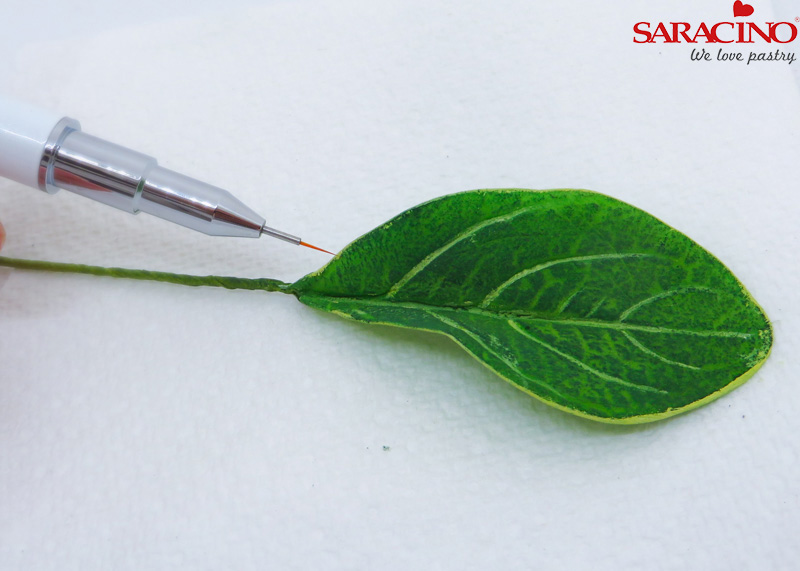 Step 31
Using a fine brush (size 00000) paint a thin line on edge and veins top of leaf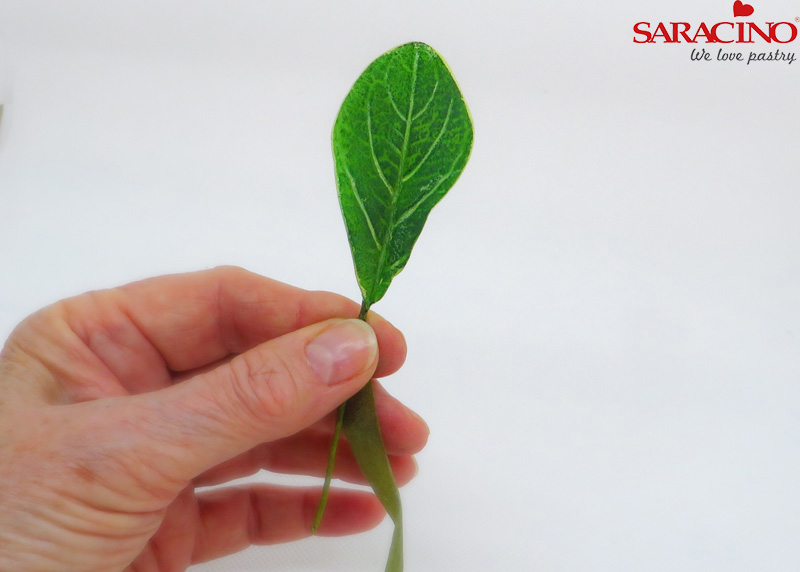 Step 32
Tape the leaves with nile green tape.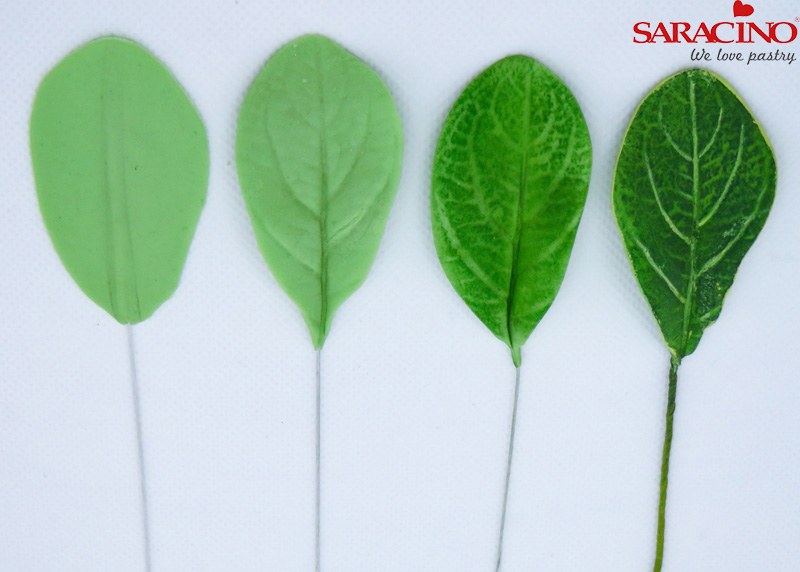 Step 33
This photo shows you the stages I just described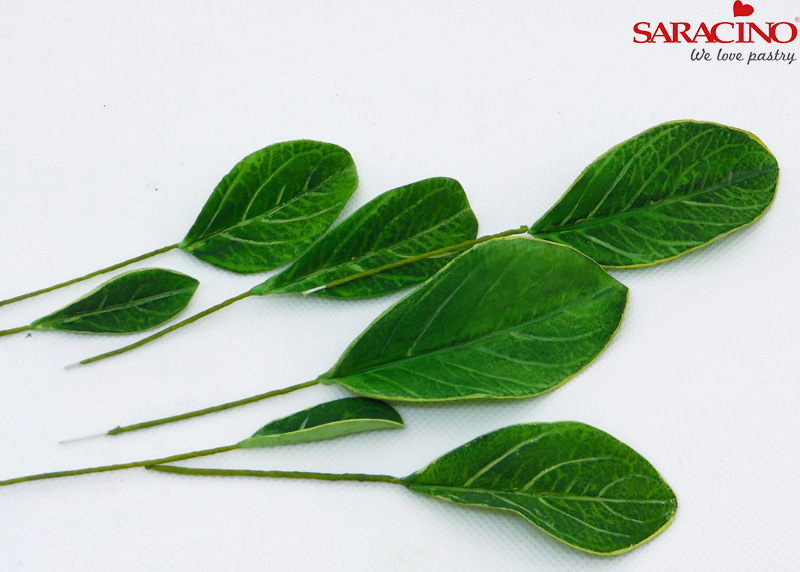 Step 34
Here are several sizes that I made a few of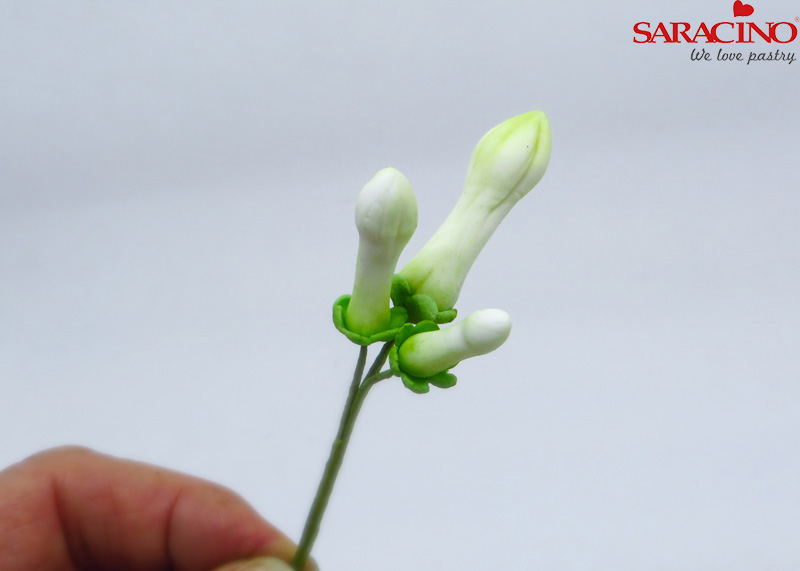 Step 35
Tape together groups of different size buds.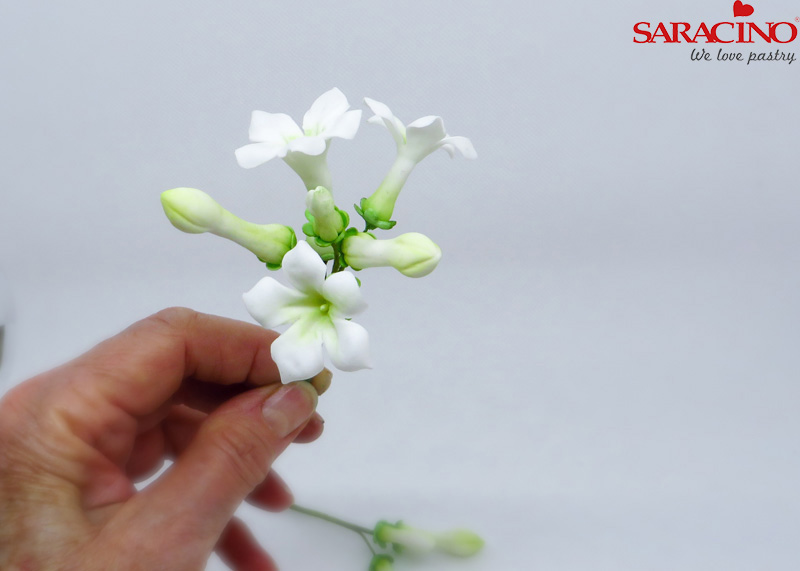 Step 36
Add a few flowers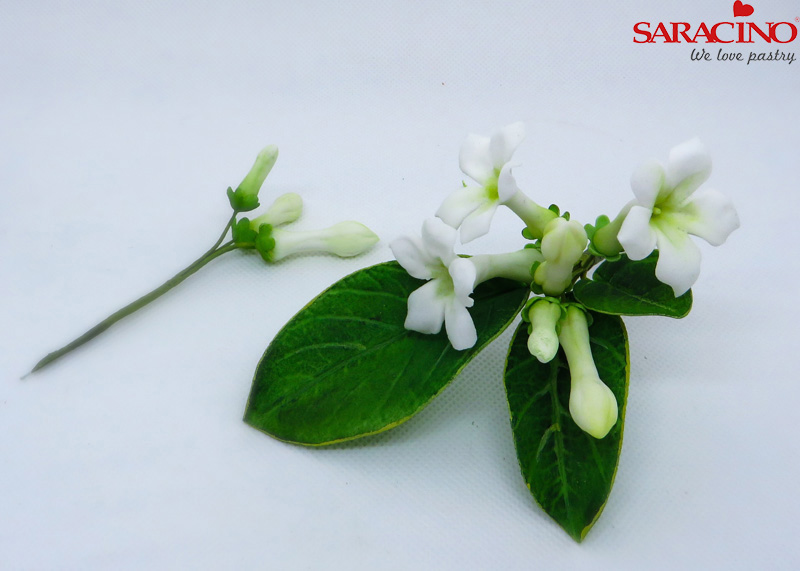 Step 37
Add a few different size leaves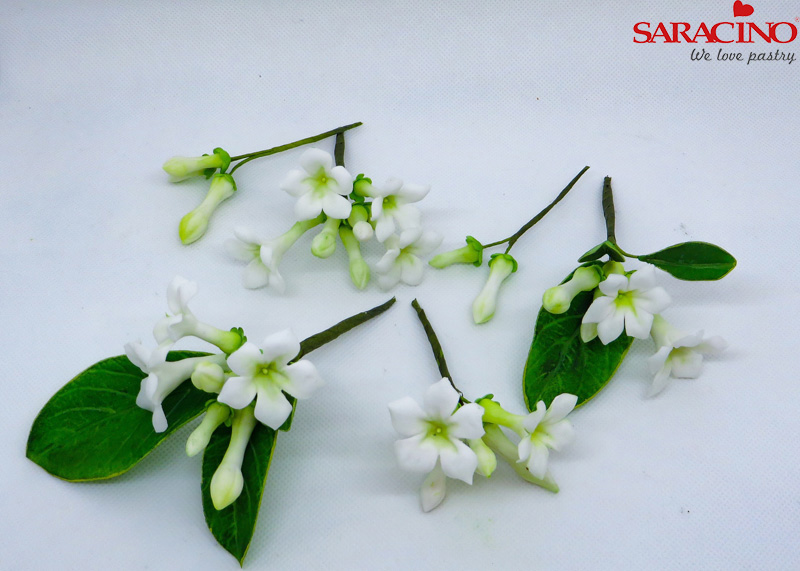 Step 38
This photo shows varied clusters of flowers, buds and leaves I taped together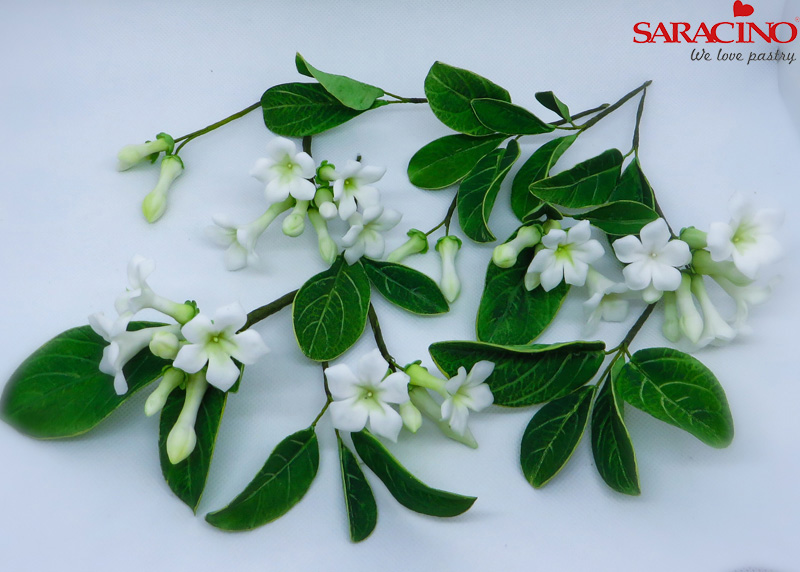 Step 39
Then (using an 18 gauge wire) start taping the clusters in a formation to suit the sugar flower arrangement you may be adding this too.
These are relatively quick to make and are a great addition to any floral arrangement, making for a lovely contrast and adding a bit of freshness. I do hope you enjoy the tutorial.