You will need:
Saracino White Modelling Chocolate
Saracino White Modelling Paste
Edible Glue
White Florist Wires: Gauge 18,22,24
Brown or Green FLorist Tape
Saracino Colour Dusts: Red, Pink, Purple, White, Yellow, Green, Brown
Saracino Green Paste
Cel Board
Foam Pad
Non Stick Rolling Pin (preferably 9")
Dresden Tool
Cel Stick
Wire Cutter
Small scissors
Cutting Tool
Soft Paint brushes (Teflon or real hair, like sable)
Balling Tool
Magnolia Cutters (3 sizes)
Leaf Veiner
Magnolia Veiner
Small daisy/blossom cutter
Tin Foil or kitchen paper sheets
Corn Flour for dusting if needed
Plastic sleeve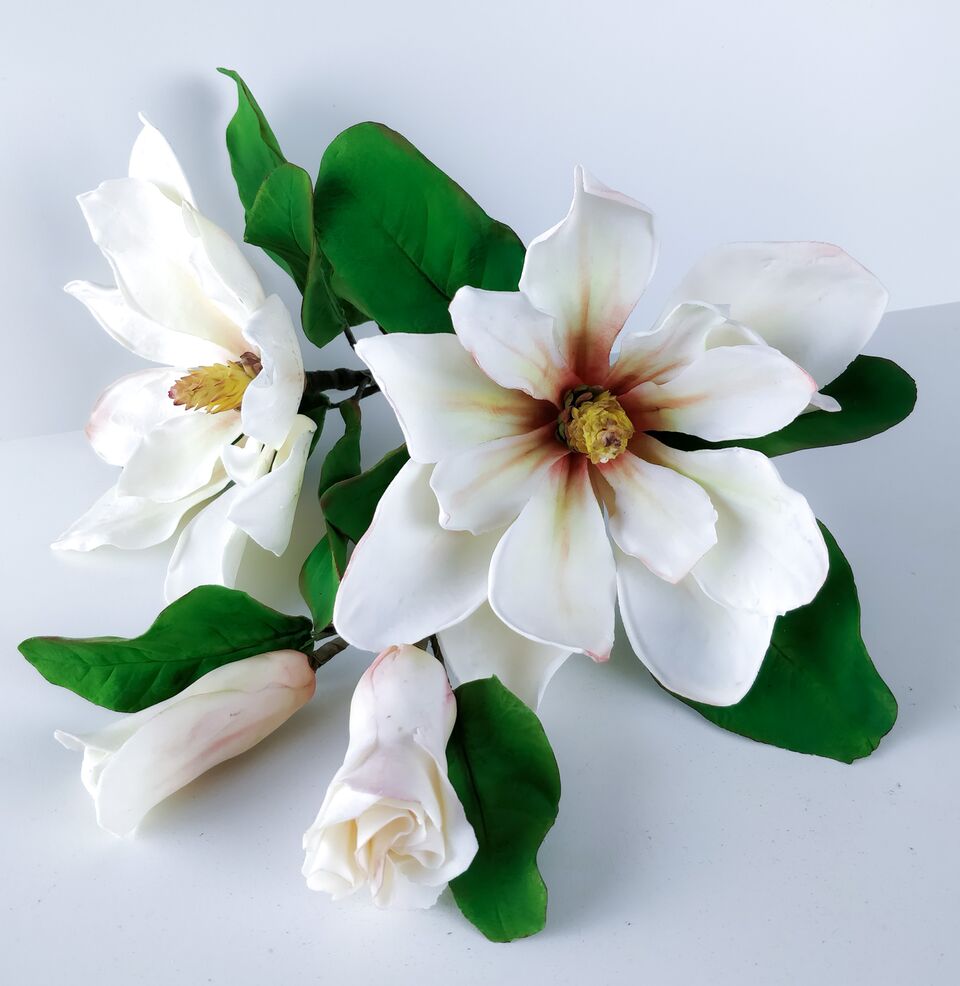 Mix the two pastes together, approximately 2 parts modelling paste to one part modelling chocolate
Centre:
Mix the two pastes together, approximately 2 parts modelling paste to one part modelling chocolate
Take an 18 gauge wire, dipped in edible glue, and place small amount of paste on the end and taper into a tear drop shape with point at the top and base.
Taking small scissors, snip spikes into the paste to form spikes all the way down. Leave to dry.
Mix yellow, white and green dust colours together and using a soft paint brush, dust all over, then using a little of the darker green add darker areas and finish off with dusting tips with a mix of red and purple colour dusts.
Colour your mixed paste, green. Roll out and using daisy cutter, cut out three daisies. Ball out the edges and slide up wire to base of magnolia centre, using a little edible glue. Dust a little, using the same red and purple mix. The picture below shows the stages from start to finish.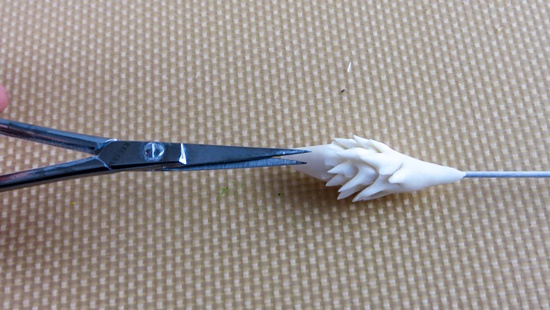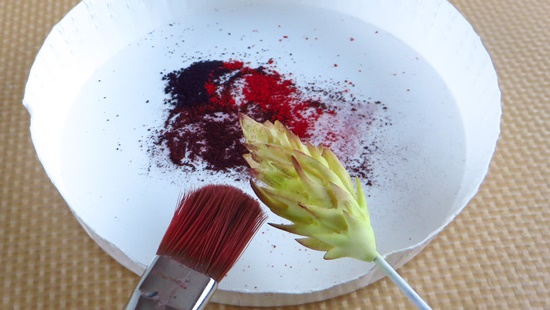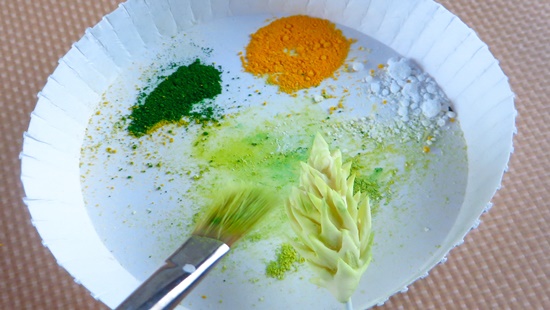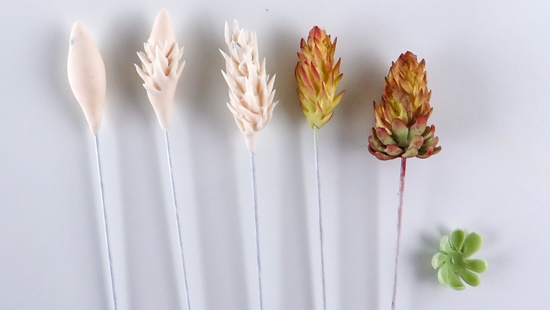 Magnolia Petals
Roll out the white paste, then using your cel stick, roll centre of paste to form a ridge.
Cut out petals with your magnolia cutters. You will need three of each, nine in total. Keep them in a plastic sleeve to stop them from drying out. OF do them is sets of three
Insert wires into the ridge, using a little edible glue: 24 gauge wires for two smallest, 22 gauge wire for largest.  Place back in plastic sleeve. Or do in sets of three.
Thin edges of petals with your balling tool, then press in veiner. To create a ridge on edges, drag your dresden tool right at the petal edge.
Once dry, or nearly dry, lightly brush green/yellow dust mix at base of each petal, then over brush lightly with red and purple dust mix, at base.
Once completely dry, start to assemble/tape to magnolia centre, starting with smallest three, then next size up, finishing with largest.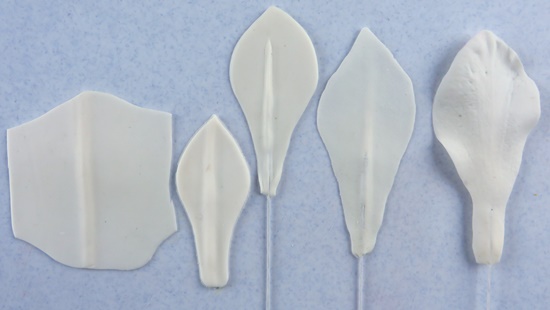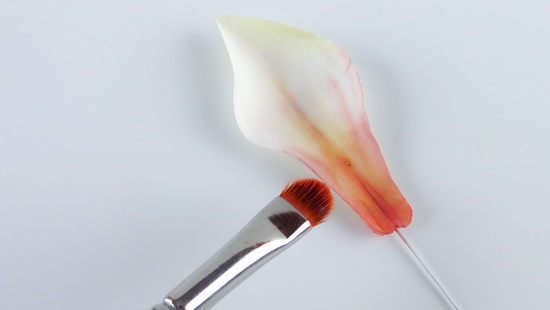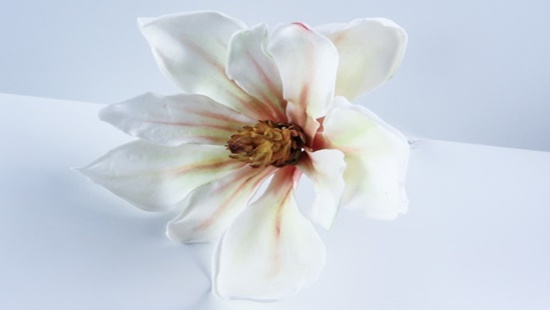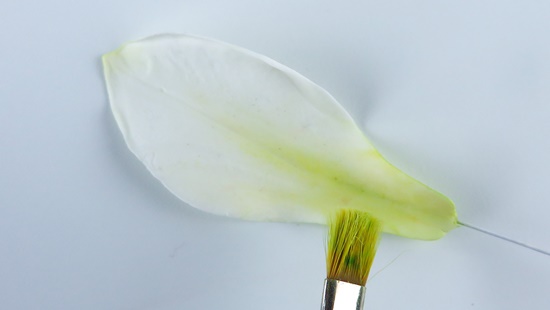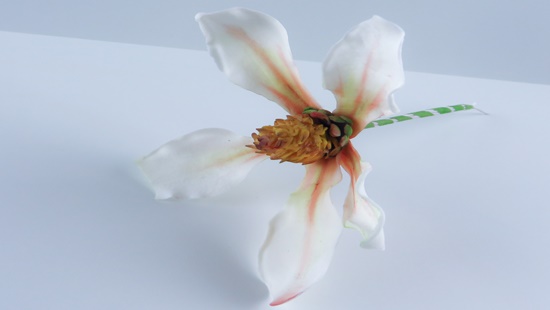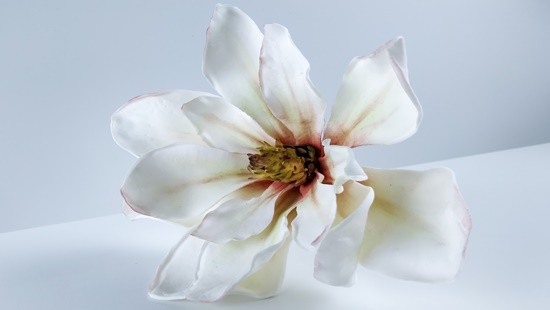 Magnolia Buds
You can use paste, but to keep it light, I've inserted an 18 gauge wire into a small styro ball (approx 1" diameter).
Cut out a few petals (about three of five) freehand with cutting tool, or use magnolia cutters. Thin edges and fold around ball.
Once dry, brush colour on, same as ones used for the petals.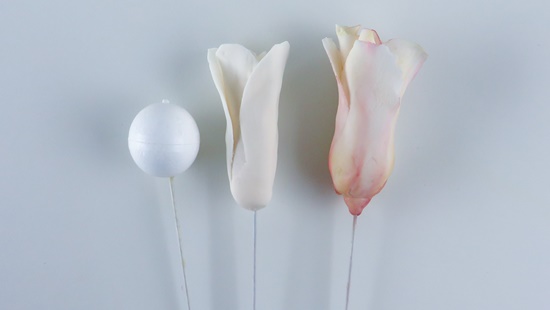 Leaves:
Roll out Green paste and form a ridge (see steps used for petals). #
Reehand cut out a leaf shape with your cutting tool (or knife) leaving ridge in centre. Insert a 22 gauge wire, tipped with a little edible glue.
Thin out edges with balling tool, then press into veiner. Cut out several sizes (about 6 or seven or more if you wish) and leave to dry.
Brush green over the top of leaf and keep colour on back light. Then over dust with some yellow in places and a little white. Brush the edges with a mix of red and purple dust.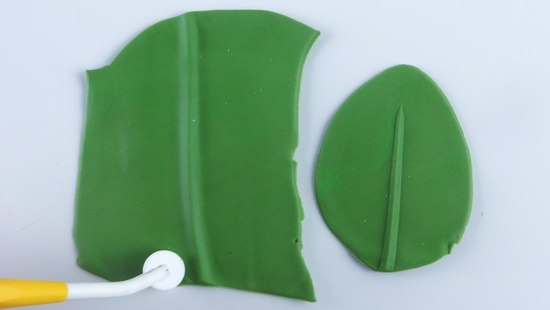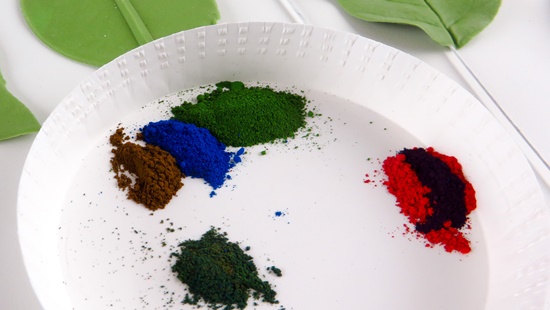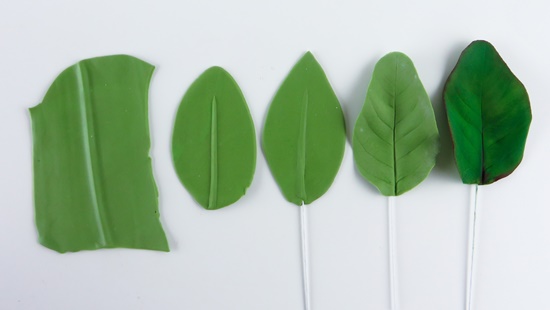 Assembly:
You can fix the colour by swaying carefully, the posy, over the steam from a kettle or boiling pot of water on stove.
Using brown or green florist tape, assemble the flowers, buds and leaves together carefully. Remember these dry petals and leaves are very fragile and brittle.
3. You can now use to decorate your cake. I hope you enjoy this tutorial and find is useful.