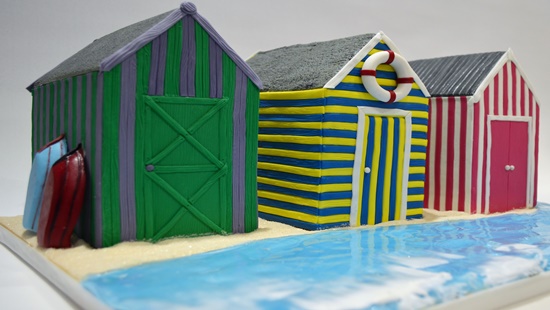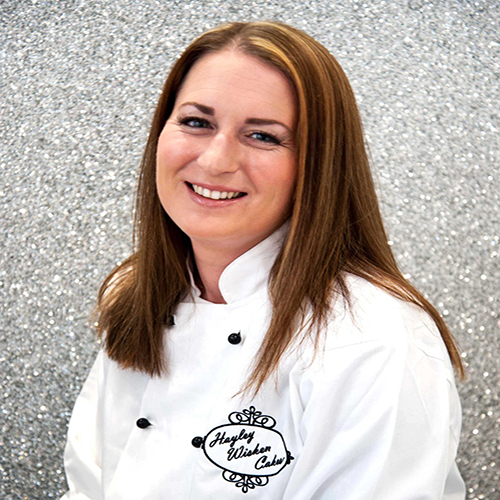 Hayley Wisken – Owner of Hayley Wisken Cakes, Hayley is a multi-award winning cake artist she has 22 competitions under her belt, her best achievements are 14 Gold medals, 3 x First Place's and Best in Show at Cake International Manchester 2015.  Hayley and her husband Mike own Fabricake Sugarcraft Limited a Sugarcraft retail store in Southend, Essex.  Fabricake also has a popular online shop www.fabricake.co.uk
Hayley Wisken Cakes – https://www.facebook.com/Hayleywiskencakes/
.
You will need:
Ingredient
3 x 8" Square Cake (3.5 Inches Deep)
3 Kg White Saracino Sugarpaste
250g Duck Egg Blue Sugarpaste
250g Saracino Blue Modelling Paste
250g Saracino Yellow Modelling Paste
250g Saracino Blue Modelling Paste
250g Saracino Lilac Modelling Paste
250g Saracino Cerise Modelling Paste
250g Saracino Green Modelling Paste
250g Saracino White Modelling Paste
100g Saracino Black Modelling paste
100g Saracino Red Modelling paste
 500g Golden Celebration Sugarpaste
500g Saracino Isomalt
500g Buttercream
100g Saracino Royal Icing
Piping Gel
Edible Glue
Edible Spray Glaze (Dinkydoodle Shell & Shine)
Jam
Black Extra
100g Golden Caster Sugar
Equipment
Non-Stick work board
Rolling Pin 16"
Rolling Pin 9"
2mm Spacers
5mm Spacers
Smoother
Flexi-Smoothers
Wide Artist Brush
No. 6 Artist Brush
14 x 18" Rectangle Cake Drum (12mm thick)
Saucepan & Hob
Silicone spatula
Heatproof Jug
Large Kitchen Knife
Disposable Piping bag
Scissors
Wire Cake Leveller
Bread Knife
Palette Knife
Side Scraper
Hard Bristle brush for texturing
Wood Texture Mat or Rolling Pin
Strip Cutter 2 (Jem)
Strip Cutter 3 (Jem)
Teaspoon
Double Sided Tape
2m White 15mm Thick White Satin Ribbon
Silliputty (www.fabricake.co.uk)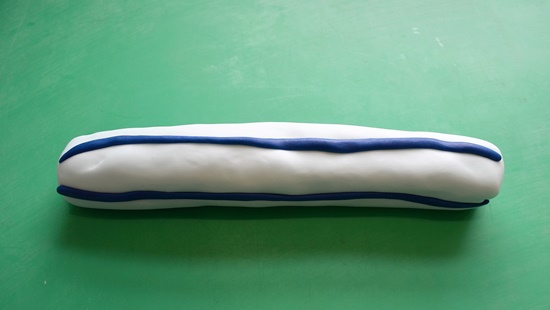 Step 1
Knead the duck egg blue sugarpaste and roll into a large thick sausage shape and form 4 thin sausages of the darker blue modelling paste. Push the modelling paste onto the sugarpaste equal distances apart.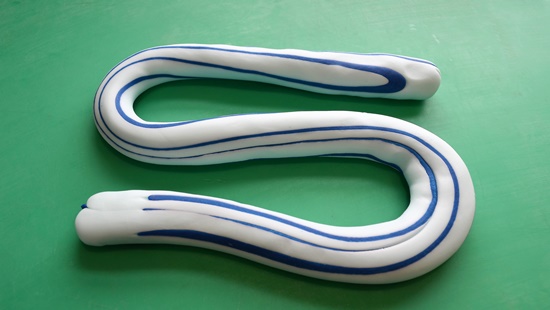 Step 2
Roll the sausage and bend into an S shape, reform into a sausage. Repeat this step around 4 times taking care not lose the marbled effect.
TIP – TRY NOT TO TWIST THE SAUSAGE AS THIS WILL MAKE THE LINES WIGGLY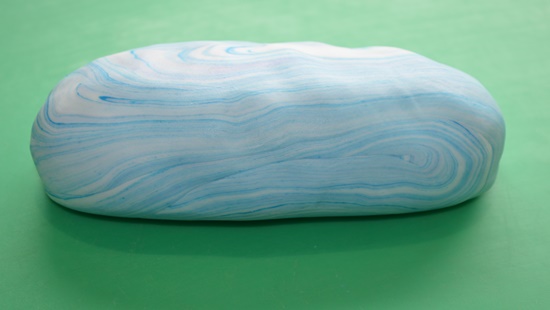 Step 3
The sugarpaste and modelling paste should have beautiful marbled straight lines running through it.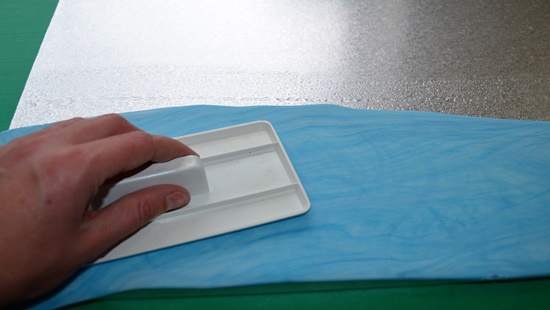 Step 4
Brush a thin layer of piping gel over the cake drum.  Roll out the blue blend sugarpaste to a thickness of 2mm, 18 inches long and around 5 inches wide.  It doesn't have to have a straight edge as this will be the water so a wavy effect is good. Smooth away any bumps with a smoother.
TIP – USE THE SMOOTHER TO MANIPULATE THE SUGARPASTE IT WILL SLIDE EASILY ON THE PIPING GEL. IT CAN BE SMOOTHED INTO THE POSITION NEEDED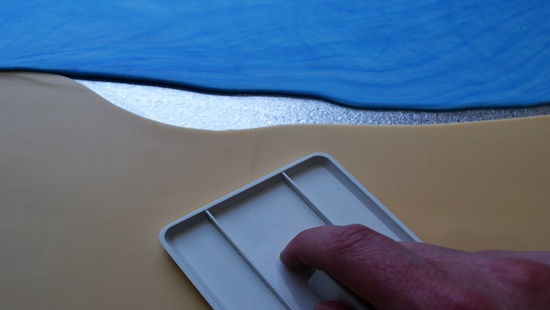 Step 5
Roll out the golden celebration sugarpaste to a thickness of 2mm, 18 inches long by approximately 9 inches wide. Lay this on the cake drum bringing the edges of both sugarpastes together but not over lapping each other.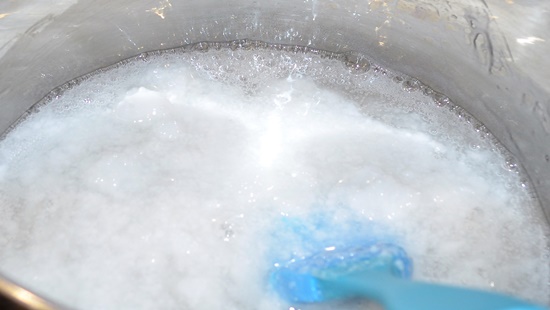 Step 6
Melt Saracino isomalt over the hob stirring continuously with a silicone spatula.
.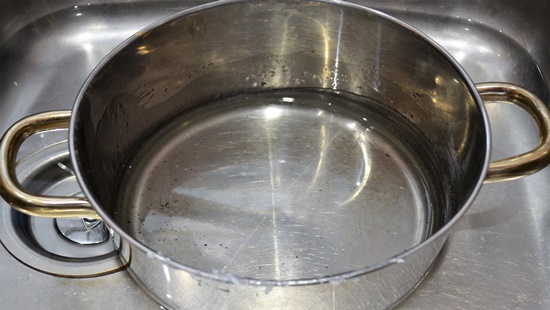 Step 7
As soon as the isomalt has dissolved fully transfer immediately to a sink pre-filled with cold water to stop the isomalt from burning and turning brown.
.
.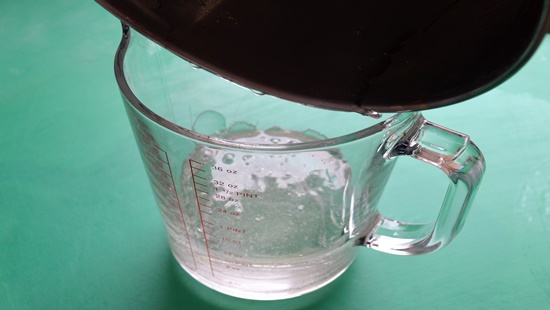 Step 8
Carefully transfer the cooked isomalt from the saucepan to a heat proof jug.
.
.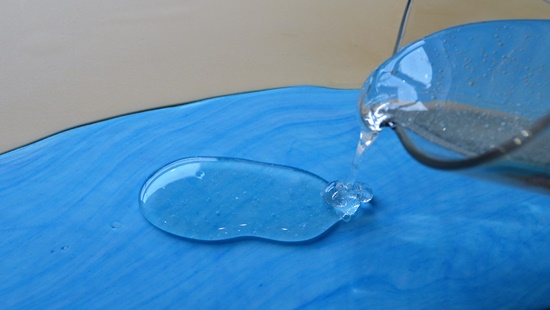 Step 9
Slowly poor the isomalt over only the blue part of the covered drum, if its pored carefully enough it should not run over the edges of the board.
TIP –  IF THE ISOMALT DOES RUN OVER THE EDGE OF THE BOARD IT CAN BE EASILY FIXED BY HEATING A LARGE KITCHEN KNIFE AND CUTTING IT AWAY. ALWAYS GLAZE ISOMALT TO PREVENT IT FROM GOING CLOUDY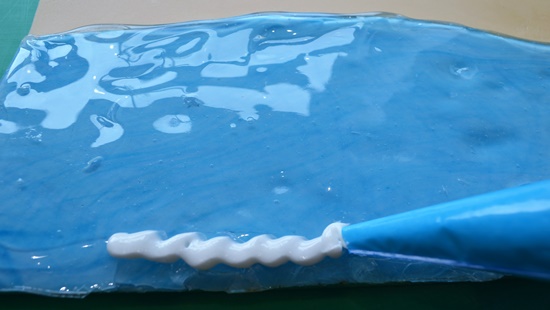 Step 10
Once the isomalt has set (No longer than 5 minutes). Fill a piping bag with Royal Icing, there is no need for nozzle just snip the top off with scissors and pipe wavy lines randomly along the front of the board.
.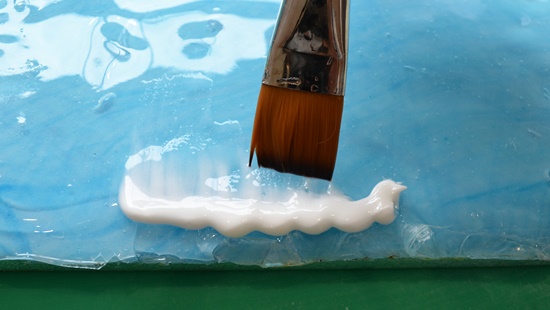 Step 11
Dampen a wide artist brush with cool boiled water and brush the royal icing away until it fades to nothing.
.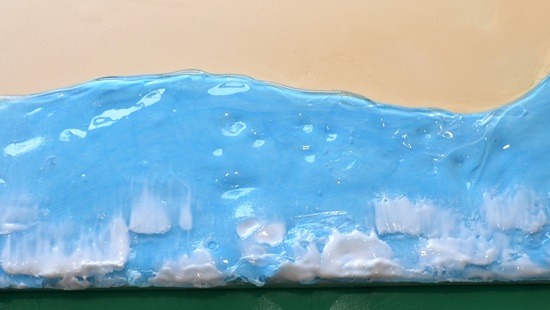 Step 12
Continue to brush all the royal icing waves creating a rough sea effect.  Put the completely board to one side to dry.
.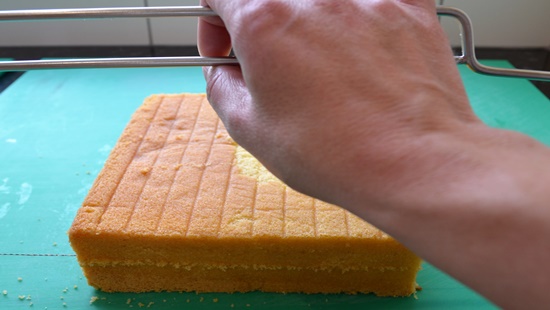 Step 13
Using a wire cake leveller cut each of the 3 cakes in half.
.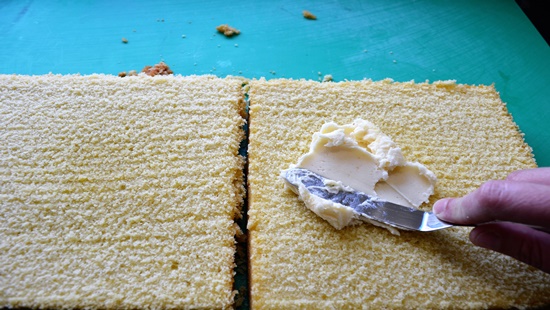 Step 14
Spread buttercream and jam and sandwich together.
.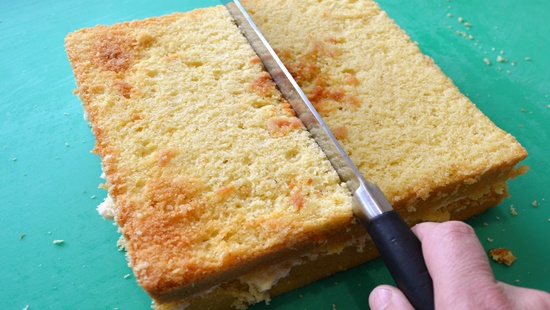 Step 15
Cut each of the cakes directly in the half, buttercream and jam again and stack on top of one another, resulting in 3 cakes each 4 inches wide by 8 inches deep around 7 inches high.
.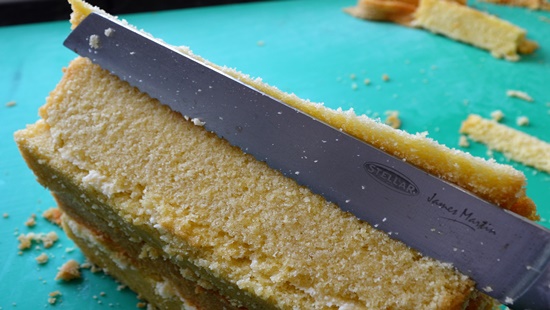 Step 16
Using the templates provided and a serrated bread knife carve the cakes to the shape of beach huts.
.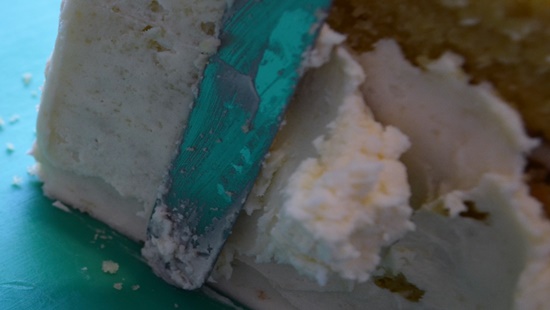 Step 17
Crumb coat each cake with buttercream, ganache can also be used. Apply a generous layer with a palette knife and smooth with a straight edged side scraper.
.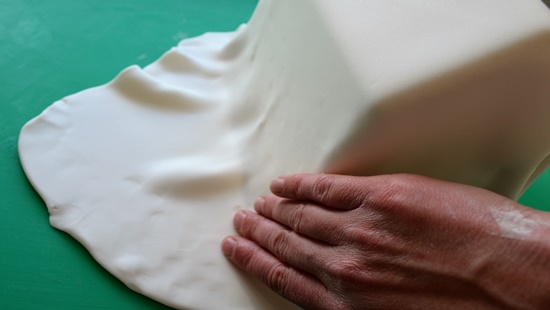 Step 18
Roll out the white sugarpaste to a thickness of 5mm and drape over the freshly crumb coated cake.  Fit the corners first then the sides.  Trim away the excess paste with a Sharpe knife.
.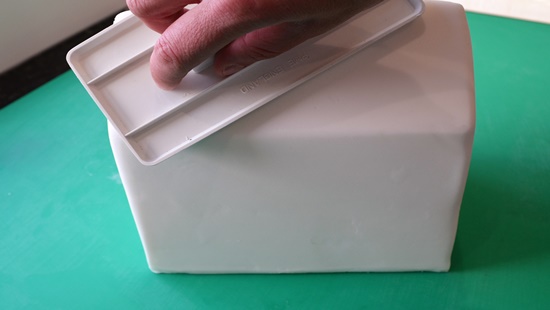 Step 19
Using a smoother, smooth away all imperfections.
.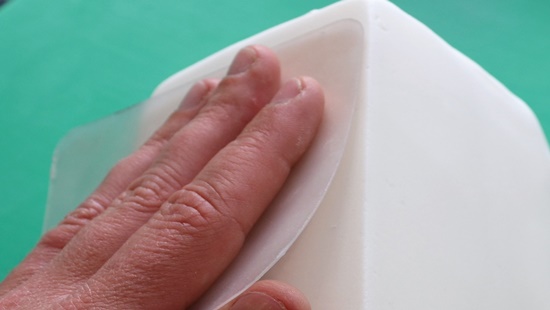 Step 20
Create Sharpe edges, using flexi-smoothers, apply light pressure with your fingers and work in long slow movements, avoid using too much pressure and short sharp movements as this can cause gouges in the paste.
TIP – WHEN WORKING ON 3 CAKES. CRUMB COAT, COVER AND SMOOTH EACH ONE ENSURING THAT YOU ARE COMPLETELY HAPPY BEFORE MOVING ONTO THE NEXT CAKE.
.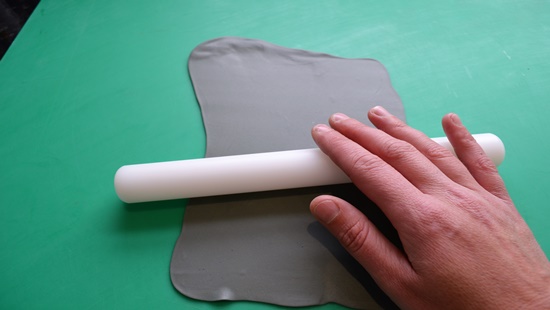 Step 21
Mix together 25g Black, 25g Green & 100g White modelling paste and knead well to achieve a khaki colour for the beach huts roof.  Roll the modelling paste out to a thickness of 1mm.
.
.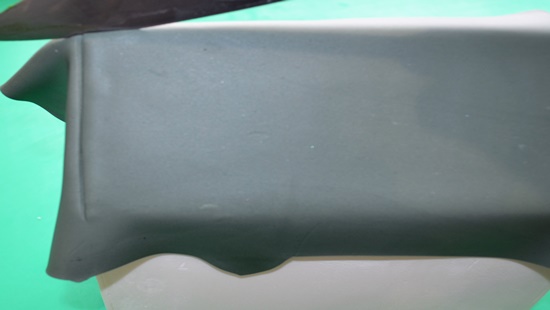 Step 22
Brush the roof with edible glue and apply the rolled paste, trim away any excess paste with a Sharpe knife.
.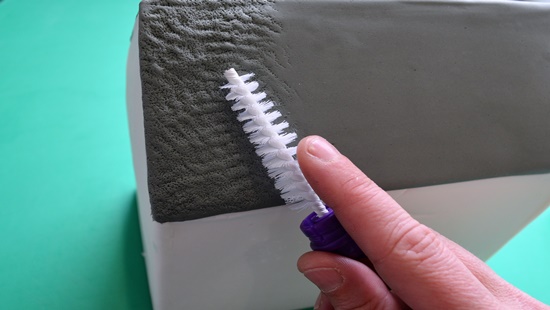 Step 23
Texture the roof with a hard-bristled brush. You can use a variety of different things to texture the roof. A strip cutter creates a flat woof type effect.
.
.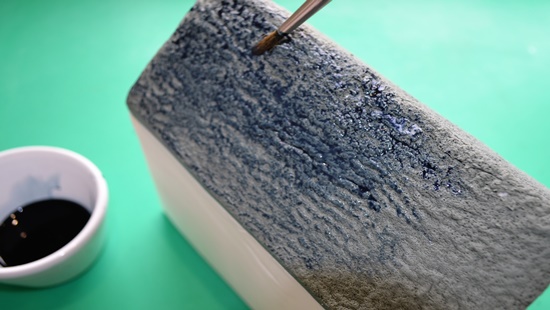 Step 24
Make a paint solution using a little black extra and water. This should be very watery.  Brush over the roof and the solution should naturally gather in the texture grooves to create a 2-tone effect.
TIP – IF TOO MUCH PAINT SOLUTION IS APPLIED, BLOT WITH KITCHEN PAPER IT REMOVED THE EXCESS AND LEAVES A SLIGHT PATTERN BEHIND WHICH ADDS TO THE EFFECT.
.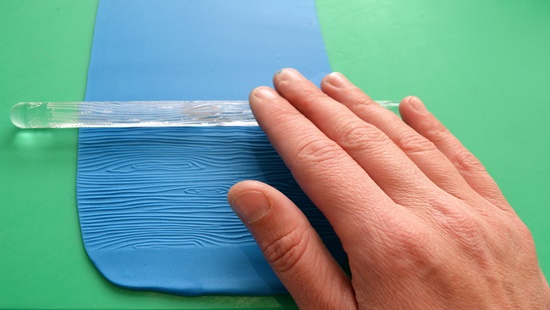 Step 25
Roll out chosen colour modelling paste to a thickness of 1mm, using a textured rolling pin or texture mat, emboss a wood grain texture onto the modelling paste.
.
.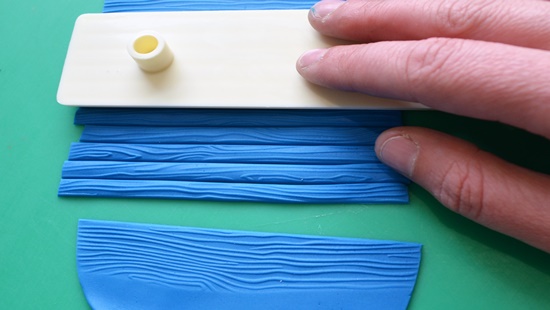 Step 26
Using a strip cutter, multiple strips can be cut at once making it faster.  This can also be done with a sharp knife but great care is needed to ensure that all the strips are of equal thickness.
.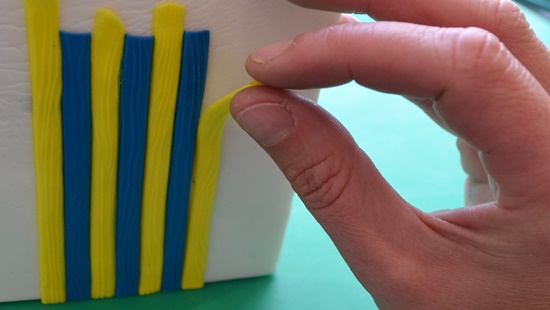 Step 27
Brush one side at a time of each of the prepared cakes with edible glue or piping gel.  Begin applying the strips of the modelling paste to create a door first.
.
.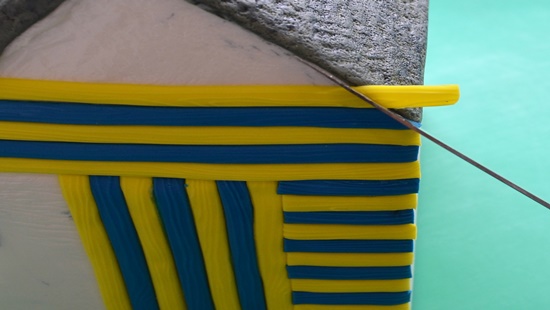 Step 28
Keep adding strips of paste in the chosen colours until the 3 beach huts are complete, use a Sharpe knife to trim away excess paste. 6 colours are the minimum but more can be used to create a stunning colourful summer cake.
TIP – USING DIFFERENT SIZED STRIP CUTTERS WILL CREATE VARIETY IN THE DESIGN
.
Step 29
Cut small finishing touches from modelling paste to really finish off the design, roof edging strips are very effective.
.
.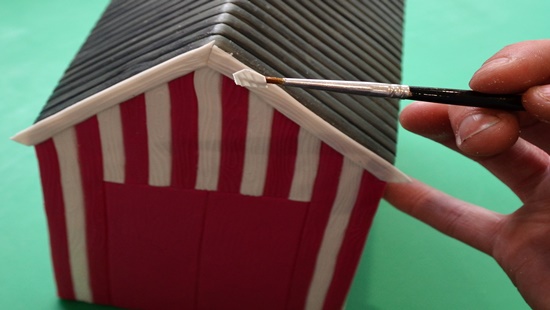 Step 30
Use edible to glue to apply the finishing touches, small items can be picked up using a little edible glue on an artist brush.
TIP – REMEMBER TO TEXTURE THE MODELLING PASTE TO CREATE REALISTIC BEACH HUTS
.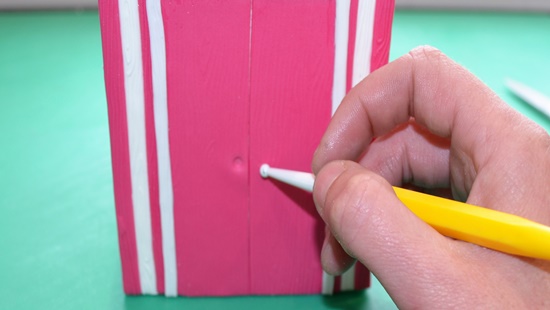 Step 31
Use a ball tool to create indentations for the door handles to fit, apply a small amount of edible glue to stick the door handles in place
.
.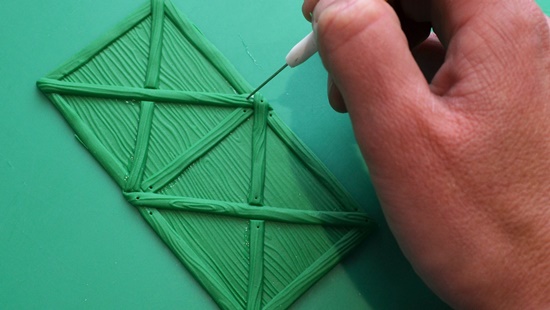 Step 32
A scriber needle can be used to create small (Nail Holes) onto the wooden planks.
.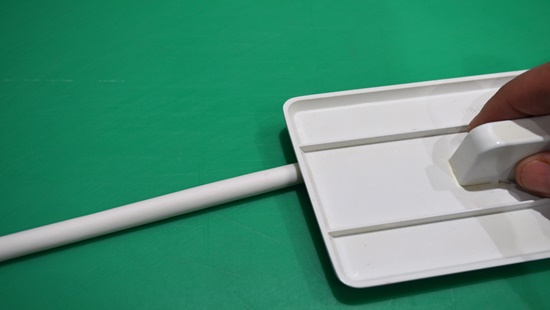 Step 33
Using a smoother Roll out a long sausage around 1cm thick.
.
.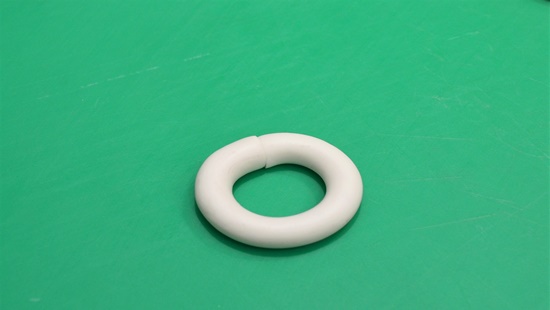 Step 34
Cut both ends completely straight using a Sharpe knife and bend round to form a ring, stick together with a little edible glue. Don't worry about the join this can be covered by applying thin strips of red modelling paste to create the life ring.
.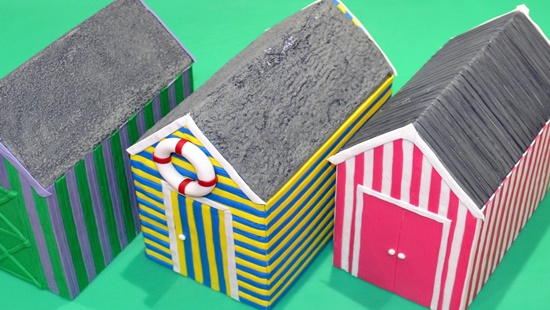 Step 35
With all 3 beach huts complete in a variety of colours with a variety of finishing touches it's time to attach them to the pre-prepared cake drum.
.
.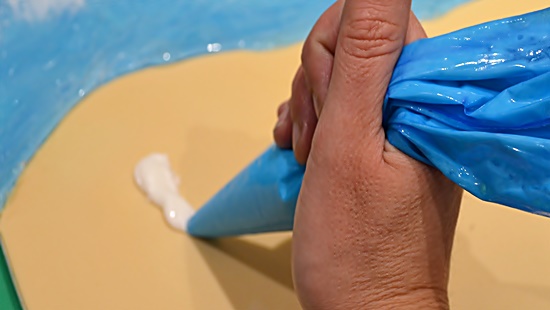 Step 36
Use Royal Icing to attach the cakes to the board.
.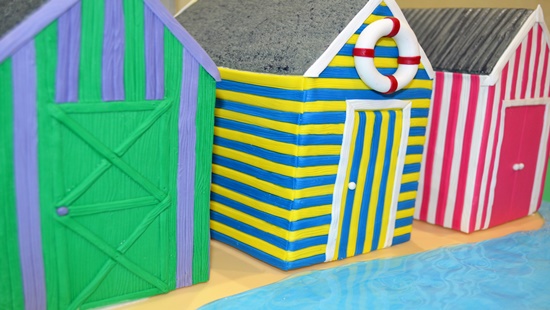 Step 37
Slide each cake into position so they are at equal distances apart and slightly staggered.
.
.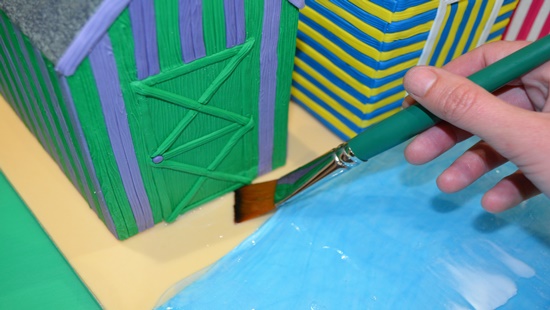 Step 38
Brush any visible "Sand" coloured sugarpaste with piping gel.
.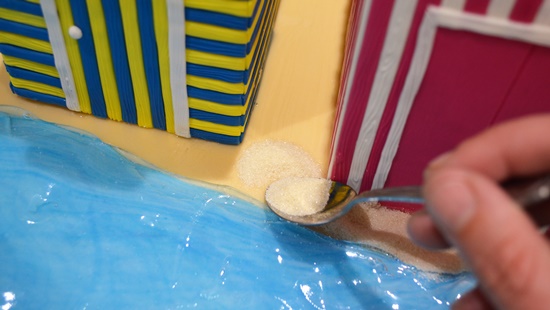 Step 39
Using a teaspoon careful sprinkle golden caster sugar over to create realistic looking sand.
.
.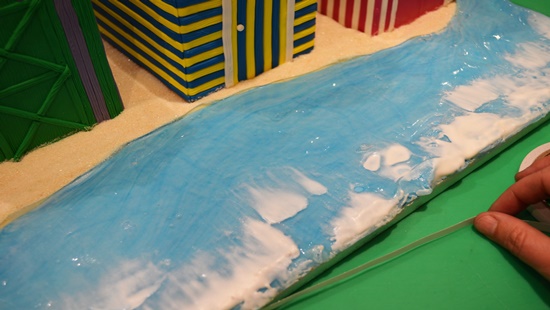 Step 40
Run double sided tape around the cake drum making sure the join is at the back.
.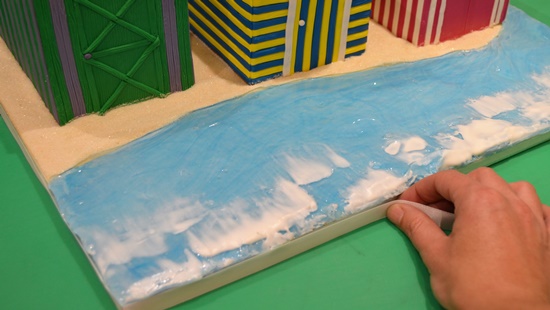 Step 41
Remove the back from the double-sided tape and apply the ribbon.
.
.
Step 42
Accessories can be added. Boats, surf boards or even a bucket and spade.  Mould Making kits are very handy to make moulds from children's toys.
.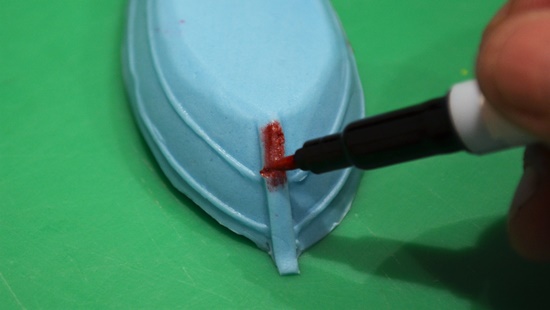 Step 43
Use edible pens to add detail.  Detail can also be added by hand painting or even adding edible oriented images.
.
.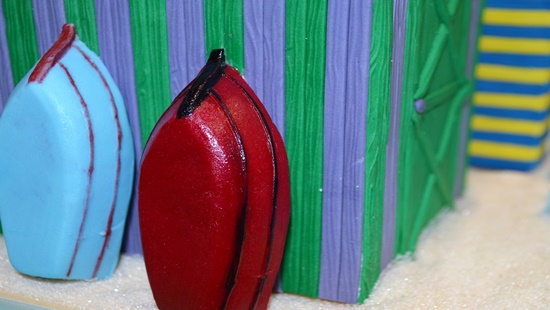 Step 44
Apply any heavier finishing touches with Royal Icing as it dries a lot firmer than edible glue.
.